Bakso Tukul Arwana Tawarkan Waralaba, Royalti 5% dari Omzet
Bakso Tukul Arwana Offer Franchise, Royalty 5% of Turnover
Reporter : Gusmiati Waris
Editor : Cahyani Harzi
Translator : Novita Cahyadi

PUBLISHED: Senin, 14 Januari 2013 , 17:48:59 WIB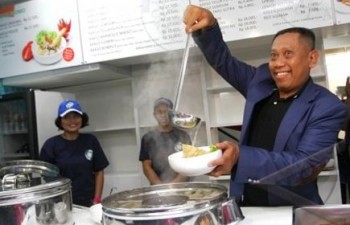 Tukul Arwana (Foto: tabloidbintang.com)
BAKSO Tukul Arwana menawarkan peluang usaha dalam bentuk waralaba dengan hanya memungut biaya royalti sebesar 5% dari omzet.

"Nantinya, mitra hanya perlu mengikuti instruksi-instruksi sederhana yang terdapat dalam operation manual dan menawarkan pola kemitraan sebesar Rp75 juta untuk tipe Express, Rp225 juta untuk tipe Resto Cafe, dan Rp285 juta untuk tipe Platinum," kata Tukul Arwana saat meresmikan jaringan rumah makan Bakso Tukul Arwana di kawasan Green Ville, Jakarta Barat, Senin (14/1).

Bagi yang berminat, kata Tukul, silakan kunjungi dulu gerai Bakso Tukul Arwana di komplek Green Ville Blok AS No. 34B, Jakarta Barat.

Terkait minatnya menekuni bisnis kuliner khususnya jajanan bakso, Tukul mengaku tak ingin jajanan bakso hilang dari pasaran.

"Sangat luar biasa untuk mempopulerkan bakso di Indonesia, karena itu makanan khas Indonesia supaya enggak hilang," kata Tukul menjelaskan alasan memilih membuka bakso sebagai menu andalan bisnis kulinernya.

Gerai Bakso Tukul Arwana menawarkan ragam menu Bakso seperti Bakso Original, Bakso Goreng, Bakso Telur, Bakso Keju, serta beberapa menu khas seperti Bakso Tahu Sutra, Bakso Sumsum, dan Bakso Barbeque Madu. Di samping bakso, restoran ini juga menyajikan menu lain, seperti Tahu, Kresol, Pangsit, Siomay, Nasi Goreng, dan Kwetiauw Goreng.

"Saya sudah [memberi] pesan, jaga nama saya. Jangan sampai sembarangan, jaga konsumen jangan [sampai] dikecewakan. Dagingnya jangan campuran-campuran, banyak senyum, jaga kebersihan, orang-orangnya harus rapi," ungkapnya lagi.
BAKSO Tukul Arwana offer franchise business opportunities by simply charge fees a royalty of 5% of the turnover.

"Later, the partners just need to follow these simple instructions contained in the operation manual and offering a partnership of Rp75 million for type Express, Rp225 million for type Resto Cafe, and Rp285 million for Platinum types," he said while inaugurated the Tukul Arwana restaurant chain Bakso Tukul Arwana at Green Ville area, West Jakarta, Monday (14/1).

For those interested, said Tukul, please visit booth Tukul Arwana Bakso in Green Ville Block AS Number 34B, West Jakarta.

Related interest in the comedian developed a culinary business in particular traditional snacks meatballs, Tukul admitted to not want to snack balls disappear from the market.

"It's incredible to popularize meatballs in Indonesia, Indonesian food that is not lost," said Tukul explain the reasons for choosing open meatballs as a main menu culinary business.

Tukul Arwana outlets offering a variety of original menu like meatballs meatballs, fried meatballs, meatballs, eggs, meatballs, cheese, and some typical menus like silken tofu meatballs, meatballs marrow and honey barbeque meatballs. In addition to meatballs, this restaurant also serves other menu such as tofu, cresol, dumplings, dumplings, fried rice and fried kwetiauw.

"I have [given] the message, keep my name. Do not let indiscriminate, keep consumers do [to] let down. Flesh do not mix all kinds, lots of smiles, keep cleanliness, the people must be neatly," he said again.