Rusia Kirim `Ribuan` Tentara ke Krim di Ukraina
Rusia Deploys `Thousand`of Troops into Crimea, Ukraine
Editor : Ismail Gani
Translator : Novita Cahyadi

PUBLISHED: Minggu, 02 Maret 2014 , 01:13:00 WIB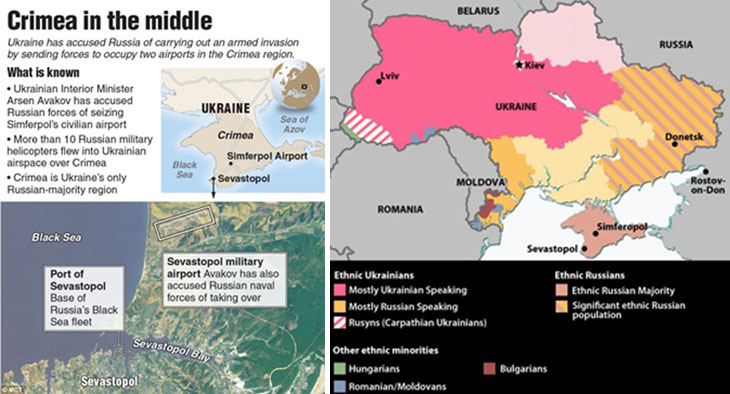 Para wakil rakyat Krim membangkang pada pemerintah baru Kiev dan menuntut referendum pada 30 Maret nanti untuk menuntut kemerdekaan lebih luas bagi Krim. (Tabel & Ilustrasi: Mail Online)
Simferopol (B2B) - Ukraina kemarin menuduh Rusia mengirimkan ribuan tentara tambahan ke Semenanjung Krim di tengah sumpah Kremlin untuk meredakan ketegangan di semenanjung itu dan peringatan Washington bahwa Moskow akan membayar risikonya jika menggunakan kekuatan.

Menteri Pertahanan Igor Tenyukh berkata pada sidang kabinet pemerintah Ukraina bahwa angkatan bersenjata Rusia telah mengirimkan 30 wahana pengangkut pasukan tambahan dan 6.000 tentara tambahan ke Krim untuk membantu milisi pro-Kremlin yang menuntut pemerdekaan diri dari pemerintahan pro-EU di Kiev, seperti dilansir Yahoo News.

Tenyukh menuduh Rusia mulai menambah kekuatannya Jumat kemarin ´tanpa memberi peringatan atau izin Ukraina´.

Tenyukh berbicara setelah lusinan orang bersenjata pro-Rusia berpatroli dalam siaga perang di ibukota Krim di Simferopol.

Orang-orang bersenjata sama telah menduduki gedung parlemen dan pemerintahan Kamis lalu serta mengontrol bandara dan sebuah pangkalan militer keesokan harinya.

Para penjaga perbatasan Ukraina melaporkan bahwa sekitar 300 orang bersenjata dan mengenakan seragam tempur lengkap berusaha menguasai markas besar Armada Laut Hitam di kota pelabuhan Sevastopol di bawah perintah Menteri Pertahanan Rusia Sergei Shoigu.

Semenanjung yang menjorok ke Laut Hitam dan menjadi markas Armada Laut Hitam Rusia serta berpenduduk mayoritas Rusia kini secara efektif terputus dari daratan Ukraina.

Bandara internasional Simferopol tak berfungsi sejak Jumat lalu dan milisi bersenjatakan Kalashnikov membanngun kantong-kantong penjagaan di ujung jalan tol utama Krim.

Krim telah menjadi ajang persaingan antara warga pro-Eropa barat dan warga pro Rusia yang mendiami sisi selatan dan timur Ukraina yang berpenduduk 46 juta.

Krim adalah wilayah otonomi yang berpenduduk hampir dua juta orang dan sejak 250 tahun lalu menjadi markas angkatan laut Rusia dan dihadiahkan seorang pemimpin Soviet kepada Ukraina pada 1954 ketika masih menjadi bagian Uni Soviet.

Para wakil rakyat Krim membangkang pada pemerintah baru Kiev dan menuntut referendum pada 30 Maret nanti untuk menuntut kemerdekaan lebih luas bagi Krim.

Perdana menteri Krim yang baru terpilih Sergiy Aksyonov meneruskan tuntutan ini dengan menyeru Presiden Rusia Vladimir Putin untuk membantu menciptakan perdamaian dan ketenangan di tengah perseteruannya dengan pemerintah Kiev yang pro Barat.

Aksyonov mengatakan bahwa semua pasukan keamanan Krim, termasuk penjaga perbatasan dan polisi, ada di bawah kendalinya.

Parlemen Rusia sendiri meminta Putin menggunakan semua kemungkinan yang tersedia untuk melindungi penduduk Krim.

Satu sumber Kremlin mengatakan bahwa Rusia tak akan mengabaikan permintaan Aksyonov) itu.
Simferopol - Ukraine accused Russia yesterday of sending thousands of extra troops into Crimea as the Kremlin vowed to help restore calm on the flashpoint peninsula and Washington warned of 'costs' to Moscow should it use force.

Defence Minister Igor Tenyukh told the Ukrainian government's first cabinet session that Russia's armed forces had sent in 30 armoured personnel carriers and 6,000 additional troops into Crimea in a bid to help local pro-Kremlin militia gain broader independence from the new pro-EU leaders in Kiev.

Tenyukh accused Russia of starting to send in these reinforcements on Friday "without warning or Ukraine's permission."

The defence chief spoke as dozens of pro-Russian armed men in full combat gear patrolled outside the seat of power in Crimea's capital Simferopol, a day after similar gunmen seized control over airports and government buildings in the territory.

Crimea has come to the fore of a Cold War-style confrontation between the West and Russia over Ukraine, a faceoff that has also exposed the ancient cultural rifts between the pro-European west and Russian-speaking south and east of this country of 46 million.

Pro-Russian gunmen seized Crimea's government and parliament buildings in Simferopol on Thursday before allowing lawmakers to appoint a new prime minister and call for a regional referendum — moved forward yesterday to March 30 — that would proclaim even greater independence for the already-autonomous region.

Dozens of soldiers with no insignia but dressed in Russian battle fatigues and armed with Kalashnikovs then seized Crimea's main airport in Simferopol and Ukraine's Belbek military air base near Sevastopol — home of Russia's Black Sea Fleet.

Prime minister followed that up on Saturday by fervently calling on Russian President Vladimir Putin to help restore "peace and calm" amid his standoff with Kiev's Western-backed authorities.

"Taking into account my responsibility for the life and security of citizens, I ask Russian President Vladimir Putin to help in ensuring peace and calm on the territory of Crimea," Sergiy Aksyonov said in an address broadcast in full yesterday by Russian state television.