Donald Trump Gusar Disebut Predator Wanita, Ancam Penjarakan Hillary Clinton jika Terpilih
"You`ll Go to Jail if I`m President" Donald Trump Threatens Hillary Clinton with Prison over Email Scandal
Editor : Ismail Gani
Translator : Novita Cahyadi

PUBLISHED: Selasa, 11 Oktober 2016 , 01:47:00 WIB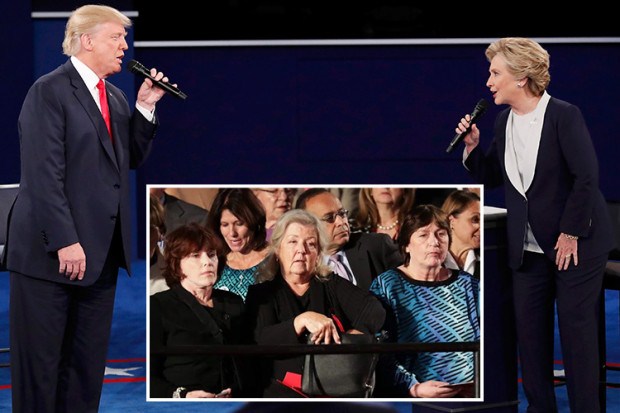 Menatap dingin pesaingnya dari Partai Republik, Hillary mengatakan Trump sendiri tampak agresif dan secara vulgar sehingga dapat menguak ´siapa dia sebenarnya." (Foto2: The Sun)
DALAM perdebatan yang berlangsung panas, Donald Trump menuduh Hillary Clinton mengancam perempuan yang terlibat selingkuh dengan suaminya demi keutuhan perkawinan dengan suaminya dan Hillary akan dijebloskan "ke penjara" jika Donald Trump terpilih menjadi presiden.

Menatap dingin pesaingnya dari Partai Republik, Hillary mengatakan Trump sendiri tampak agresif dan secara vulgar sehingga menguak ´siapa dia sebenarnya."

Namun Trump memanfaatkan sejarah skandal seks Bill Clinton dengan membawa empat korban Clinton ke arena debat dalam upayanya untuk mengalihkan perhatian dari kontroversi tentang siapa sebenarnya Trump yang dituding sebagai predator atas pernyataannya selama ini tentang wanita.

Perdebatan yang sangat agresif dimulai ketika kedua calon presiden menolak untuk berjabat tangan - tapi berakhir dengan jabat tangan setelah pertanyaan terakhir yang menyebut keduanya sebagai sosok yang dikagumi.

Perdebatan berlangsung sengit, namun, Clinton kemudin menggiring Trump pada pernyataan selama ini khususnya komentar yang merendahkan wanita, catatan pajak, dan pertanyaan atas koneksi ke Rusia.

Trump menanggapi dengan masuk ke masalah pribadi, menyeret suaminya, mantan presiden Bill Clinton, dalam perdebatan dan mengecam skandal email yang tergolong sangat sensitif.

Debat tersebut adalah puncak dari rivalitas keduanya menuju Gedung Putih, dikipasi oleh dari beredarnya video yang mengungkap arogansi Trump tentang ketenarannya memungkinkan dia untuk "melakukan apa pun" pada wanita.

Pendukung Partai Republik berbondong-bondong mencabut dukungan mereka, banyak di antara mereka mendesak Trump untuk mengurungkan niat menjadi calon presiden.

Menjawab atas komentarnya untuk pertama kalinya, Trump membantah bahwa ia pernah mencium dan memeluk wanita tanpa persetujuan mereka.

Dia mengatakan berulang kali bahwa kata-katanya pada 2005 hanyalah "pembicaraan di ruang ganti" dan tidak sebanding dengan tudingannya terhadap Bill Clinton melecehkan wanita.

"Dia seharusnya malu," kata Trump. Menjelang perdebatan, pengusaha tajir ini bertemu dengan tiga perempuan yang menuduh mantan presiden melakukan pelecehan seksual dan bahkan pemerkosaan, kemudian mengundang mereka untuk duduk di ruang debat.

Bill Clinton pernah menghadapi tuntutan pidana dalam kaitannya dengan tuntutan, dan gugatan melalui pemerkosaan meski akhirnya dicabut. Dia balik menggugat wanita yang menudingnya telah dilecehkan oleh mantan Presiden AS tersebut.

Pada perdebatan, Clinton tidak menanggapi langsung tuduhan Trump tentang suaminya atau perannya sendiri, tapi lebih menyoroti komentar sebagai predator terhadap wanita dalam rekaman yang dirilis Jumat.

"Saya pikir itu jelas bagi siapa saja yang mendengarnya bahwa itu merupakan siapa dia," katanya, menambahkan bahwa ia tidak percaya Trump "cukup sehat secara fisik untuk memimpin negara" apalagi sebagai panglima tertinggi seperti dilansir The Sun.
IN A DEBATE filled with tension, Donald Trump accused Hillary Clinton of attacking women involved in her husband's marital affairs and declared she would "be in jail" if he were president.

Staring icily at her Republican rival, Clinton said Trump's own aggressively vulgar comments about women had revealed "exactly who he is".

But Trump used Bill Clinton's sexual history by bringing four alleged Clinton victims to the debate to try to distract from the swirling controversy over his own predatory remarks about women.

The highly combative debate began with the presidential hopefuls refusing to shake hands - but did end with a handshake following a final debate question which saw the pair identify traits they admire in one another.

The rest of the debate was considerably more ill-tempered, however, with Clinton taking Trump to task on his lewd comments about women, tax records, and questions over his links to Russia.

Trump responded with personal attacks, bringing her husband, former president Bill Clinton, into the debate and slamming Hillary over her treatment of highly sensitive emails.

Tonight's debate was the culmination of a stunning stretch in the race for the White House, which began with the release of a new video in which Trump is heard bragging about how his fame allowed him to "do anything" to women.

A flood of Republicans revoked their support, with some calling for him to drop out of the race.

Answering for his words for the first time, Trump denied that he had ever kissed and grabbed women without their consent.

He said repeatedly that his words in 2005 were merely "locker room talk" and paled in comparison to what he called Bill Clinton´s abuse of women.

"She should be ashamed of herself," Trump declared. Ahead of the debate, the businessman met with three women who accused the former president of sexual harassment and even rape, then invited them to sit in the debate hall.

Bill Clinton never faced any criminal charges in relation to the allegations, and a lawsuit over an alleged rape was dismissed. He did settle a lawsuit with one of the women who claimed harassment.

On the debate stage, Clinton did not respond directly to Trump´s accusations about her husband or her own role, but was blistering in her condemnation of his predatory comments about women in the tape released Friday.

"I think it´s clear to anyone who heard him that it represents exactly who he is," she said, adding that she did not believe Trump had the "fitness to serve" as commander in chief.

The second debate was a town hall format, with several undecided voters sitting on stage with the candidates. The voters, all from the St. Louis area, were selected by Gallup.

The tension between Trump and Clinton was palpable from the start of their 90-minute debate, the second time they have faced off in the presidential campaign.

They did not shake hands as they met at centre stage.