Astaghfirullah, Warga Budha Myanmar Bakar Warga Muslim, 43 tewas
Astaghfirulllah, Burmese Buddhist Set Fire to Muslim Man, 43 dead
Editor : Heru S Winarno
Translator : Parulian Manalu

PUBLISHED: Selasa, 23 April 2013 , 03:25:00 WIB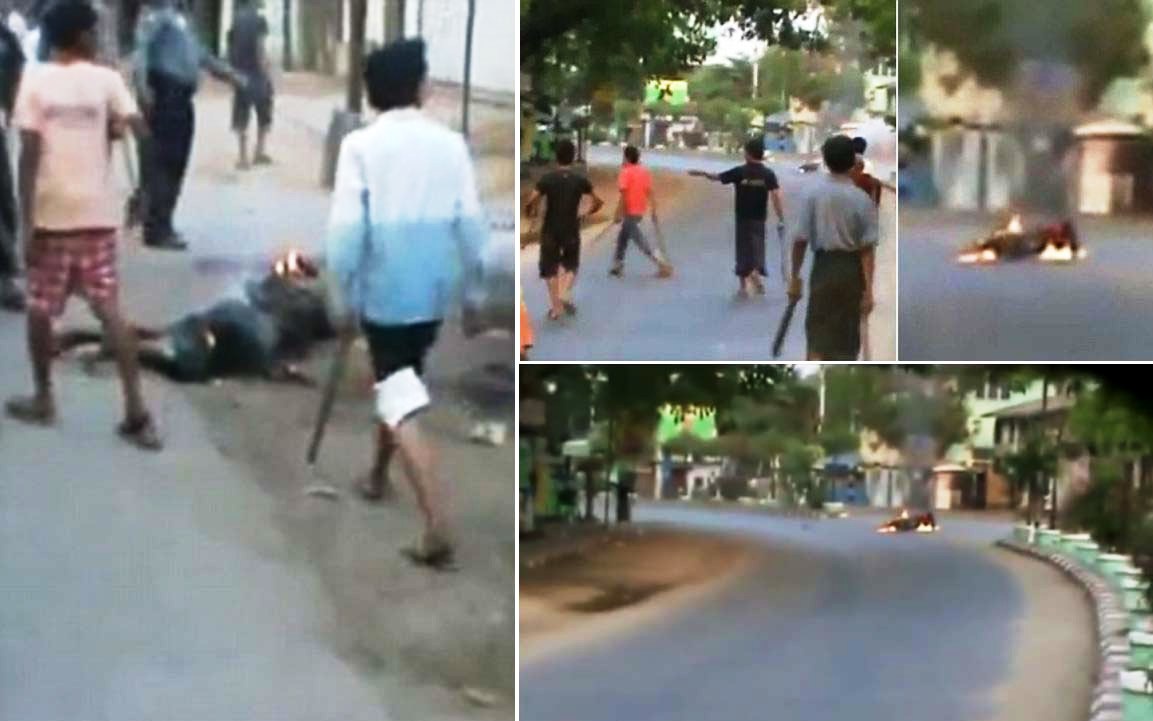 Warga muslim Rohingya berguling-guling dibakar dan mati oleh warga Budha Myanmar sementara polisi hanya berdiri menonton (kiri) Foto2: Mail Online
KEMANA teriakan lantang para pembela hak-hak asasi manusia (HAM) ketika warga muslim Rohingya di Myanmar dibantai secara brutal. Apa yang dilakukan negara-negara Barat pengusung HAM melihat warga Myanmar saling bantai hanya lantaran perbedaan keyakinan.

Mail Online melansir, pelanggaran hak asasi manusia terjadi di Myanmar meskipun reformasi politik, sosial dan ekonomi secara luas oleh pemerintah kuasi-sipil yang mengambil alih kekuasaan pada Maret 2011 dan meyakinkan Barat untuk menangguhkan sebagian sanksi untuk menyalurkan bantuan dan investasi ke salah satu negara termiskin di Asia.

Rekaman mengerikan memperlihatkan polisi Myanmar berdiri diam ketika warga penganut Buddha membakar seorang pria Muslim.

Video ini sebagian difilmkan oleh polisi di kota Meiktila selama bentrokan sengit antara sekelompok umat Buddha yang dikenal sebagai ´969 skuad ´dan warga Muslim, bulan lalu yang menewaskan 43 orang.

Dalam rekaman kasar yang di-posting di internet - tampak warga Muslim - terlihat berguling-guling di tanah kesakitan setelah dibakar oleh massa yang marah.

Tubuhnya hangus, tapi dia jelas masih hidup dan bergerak perlahan-lahan ketika kerumunan warga mengelilingi dirinya. Beberapa polisi terlihat diam mengawasi.

Sebuah suara dapat didengar menyerukan minta air, suara lain menjawab ´Tidak ada air untuknya. Biarkan dia mati."

Klip muncul hari ini ketika Human Rights Watch menerbitkan laporan, yang menyimpulkan otoritas Burma dan anggota kelompok Arakan telah melakukan kejahatan terhadap kemanusiaan dalam kampanye pembersihan etnis Muslim.

Kekerasan sektarian, yang terburuk terlihat pada demokrasi yang masih muda di Asia sejak konflik tahun lalu, dipicu setelah argumen antara pemilik toko emas Muslim dan pelanggannya di kota Meikhtila.

Pengikut anti-Muslim dikenal sebagai ´969 skuad membagikan stiker tercetak dengan nomor ´969´, yang melambangkan unsur Buddhisme.

Dalam klip video kasar pria Buddha terlihat aksi penjarahan penyerangan ke toko emas di kota, sementara polisi diam berdiri, jelas kalah banyak dengan massa - tampak pula beberapa biarawan yang diam saja.

Ketegangan meningkat setelah seorang biksu Buddha diserang yang ditarik dari sepeda - ia meninggal kemudian di rumah sakit kota.

Keesokan paginya sebuah distrik Muslim di Mandalay terlihat terbakar - polisi anti huru hara dikerahkan, tapi sekali lagi mereka berdiri menonton.

Orang-orang terlihat melarikan diri dari api ke semak-semak, tapi seorang pria muslim muda dipaksa ke tempat terbuka.

Dia didorong ke tanah dan dipukuli dengan tongkat sebelum pukulan buas dengan pedang menyerang dia dan tergolek di tanah, diperkirakan tewas.

Sebagai konsekuensi dari kekerasan terhadap komunitas Muslim yang tanggal kembali banyak generasi telah dihapuskan.

Melepaskan dari kebencian etnis, ditekan selama 49 tahun oleh kekuasaan militer yang berakhir pada Maret 2011, pemerintah reformis dari salah satu negara yang paling beragam etnis di Asia.

Pembangkang yang dipenjara telah dibebaskan, pemilihan yang bebas diadakan dan sensor dihapus dalam transisi demokrasi bersejarah Myanmar.

Namun pemerintah telah menghadapi kritik karena kegagalannya untuk menghentikan pertumpahan darah antara umat Buddha dan Muslim.

Ratusan umat Islam meninggalkan rumah mereka untuk berlindung di sebuah stadion olahraga, kata pejabat setempat.

Kerusuhan itu merupakan reprise berdarah kekerasan tahun lalu di negara bagian Rakhine di barat Myanmar, yang secara resmi menewaskan 110 orang dan menyebabkan 120.000 orang kehilangan tempat tinggal, kebanyakan dari mereka kewarganegaraan Muslim Rohingya.

Warga mengeluhkan terlalu sedikit polisi di kota tersebut untuk menaklukkan sekitar 180.000 orang perusuh.
WHERE shouts loud defenders of human rights (human rights) when the Rohingya Muslims in Myanmar were brutally murdered. What did the Western countries bearers of human rights saw Myanmar citizens slaughtered each other just because of differences in beliefs.

The human rights abuses took place in Myanmar despite widespread political, social and economic reforms by a quasi-civilian government that took power in March 2011 and convinced the West to suspend most sanctions to allow aid and investment into one of Asia´s poorest countries.

Horrifying footage has emerged of police officers standing by while Burmese Buddhist rioters set fire to a Muslim man.

The video was largely filmed by police in the city of Meiktila during intense clashes between a gang of Buddhists known as the ´969 squad´ and Muslims last month which left 43 people dead.

In the grainy footage posted on the internet a man - almost certainly a Muslim - is seen rolling around on the ground in agony after being set alight by an angry mob.

His body is charred, but he is clearly still alive and moves slowly as a crowd surrounds him. Several policeman can be seen looking on.

A voice can be heard calling for water, to which another voice replies ´ No water for him. Let him die.´

The clip surfaced today as Human Rights Watch published a report which concluded Burmese authorities and members of Arakanese groups have committed crimes against humanity in a campaign of ethnic cleansing Muslims.

The sectarian violence, the worst seen in Asia´s fledgling democracy since last year´s conflict, was sparked after an argument between a Muslim gold shop owner and his customers in the city of Meikhtila.

Anti-Muslim followers are known as the ´969 squad´ and hand out stickers printed with the number ´969´, which symbolise elements of Buddhism.

In the grainy clip Buddhist men can be seen looting and attacking the gold shop in the town while police stand by, clearly outnumbered by the crowds - a few monks can also be seen in the angry masses.

The tension escalated after a Buddhist monk was attacked after being pulled off a bike - he died later in the town hospital.

The next morning a Muslim district in Mandalay is seen burning - riot police are deployed, but again they stand watching.

People are seen fleeing the fire into the bushes, but a young Muslim man is forced into the open.

He is pushed on to the ground and beaten with sticks before a savage blow with a sword strikes him and he is left on the ground, presumed dead.

As a consequence of the violence a Muslim community that dates back many generations has been wiped out.

The unleashing of ethnic hatred, suppressed during 49 years of military rule that ended in March 2011, is challenging the reformist government of one of Asia´s most ethnically diverse countries.

Jailed dissidents have been released, a free election held and censorship lifted in Myanmar´s historic democratic transition.

But the government has faced mounting criticism over its failure to stop the bloodshed between Buddhists and Muslims.

Hundreds of Muslims fled their homes to shelter at a sports stadium, said local officials.

The unrest is a bloody reprise of last year´s violence in Rakhine State in western Myanmar, which officially killed 110 people and left 120,000 people homeless, most of them stateless Rohingya Muslims.

Locals complained there were too few police in this city of about 180,000 people to subdue the unrest.