Foto Berwarna Langka, Berlin pada 1937 di masa Hitler
Rare Colour Pictures of 1937 Berlin was under Hitler
Editor : Cahyani Harzi
Translator : Parulian Manalu

PUBLISHED: Jum'at, 30 November 2012 , 09:09:00 WIB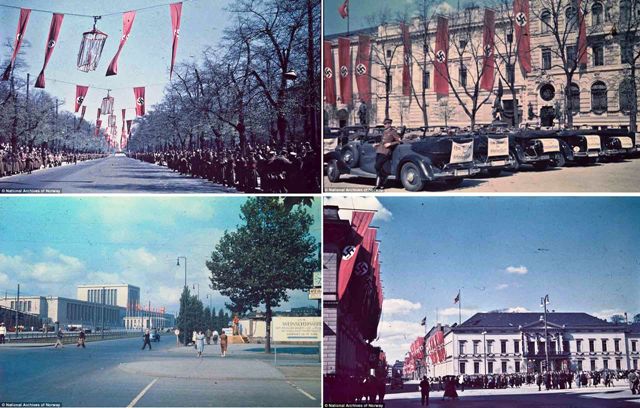 Menjelang parade militer (kiri atas), prajurit Brownshirt menjaga mobil militer, suasana kota dan lambang swastika (Foto2: Mail Online)
INI koleksi foto berwarna langka tentang Berlin pada 1937, yang terungkap dari arsip milik Thomas Neumann menunjukkan kehidupan di ibukota Jerman selama satu dekade penuh gejolak.

Foto-foto tersebut merekam kemeriahan kota, yang berada di bawah cengkeraman tangan besi Adolf Hitler dan Third Reich di puncak kekuasaannya. Namun hanya delapan tahun kemudian kota ini menjadi reruntuhan setelah Rusia dan Sekutu meraih kemenangan.

Namun pada saat foto-foto diambil, Berlin dipenuhi semangat Hitler. Hitler berkuasa setelah runtuhnya demokrasi Republik Weimar pada 1933 akibat krisis ekonomi lantaran Depresi Besar Jerman yang menjadi senjata partai sayap kanan untuk merebut kekuasaan.

Dinding gedung dihiasi lambang swastika, kehidupan warga melaksanakan bisnis. Tampak foto seorang anak berjemur, senyum warga di sebuah stasiun kereta api, pedagang pisang keliling dan penjaja makanan di sebuah taman yang cerah.

Insinyur Norwegia, Thomas Neumann (1901-1978) memotret saat bekerja di Jerman. Film kamera yang digunakan adalah pertama dari jamannya, dan beberapa foto disimpan dalam arsip negara. Foto-foto berwarna tersebut memberi nilai penting bagi sejarawan tentang periode perang.

Koleksi fotonya diberikan putrinya kepada Arsip Nasional Norwegia pada 2007, seperti dilansir Mail Online.

Thomas Neumann dilatih sebagai seorang insinyur listrik di Dresden. Setelah lulus pada 1928 ia bekerja di Berlin sampai 1933. Neumann adalah anggota dari partai Persatuan Nasional, sebuah organisasi fasis dan diangkat menjadi pemimpin propaganda di Oslo dan Akershus. Dia meninggalkan partai pada 1937 dan pada Oktober 1944 ia ditangkap karena kegiatan ilegal dan dikirim ke kamp konsentrasi Grini.

Satu foto yang diambil secara sembunyi menunjukkan Brownshirt (anggota pasukan paramiliter Hitler) sedang santai di deretan mobil pemerintah di depan sebuah bangunan yang diselubungi simbol Nazi.

Pada 30 Januari 1933, Presiden Hindenburg, di bawah tekanan dari Franz von Papen, menunjuk Hitler sebagai Kanselir Jerman. Tak lama setelah itu Hitler merebut kekuasaan.

Pemerintah Nazi memulihkan kemakmuran dan mengakhiri pengangguran massal menggunakan anggaran militer dan menerapkan ekonomi pasar bebas. Pekerjaan umum yang luas juga dilakukan, termasuk pembangunan autobahn, untuk meningkatkan lapangan kerja.

Dua tahun kemudian Jerman menyerbu Polandia dan memulai perang yang paling merusak di dunia yang pernah terjadi. Sekitar 60 juta orang diperkirakan kehilangan nyawa mereka akibat Perang Dunia Kedua dan lanskap politik global berubah selamanya.
THIS collection of rare color photos of Berlin in 1937, taken by Thomas Neumann and uncovered from Norwegian archives, show life in the German capital during a tumultuous decade.

They capture scenes in the vibrant city, which was under the iron grip of Adolf Hitler and his Third Reich at the very height of his power. Yet just eight years later the city was in ruins as Russians and Allies occupied it in victory.

But at the time these images were taken, Hitler´s Berlin was vibrant. Hitler had taken power after the collapse of the democratic Weimar Republic in 1933 as severe economic problems caused by the Great Depression drove ordinary Germans into the far-right party´s arms.

As well as chilling pictures of buildings emblazoned with swastikas, there are scenes of ordinary life as Germans go about their business. They show a child in a sun-drenched square, smiling friends at a train station, a cart selling bananas and a food vendor in a sunny park.

Norwegian engineer Thomas Neumann (1901-1978) took the photos while working in Germany. The film he used was the first of its kind, and there are few similar images preserved in Norwegian collections. His coloured pictures gives historians a valuable view of the interwar period.

In 2007 his photo gallery given to the National Archives of Norway by his daughter.

Thomas Neumann trained as an electrical engineer in Dresden. After graduating in 1928 he worked in Berlin until 1933. Neumann was a member of the National Unity party, a fascist organisation and was appointed its propaganda leader in Oslo and Akershus. He left the party in 1937 and in October 1944 he was arrested for illegal activities and sent to the notorious Grini concentration camp.

One candid picture shows a Brownshirt (a member of Hitler´s paramilitary force) lounging against a state car in front of a building draped with the maligned Nazi symbol.

On 30 January 1933, President Hindenburg, under pressure from Franz von Papen, appointed Hitler as Chancellor of Germany. Shortly after the Fuhrer seized power.

The Nazi government restored prosperity and ended mass unemployment using heavy military spending and a free market economy. Extensive public works were also undertaken, including the construction of the Autobahns, to boost employment.

Just two years later Germany would invade Poland and begin the most destructive war the world has ever seen. An estimated 60 million people lost their lives as a result of the Second World War and the global political landscape changed forever.