55 Tewas dan 600 Terluka setelah Kereta Tergelincir di Kamerun
At Least 55 Killed and Nearly 600 Injured after Packed Train Derails in Cameroon
Editor : Ismail Gani
Translator : Dhelia Gani

PUBLISHED: Sabtu, 22 Oktober 2016 , 17:39:04 WIB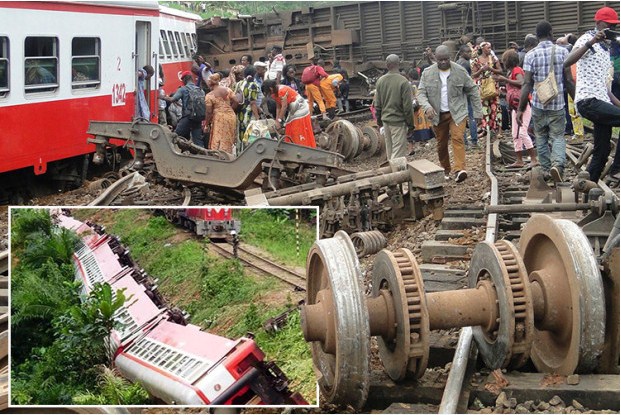 Kereta meninggalkan Yaounde sekitar pukul 11 waktu setempat dan tergelincir sekitar tengah hari sekitar 200 kilometer dari ibu kota, kata menteri transportasi (Foto2: The Sun)
SETIDAKNYA 55 orang tewas dan hampir 600 cedera setelah kereta padat penumpang tergelincir dan terbalik di Kamerun.

Kereta api yang penuh sesak rute antarkota sedang menempuh perjalanan dari Yarounde ke Doula ketika tergelincir Jumat sore waktu setempat.

Beberapa gerbong keluar jalur saat kereta tergelincir mengakibatkan puing-puing berserakan di pinggir rel kereta.

Foto-foto dramatis menunjukkan korban tewas dan kehancuran ketika warga berupaya untuk menemukan korban selamat.

Seorang wanita terlihat memanjat keluar dari kereta melalui jendela.

Sekitar 1.300 penumpang berdesakan dalam kereta - lebih dari dua kali lipat kapasitas angkutnya, 600 orang.

Seorang wartawan Reuters yang menumpang di gerbong depan pada kereta naas menyaksikan tragedi maut tersebut.

Dia bilang: "Terdengar suara benturan keras. Saya melihat ke belakang dan gerbong di belakang kami keluar dari rel dan mulai berguling-guling....

"Ada banyak asap."

Menteri Transportasi Kamerun Edgar Alain Mebe Ngo'o mengatakan 55 orang telah dikonfirmasi tewas dan lebih 575 terluka dalam insiden itu.

"Penyebab kecelakaan belum jelas," katanya, menambahkan korban yang terluka parah tengah menjalani perawatan medis.

Kereta meninggalkan Yaounde sekitar pukul 11 waktu setempat dan tergelincir sekitar tengah hari sekitar 200 kilometer dari ibu kota, kata menteri transportasi.

Rute kereta itu sangat sibuk setelah jembatan di jalan yang menghubungkan Yaounde dan Douala runtuh akibat hujan deras pada Kamis malam, melumpuhkan lalu lintas dan mendorong warga memanfaatkan kereta api untuk bepergian.

Tanah longsor yang disebabkan oleh hujan lebat memblokir jalan-jalan di Kamerun.

"Tim penyelamat dan evakuasi serta tim keamanan telah dikerahkan," kata pihak perusahaan kereta, Camrail seperti dilansir The Sun.
AT LEAST 55 people were killed and nearly 600 injured after a packed passenger train derailed and overturned in Cameroon.

The overcrowded inter-city train was travelling from Yarounde to Doula when it crashed this afternoon.

Several carriages swung off the track as the train derailed leaving debris strewn across tracks running alongside it.

Dramatic pictures show the carnage and devastation as people battled to find survivors.

One woman was seen climbing out of a small gap in the window.

Some 1,300 passengers were crammed into the service - more than double its 600 capacity.

A Reuters journalist travelling in a wagon near the front of the train witnessed the tragic accident.

He said: "There was a loud noise. I looked back and the wagons behind us left the rails and started rolling over and over.

"There was a lot of smoke."

Cameroon's transport minister Edgar Alain Mebe Ngo'o said 55 people had been confirmed dead and a further 575 were injured in the incident.

"The cause of the accident is not yet clear," he said, adding that several of the injured were fighting for life.

The train left Yaounde at around 11am local time and derailed around midday some 200 kilometres from the capital, the transport minister said.

The train route was particularly busy after a bridge on the road linking Yaounde and Douala collapsed in heavy rain overnight Thursday, paralysing traffic and sending extra waves of travellers onto trains.

Landslides caused by heavy rain blocked roads across Cameroon.

"Intervention and security teams have been mobilised," rail firm Camrail announced.