Muslim Dubai Buka Bersama Tingkatkan Ukhuwah Islamiyah
Muslims in Dubai Break Their Ramadan Fast with a Communal Meal in a Car Park
Editor : Ismail Gani
Translator : Novita Cahyadi

PUBLISHED: Selasa, 30 Mei 2017 , 21:15:01 WIB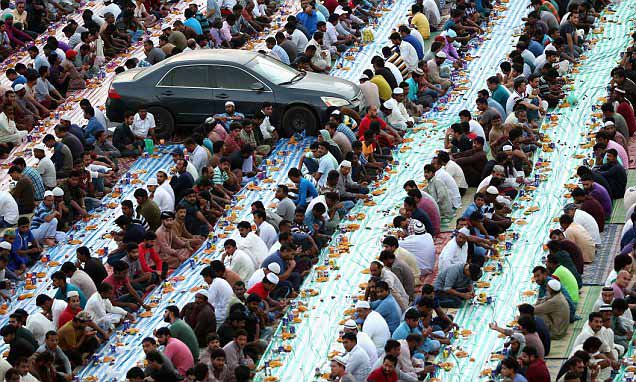 Sebagai salah satu dari lima rukun Islam, puasa adalah ibadah wajib bagi setiap Muslim (Foto: MailOnline)
BERBUKA puasa di Dubai pada bulan Ramadan ini mengisyaratkan fakta bahwa pengemudi sedan hitam tidak perlu buru-buru keluar dari area parkir.

Muslim yang bertakwa di seluruh kota berkumpul untuk menikmati Buka Bersama - hidangan yang dimakan umat Islam setelah adzan Maghrib saat matahari terbenam.

Namun seorang pengemudi sedan harus menunggu sampai buka bersama bubar untuk meninggalkan area parkir di tengah ratusan Muslim yang berbuka puasa.

Selama bulan Ramadan, komunitas Muslim menjauhkan diri dari makanan, minuman, merokok dan seks sejak subuh hingga maghrib, sebelum berbuka puasa dengan hidangan buka puasa (Iftar).

Bulan suci Ramadan yang berlangsung pada bulan kesembilan kalender Islam (Hijrah) dan puasa ini dimaksudkan untuk mendekatkan Muslim yang bertakwa kepada Allah.

Selama bulan Ramadhan, umat Islam hanya diijinkan makan makanan sebelum matahari terbit dan setelah terbenam.

Sebagai salah satu dari lima rukun Islam, puasa adalah ibadah wajib bagi setiap Muslim.

Rukun Islam pertama adalah membaca Syahadat, mendirikan Shalat, membayar Zakat dan menunaikan Haji kalau mampu.

Setiap Muslim harus mematuhi kelima Rukun Islam agar dapat melaksanakan kehidupan sesuai perintah Alquran dan Sunnah Rasulullah SAW.

Di beberapa negara Islam maka Muslim yang tidak berpuasa layak mendapat hukuman sesuai Syariah Islam.

Setiap orang di atas usia akil baligh wajib berpuasa pada bulan Ramadan.

Namun, kelompok tertentu bisa dibebaskan dari kewajiban berpuasa terutama anak-anak, wanita hamil, orang tua dan orang sakit seperti dilansir MailOnline.
THE BREAKING of the fast in Dubai this Ramadan meant that one driver wasn't going anywhere in a hurry.

Devout worshipers throughout the city came together to enjoy Iftar - the meal eaten by Muslims after sunset during the holy month of fasting.

But one motorist had to wait until the grand feast had finished before moving his car after parking smack in the middle of the celebration.

During Ramadan the Muslim community abstain from food, drink, smoking and sex between sunrise and sunset, before breaking their fast with the Iftar meal.

The festival falls in the ninth month of the Islamic calendar and fasting is intended to bring followers closer to Allah.

During Ramadan, Muslims are only permitted to eat food before sunrise and sunset.

As one of the five pillars of Islam, fasting is a mandatory element belonging to the religion.

The other pillars are Shahada (Faith), Salat (Prayer), Zakāt (Charity) and Hajj (the pilgrimage to Mecca).

Every Muslim must adhere to the five principles in order to live a good life, according to Islam.

In some Muslim countries failing to fast is punishable by law.

Everyone above the age of puberty is expected to take part in fasting during Ramadan.

However, certain groups can be exempt to the practice including children, pregnant women, elderly people and sick people.