Wanita PSK Thailand Tampil Beda setelah 10 Hari Ngaso
Even the Call Girls are Mourning to Grieve for Revered of King Bhumibol Adulyadej
Editor : Ismail Gani
Translator : Novita Cahyadi

PUBLISHED: Selasa, 25 Oktober 2016 , 21:40:05 WIB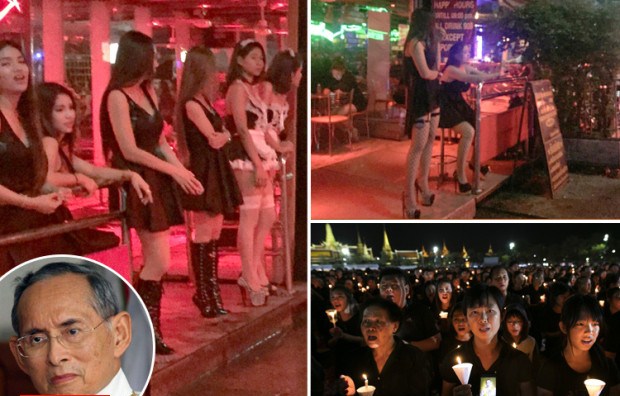 Polisi dan patroli tentara juga turun ke jalan untuk memastikan lokasi hiburan malam ditutup pukul 12 tengah malam sementara biasanya buka hingga pukul tiga pagi (Foto2: The Sun)
PEKERJA seks komersial (PSK) di Thailand kembali beroperasi di jalan hanya 10 hari setelah raja yang dicintai bangsanya, Bhumibol Adulyadej meninggal.

Negara seolah terhenti setelah kematian raja dihormati ini pada 13 Oktober, setelah pemerintah melarang hiburan dan
bekerja selama 30 hari. Namun lebih dari seminggu setelah kematiannya, sejumlah wanita PSK difoto di jalan-jalan mengenakan pakaian pertanda berduka, gaun hitam mini dan rok pendek, sepatu bot hitam dan garter hitam untuk menghormati raja.

Foto-foto yang diambil di tempat hiburan malam Soi Cowboy di ibukota Bangkok yang dipenuhi para pekerja seks - biasanya mengenakan pakaian seksi setengah terbuka - kini berpakaian warna hitam menunggu pelanggan.

Dan hanya satu mil jauhnya di Soi 4 dekat kawasan 'lampu merah' Nana Plaza - dipenuhi klub striptease - ratusan gadis dan PSK terlihat di jalan-jalan mengenakan rok hitam di atas dengkul dan bergegas 'menebus uang yang hilang' setelah ngaso 10 hari.

Dalam sebuah wawancara dengan wartawan lokal, pekerja seks Lek, 26, mengatakan: ''Situasinya masih sangat tenang."

"Semua orang sedih karena raja meninggal. Namun kita harus tetap bekerja untuk mencari uang. Tidak ada hal lain yang bisa kami kerjakan. Kami harus bekerja dan mencari pelanggan untuk mendapatkan uang."

"Kami mengenakan gaun hitam dan sepatu bot untuk menghormati masa berkabung. Kami biasanya tidak memakai sepatu bot besar seperti ini, Thailand terlalu panas. Mungkin dalam dua minggu ke depan kita bisa kembali normal. Kami harus mencari uang lagi setelah harus istirahat bekerja."

Sementara sejumlah bar dan klub di Bangkok telah dibuka kembali, lampu neon terkenal mereka agak redup, musik tidak hingar-bingar seperti biasanya, dan para penari striptis hanya boleh tampil di balik pintu tertutup."

Polisi dan patroli tentara juga turun ke jalan untuk memastikan lokasi hiburan malam ditutup pukul 12 tengah malam sementara biasanya buka hingga pukul tiga pagi.

Mendiang raja memimpin Thailand sejak 9 Juni 1946, dan usianya dua tahun lebih muda dari Ratu.

Raja Bhumibol Adulyadej - yang namanya berarti "kekuatan negara, kekuasaan tiada tanding" - meninggal dunia setelah kesehatannya memburuk selama beberapa tahun dan jarang tampil di depan umum.

Popularitasnya sebagian besar lantaran masa pemerintahannya yang panjang, tapi juga mampu tampil sebagai pilar stabilitas.

Hukum Thailand melarang keras setiap kritik terhadap raja atau keluarga kerajaan Thailand.

Pada Agustus 2015, seorang pria dijatuhi hukuman 30 tahun penjara oleh pengadilan militer Thailand karena menghina kerajaan melalui Facebook.

Menikmati status setengah dewa di kawasan Asia Tenggara, Adulyadej juga raja terkaya di dunia dengan kekayaan sekitar Rp500 triliun seperti dilansir The Sun.
THAILAND'S sex workers have returned to the streets a mere 10 days after the nation's beloved king Bhumibol Adulyadej died.

The country ground to a halt following the revered king's death on October 13, as the government banned entertainment and work for 30 days.

But just over a week after his death, scores of prostitutes were photographed on the streets in revealing maid's outfits, black mini dresses and skirts, black boots and black garters out of respect for the king.

Pictures snapped along Thai tourist hotspot Soi Cowboy in capital city Bangkok show sex workers – usually dressed in eye-catching bikinis – dressed in dark colours as they scout paying customers.

And just a mile away on Soi 4 near the city's infamous Nana Plaza – home to dozens of strip clubs – hundreds of girls and trans sex workers were snapped standing on the street wearing "respectful" thigh-high black boots and dresses as they rushed to "make up for lost money".

In an interview with local reporters, sex worker Lek, 26, said: ''It is still very quiet."

"Everybody is sad because the king died. But we have to keep working to make money. There is nothing else we can do. We have to go out and find the customer for money."

"We are wearing black dresses and boots to be respectful. We don't normally wear big boots like this, Thailand is too hot. Maybe in two weeks we can get back to normal. We have to make money again for lost time.''

While a number of Bangkok's bars and clubs have reopened, their infamous neon lights are dimmed, music is played uncharacteristically quietly, and revellers may only dance behind closed doors.

Police and army patrols are also on hand to make sure venues close at 12am as opposed to 2am or 3am.

The king had reigned since June 9 1946, and was two years younger than the Queen.

King Bhumibol Adulyadej – whose name means "strength of the land, incomparable power" – had been in poor health for a number of years and was rarely seen in public.

His popularity stemmed partly from his long reign, but he was also viewed as a pillar of stability.

Strict lese-majeste laws banned any criticism of him or the Thai royal family.

In August 2015, a man was sentenced to 30 years in prison by a Thai military court for insulting the country's monarchy on Facebook.

Enjoying a god-like status within the south east Asian country, Adulyadej was also the world's richest monarch with an estimated fortune of £25billion.