Dua Bocah Selamat dalam Tragedi Maut di Dreamworld Theme Park Gold Coast Australia
Two Children Survive in an Accident at Dreamworld Theme Park on Australia`s Gold Coast
Editor : Cahyani Harzi
Translator : Dhelia Gani

PUBLISHED: Selasa, 25 Oktober 2016 , 22:27:08 WIB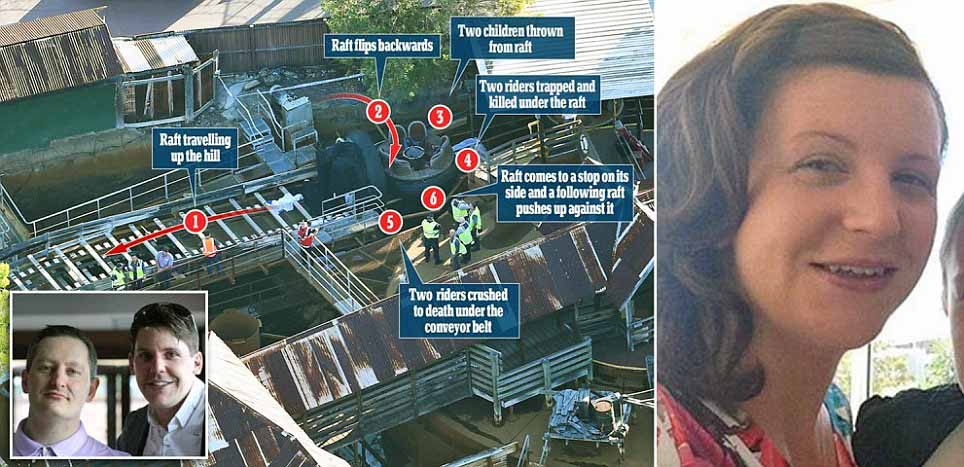 Wahana naas yang menewaskan empat pengunjung yakni Kate Goodchild (kanan) dan Luke Dorsett dan Roozi Araghi (inset bawah) Foto2: MailOnline
DUA ANAK, berusia 10 dan 12, secara ajaib terlempar dari wahana naas Thunder River Rapids di Dreamworld di Gold Coast Australia dan menyaksikan dengan ngeri ketika empat orang dewasa tewas secara mengenaskan.

Tidak berfungsinya ban berjalan (conveyor belt) diduga mengakibatkan wahana berhenti beroperasi, dan dua orang tenggelam, usia 38 dan 35, dan dua wanita, usia 42 dan 32, yang terjadi pada Selasa pukul 14:20 waktu setempat.

Korban tewas termasuk wanita Canberra Kate Goodchild, 32, kakaknya Luke Dorsett, 35, rekannya Roozi Araghi, 38, dan teman mereka, seorang wanita usia 42 tahun.

Dua dari mereka terlempar dari wahana dan dua hancur di bawahnya.

Anak dari Kate Goodchild adalah salah satu anak yang terlempar ke tempat yang aman dari wahana dan berteriak ngeri saat menyaksikan ibunya meninggal, seperti dilaporkan Daily Telegraph.

Bocah perempuan, serta seorang anak di wahana yang sama, berada di rumah sakit untuk menjalani perawatan medis pada Selasa malam.

Ibu dari kedua wanita malang, Kim, memanfaatkan Facebook untuk mengekspresikan kesedihannya.

'Keluarga saya benar-benar berduka," katanya.

"Saya punya tiga anak dan dua dari mereka kini meninggal dunia."

'Cucuku yang masih berusia delapan bulan tidak akan pernah mengenal ibunya dan itu benar-benar membuat saya sangat berduka."

Suami dari Dorsett, anak perempuan, dan bayi perempuan yang baru lahir, harus didampingi oleh paramedis.

NZ Herald juga melaporkan seorang wanita Selandia Baru dan anaknya berada di wahana.

Polisi belum mengonfirmasi laporan mereka yang tewas akibat kecelakaan tersebut. Keluarga telah dihubungi terkait tragedi tersebut pada Selasa malam.

Saksi mata mengatakan seorang bocah perempuan berkeliaran sendirian di pintu keluar dari wahana seraya berteriak memanggil ibunya tak lama setelah itu.

Seorang wanita terlihat 'kakinya tersangkut di wahana, hancur terjepit setelah kecelakaan'.

Saksi Claire Wooley mengatakan dia membantu seorang anak yang diyakini adalah putri dari salah satu dari korban yang tewas, seperti dilaporkan Sunshine Coast Daily.

Saksi lain mengatakan 'ada anak-anak di wahana berteriak sementara ibu mereka seperti terjebak di bawahnya'.

Pengunjung taman wisata mengatakan telah terganggu oleh masalah mekanis pada hari sebelumnya.

Lisa Walker mengatakan ia sempat kepingin naik wahana dengan putrinya Kaylah, 25, dan dikatakan rakit menumpuk terhadap satu sama lain, katanya kepada The Australian seperti dilansir MailOnline.

'Sebelumnya pada pagi hari wahana itu rusak," kata saksi yang sama kepada Sydney Morning Herald.

Kecelakaan itu terjadi 10 menit setelah dia dan putrinya meninggalkan tempat kejadian, kata Lisa.
TWO CHILDREN, aged 10 and 12, were miraculously thrown from the doomed Thunder River Rapids ride at Dreamworld on Australia's Gold Coast and watched in horror as the four adults in their raft were killed.

A malfunction with the ride's conveyor belt is suspected to have caused the raft to flip, crushing and drowning two men, aged 38 and 35, and two women, aged 42 and 32, about 2.20pm on Tuesday.

Those killed include Canberra woman Kate Goodchild, 32, her brother Luke Dorsett, 35, his partner Roozi Araghi, 38, and their friend, a 42-year-old woman.

Two of them had been thrown from the raft and two were crushed beneath it.

Ms Goodchild's daughter is one of the children thrown to safety from the raft and screamed in horror as she watched her mother die, Daily Telegraph reported.

The girl, as well as a boy in the same raft, was in hospital recovering on Tuesday evening.

The mother of the Dorsett siblings, Kim, took to Facebook to express her grief.

'My family have been completely wiped out,' she said.

'I have three children and two of them are now gone.

'My eight-month-old granddaughter is never going to know her mother and that truly breaks my heart.'

Ms Dorsett's husband, daughter, and newborn baby girl, had to be consoled by paramedics.

NZ Herald also reported a New Zealand woman and her son were on the raft.

Police have not confirmed reports those killed were related. Families were being informed of the tragedy on Tuesday night.

Witnesses said a young girl was wandering alone at the ride's exit calling out for her mum shortly afterwards.

A woman could be seen 'hanging by her foot, crushed from the ride'.

Witness Claire Wooley said she helped a child she believed was the daughter of one of those killed, Sunshine Coast Daily reported.

Another witness said 'there were kids on board screaming while their mum was like trapped under'.

A malfunction with the ride's conveyer belt is believed to have caused the tragedy, Queensland Ambulance acting supervisor Gavin Fuller told a press conference on Tuesday afternoon.

Visitors to the theme park have claimed the ride had been plagued by mechanical issues earlier in the day.

Lisa Walker said she had tried to board the ride with her daughter Kaylah, 25, and said rafts were piling up against each other, she told The Australian.

'Earlier in the day it had broken down,' the same witness told Sydney Morning Herald.

'It had broken down and we went back a couple of times to this particular ride.

'We were standing on the bridge watching and the water had stopped.

'There was no rapids.'

The accident happened 10 minutes after she and her daughter left the scene, Lisa said.