Pesawat Jet Trump dan Clinton Parkir di Las Vegas Jelang Debat Capres Terakhir
The US Presidential Candidates Touched Down at McCarran International Airport in Las Vegas
Editor : Ismail Gani
Translator : Novita Cahyadi

PUBLISHED: Rabu, 19 Oktober 2016 , 23:03:51 WIB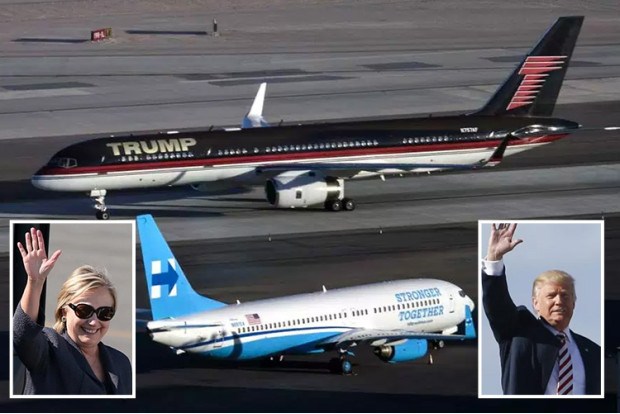 Debat berikutnya antara Clinton dan Trump akan berlangsung di University of Nevada di Las Vegas, Rabu malam waktu setempat (Kamis pagi) Foto: The Sun
DONALD Trump dan Hillary Clinton bertemu di bandar udara setelah pesawat kampanye keduanya yang berbeda ukuran terlihat diparkir tidak berjauhan menjelang debat presiden AS mereka yang ketiga, sekaligus terakhir.

Kandidat presiden AS, yang mendarat di Bandara Internasional McCarran di Las Vegas pada Selasa, terlihat sudah didisain ulang pada bodi pesawat menjelang debat pada Rabu malam waktu setempat.

Kandidat presiden Partai Republik memanfaatkan jet pribadi Boeing 757-2J4ER - panjang hampir 50 meter - diyakini sedikit lebih kecil dari Pesawat Kepresidenan AS Air Force One, yang parkir dekat pesawat jet Clinton berukuran 40 meter - Boeing 737.

Dijuluki sebagai 'kantor sekaligus rumah terbang' berlapis emas, Trump Force One ini didukung oleh mesin Rolls-Royce RB211-535E untuk terbang selama 16 jam dan dapat melaju cepat lebih dari 800 km per jam.

Dijuluki Trump Force One, pesawat mewah milik sang miliarder, yang dilabeli "TRUMP" di badan pesawat, paduan biru kehitaman dan putih dengan garis merah, didukung interior mewah termasuk kamar mandi marmer.

Bahkan di dalam kabin tersedia meja makan besar untuk 10 orang dan dua walk-in kamar mandi, lounge yang luas dengan TV layar datar 52 inci.

Jet penumpang, yang pernah memperkuat layanan dari maskapai penerbangan komersial di Meksiko pada 1990-an, dibeli oleh Trump dari bos Microsoft Paul Allen dengan harga $100 juta (Rp1,2 triliun).

Pesawat Trump, meskipun lebih besar dalam ukuran, hanya memuat 43 kursi dibandingkan dengan 96 kursi pada pesawat komersial Hillary Clinton.

Pesawat Clinton, Boeing 737-86J, dijuluki Hill Force One, yang diperkirakan harganya $ 96 juta (hampir Rp1 triliun).

Pesawat tersebut pertama kali mengangkasa pada 2002 untuk Airberlin tapi kemudian dia sewa, menurut Journal News.

Debat berikutnya antara Clinton dan Trump akan berlangsung di University of Nevada di Las Vegas, Rabu malam waktu setempat.

Pertemuan keduanya akan menjadi debat terakhir kedua kandidat presiden sebelum rakyat Amerika menuju kotak suara untuk memilih Presiden berikutnya dan itu hanya beberapa hari setelah istri Trump, Melania membela suaminya terhadap tudingan pelecehan seksual seperti dilansir The Sun.
DONALD Trump and Hillary Clinton had an awkward airport encounter after their starkly different-sized campaign planes were spotted parked side-by-side ahead of their third and final US presidential debate.

The US presidential hopefuls, who touched down at McCarran International Airport in Las Vegas on Tuesday, appeared to have a plane face-off ahead of tonight's debate.

The Republican nominee's personal Boeing 757-2J4ER – measuring 155ft – believed to be slightly smaller than the Air Force One, shared the same tarmac as Clinton's 129 ft jet – the Boeing 737.

Known as Trump's gold-plated flying office and home, Trump Force One is powered by Rolls-Royce RB211-535E engines to fly for 16 hours and can go more than 500 miles per hour.

Dubbed Trump Force One, the billionaire's luxury aircraft, which has "TRUMP" on its side, a dark blue and white paint job with red trim, boasts ornate decor and dazzling details including a marble bathroom.

It even has a dining table for ten and two walk-in closets, a spacious lounge with a 52-inch flat screen TV.

The jet, which once flew with a commercial airline in Mexico in the 1990s, was bought by Trump from Microsoft mogul Paul Allen for an estimated $100 million (£81 million).

Trump's plane, although larger in size, only seats 43 compared to Clinton's 96-seater commercial aircraft.

Clinton's Boeing 737-86J, nicknamed Hill Force One, is estimated to be worth $96 million (£78 million).

It was first issued in 2002 for AirBerlin but she's leasing it, according to Journal News.

The next clash between Clinton and Trump is taking place at the University of Nevada in Las Vegas, tonight from 9pm EST - meaning 2am on Thursday October 20 here in the UK.

It will be the final time the pair will meet before America votes for their next President and comes just days after Trump's wife, Melania, defended her husband against the growing chorus of sex allegations.