Presiden Filipina Bersumpah Akan Bantai Tiga Juta Pecandu Narkoba, Bandingkan Dirinya dengan Hitler
Rodrigo Duterte Vowed to Kill Three Million, Compared Himself to Hitler
Editor : Ismail Gani
Translator : Novita Cahyadi

PUBLISHED: Jum'at, 14 Oktober 2016 , 23:07:21 WIB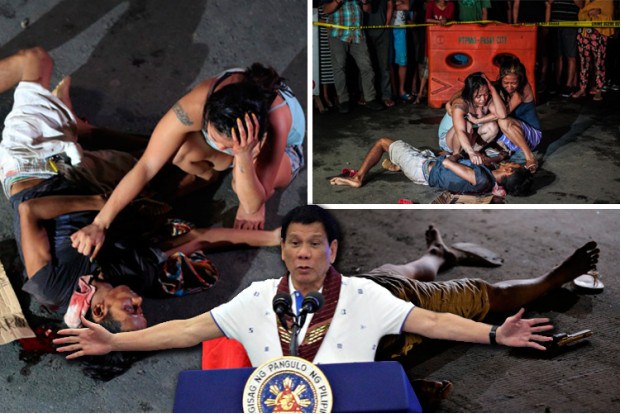 Seorang wanita meratap dekat jenazah dari korban pembantaian pecandu dan pengedar narkoba di Filipina dan Presiden Rodrigo Duterte (bawah) Foto2: The Sun
DIA BERSUMPAH untuk membantai tiga juta pecandu narkoba, membandingkan dirinya dengan Hitler, menuding Presiden Obama "anak dari pelacur" dan melarang karaoke.

Presiden Filipina Rodrigo Duterte kini disebut sebagai presiden paling bernyali.

Media asing menyindir tutur katanya dalam bahasa Inggris yang 'blepotan' dan pemimpin paling berani, Duterte 71 tahun telah membuktikan dirinya sebagai presiden dicintai rakyat setelah menang mutlak pada Pilpres Filipina pada Mei

Namun apa yang telah meraih perhatian yang besar adalah "perang melawan narkoba", yang mengakibatkan pembantaian berdarah di jalan-jalan Filipina.

Hanya dalam beberapa bulan, 3.600 diduga pengedar narkoba dan pecandu dibantai oleh warga dan polisi untuk memenuhi janjinya saat Pilpres untuk memberantas kejahatan narkoba.

Politisi bernyali - kemudian dijuluki "Duterte Harry" - sudah saatnya berlangsung 'musim berburu' terbuka pada pecandu narkoba dan pengedarnya, bahkan mendorong warga bersenjata turun ke jalan membantai mereka dengan imbalan hadiah dari presiden.

Sekitar 2.000 korban tewas terkait narkoba yang dihubungkan dengan massa main hakim sendiri.

Namun yang paling mengancam adalah klaim tim khusus pembantai yang dibentuk oleh polisi Filipina.

Salah satu petugas polisi yang terlibat aksi tersebut tanpa mau menyebutkan nama mengungkapkan dia adalah bagian dari salah satu dari sepuluh yang baru dibentuk, tim khusus operasi rahasia yang bertugas mengeksekusi target.

Ia menceritakan bagaimana regu pembantai berburu di malam hari, mengenakan topeng dan berpakaian hitam, mengatur jam tangan mereka untuk menetapkan target waktu hanya satu atau dua menit untuk membekuk target dari rumah mereka dan kemudian menembaknya di tempat.

Dia mengatakan: "Kami adalah polisi yang membunuh bukan untuk kesenangan. Kami meyakini bahwa target yang diburu adalah individu yang hidup sebagai parasit bagi orang lain, hal itu membuat kami tak punya lagi belas kasihan."

Diperkirakan 3,7 juta warga Filipina kecanduan metamfetamin, dan obat terlarang ditampilkan dalam program TV Breaking Bad dan warganya menyebutnya sebagai sabu.

Lebih dari 26.000 orang ditangkap dalam perang terhadap narkoba dan ribuan lainnya bersembunyi, berharap untuk terhindar dari pembantaian di jalan.

Sejauh ini, satu warga Inggris telah menjadi korban kekacauan tanpa hukum - Maria Aurora Moynihan.

Aurora, 45, putri dari almarhum Baron Antony Moynihan, ditembak mati bulan lalu di ibukota negara Manila pada pukul dua pagi.

Dia membawa empat bungkus sabu ukuran sachet, aluminium foil, tabung kaca dan dua ponsel.

Penyerangnya menaruh tanda dari kertas kardus di atas jasadnya dengan tulisan: "Hukuman yang pantas untuk selebriti.'"

Polisi meyakini mendiang kemungkinan ditembak oleh mantan pacarnya Leandro Kanahashi dalam pertikaian asmara terkait uang.

Amnesty International Rafendi Djamin mengatakan bagaimana bahkan orang yang tidak bersalah merasa tidak aman.

Dia mengatakan: "Duterte telah menciptakan iklim di mana orang bisa membunuh, atau dibunuh, atas nama 'perang terhadap narkoba'.

"Pertumpahan darah berikutnya telah mempengaruhi publik serta dugaan kriminal, termasuk seorang gadis lima tahun yang ditembak mati oleh dua orang mengendarai sepeda motor dan banyak lainnya tewas dalam kasus kesalahan identitas."

Duterte berlumuran darah dalam 100 hari pertama menjadi presiden dan dia menjadi pergunjingan internasional.

Tindakannya dikutuk oleh Gereja Katolik Roma, Uni Eropa, Amerika Serikat dan PBB.

Tapi dengan tenang khas, Duterte mengecam balik para pengritiknya. Presiden juga mengecam berulang kali di PBB dan mengancam akan menarik diri bangsanya dari organisasi tersebut.

Dengan kalimat keras, dia bilang: "F *** Anda, PBB, Anda bahkan tidak bisa memecahkan pembantaian Timur Tengah... tidak bisa mengangkat jari di Afrika (dengan) menyembelih (dari) orang-orang kulit hitam. Diam, kalian semua."

Namun dengan gaya bicara ceplas-ceplos dia malah disenangi oleh rakyat pendukungnya.

Hal ini sedikit mengherankan kemudian, bahwa Duterte digambarkan sebagai "Donald Trump dari Timur".

Seperti Trump ia tidak pernah meminta maaf, tapi malah menikmati peran disorot publik.

Bulan ini, ia dipaksa untuk meminta maaf kepada orang-orang Yahudi setelah membandingkan aksi pembantaiannya dengan Holocaust.

Dia mengatakan: "Hitler membantai tiga juta orang Yahudi. Sekarang, ada tiga juta pecandu narkoba. Saya senang membantai mereka. "

Namun, aksinya memerangui narkoba membuat Duterte - dijuluki "The Punisher".

Sebelum ia menjadi presiden, mantan pengacara ini dituding memimpin tim khusus yang main hakim sendiri saat menjabat sebagai walikota kota Davao, yang ia klaim berubah menjadi salah satu kota yang paling aman setelah memimpin selama 20 tahun.

Dia selalu membantah terlibat dalam "Davao Death Squad", diyakini berada di balik pembunuhan lebih dari 1.000 preman, pengguna narkoba dan anak jalanan pada 1998 hingga 2008, seperti dilansir The Sun.
HE HAS vowed to slaughter three million drug addicts, compared himself to Hitler, branded President Obama "a son of a whore" and banned karaoke.

Philippine president Rodrigo Duterte is hardly your average political leader.

Thanks to his colourful language and tough-guy posturing, 71-year-old Duterte has made himself impossible to ignore since sweeping to power in a landslide victory in May.

But what has grabbed most attention is his "war on drugs", which has brought bloody carnage to the streets of the Philippines.

In just a handful of months, 3,600 alleged drug dealers and addicts have been slaughtered by vigilantes and the police following the president's election promise to wipe out crime.

The incendiary politician — aptly nicknamed "Duterte Harry" — declared open season on drug addicts and dealers, even encouraging citizens to gun them down in cold blood for rewards.

Around 2,000 of the drug-related murders have been attributed to vigilante mobs.

Yet most menacing are the claims state-sanctioned police death squads have been assembled.

One serving police officer came forward anonymously to reveal he was part of one of ten newly formed, secretive special operation teams tasked with executing lists of targets.

He told how the squads hunt at night, hooded and dressed in black, setting their watches to give themselves just one or two minutes to extract individuals from their homes and kill on the spot.

He said: "We are the kind of policemen that don't kill for pleasure. But if we think this is a hardened individual who makes his living as a parasite to others, we  will have no conscience."

At least 3.7million Filipinos are addicted to methamphetamine, the drug featured in TV's Breaking Bad and known locally as shabu.

More than 26,000 people have been arrested in the mayhem and thousands more are turning themselves in, hoping to avoid the slaughter on the streets.

So far, one British citizen has fallen victim to the lawless chaos — Maria Aurora Moynihan.

Aurora, 45, daughter of the late Baron Antony Moynihan, was gunned down last month in the country's capital Manila at 2am.

She was carrying four sachets of crystal meth, foil, a glass tube and two mobile phones.

Her attackers propped a cardboard sign against her body which read simply: "Drug pusher to celebrities."

Police believe she may have been shot by her ex-boyfriend Leandro Kanahashi in a row about money.

Amnesty International's Rafendi Djamin told how even the innocent are not safe.

He said: "Duterte has created a climate where anyone can kill, or be killed, in the name of the 'war on drugs'.

"The ensuing bloodshed has affected bystanders as well as alleged criminals, including a five-year-old girl who was shot dead by two men on motorbikes and many others killed in cases of mistaken identity."

Duterte's bloodstained first 100 days in office have made him an international pariah.

His actions have been condemned by the Roman Catholic Church, the European Union, the US and the United Nations.

But with typical toughness, Duterte has hit back at his critics. The leader has also lashed out repeatedly at the UN and threatened to withdraw his nation from the organisation.

In one rant, he said: "F*** you, UN, you can't even solve the Middle East carnage . . . couldn't lift a finger in Africa (with the) butchering (of) the black people. Shut up, all of you."

Yet such unfiltered outbursts seem only to have endeared him to his grassroots supporters.

It is little wonder then, that Duterte has been described as the "Donald Trump of the East".

Like Trump he is usually unapologetic, but has had his moments.

This month, he was forced to apologise to Jewish people after seemingly comparing his bloody drug-war to the Holocaust.

He said: "Hitler massacred three million Jews. Now, there is three million drug addicts. I'd be happy to slaughter them."

However, trouble has followed Duterte — once dubbed "The Punisher".

Before he became president, the trained lawyer was accused of running vigilante death squads while serving as mayor of the city of Davao, which he claims turned into one of the nation's safest during his 20-year reign.

He has always denied any involvement in the "Davao Death Squad", believed to be behind the murders of more than 1,000 petty criminals, drug users and street children between 1998 and 2008.