Langkah Pertama Iran Mengorbit di Ruang Angkasa
Iran Take First Step to Send Man to Space
Editor : Heru S Winarno
Translator : Parulian Manalu

PUBLISHED: Rabu, 30 Januari 2013 , 03:10:56 WIB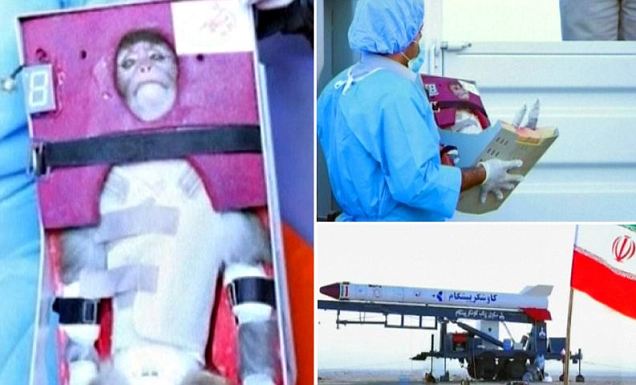 Foto2: Mail Online
Teheran (B2B) - Iran membuat langkah pertama untuk mengirimkan manusia ke ruang angkasa dengan mengorbitkan seekor monyet ke antariksa dan membawanya kembali ke Bumi dengan data-data lingkungan.

Saat mengumumkan kesuksesan peluncuran misi tersebut pada Senin, Menteri Pertahanan Iran Ahmad Vahidi mengatakan The Explorer Pioneer berhasil menyelesaikan misi pada orbit dengan ketinggian 120 kilometer.

Menurut dia, biokapsul yang membawa monyet tersebut telah kembali ke Bumi dengan selamat dengan kecepatan sesuai rencana.

"Mengirim Explorer dan mengembalikannya adalah langkah pertama untuk mengirimkan manusia ke antariksa pada tahap selanjutnya," kata Vahidi seperti dikutip Kantor Berita Fars.

Iran, lanjut dia, selanjutnya akan meresmikan markas observasi ruang angkasa.

Menurut Organisasi Industri Antariksa Kementerian Pertahanan Iran, pengiriman kera ke ruang angkasa dilakukan menggunakan roket Pishgam (Pioneer), yang juga membawa kembali muatan hidup itu ke Bumi.

Pada pertengahan Maret 2011, Badan Antariksa Iran mengumumkan peluncuran roket Kavoshgar-4 yang membawa kapsul percobaan yang dirancang memuat kera.

Iran sudah mengirimkan binatang-binatang kecil ke ruang angkasa, termasuk tikus, kura-kura, dan cacing dengan kapsul yang dibawa roket Kavoshgar-3 pada 2010.

Presiden Iran Mahmoud Ahmadinejad pada 2010 mengumumkan rencana Iran untuk mengirimkan astronot ke ruang angkasa pada 2024. Namun setelah kajian dalam pertemuan kabinet rencana peluncuran itu dipercepat lima tahun.
Tehran - Sending a biocapsule to the space and retrieving it successfully was Iran's first step on the path to sending a human to the space, Iran's Defense Minister Ahmad Vahidi said after his agency announced on Monday that it had sent a monkey to the orbit, brought it back to the Earth and retrieved the animal and the relevant data successfully.

"Sending Explorer and retrieving it was the first step for sending human to the space in later stages," Vahidi said, adding that he would soon announce some good news in the same regard.

He further pointed to the mission of the Explorer, and said, "Explorer Pioneer fulfilled its mission at 360,000 feet (120km) altitude well."

Vahidi, whose ministry's space organization was in charge of the project, said the biocapsule which contained a living creature (a monkey) came back to Earth safe and sound and at the planned speed and velocity.

He said Iran will soon inaugurate a space observation base.

Earlier today, the Defense Ministry's Aerospace Industries Organization announced that it has sent a monkey into the space on the back of Pishgam (Pioneer) explorer rocket, and that it has brought back and recovered the living cargo.

In mid-March 2011, Iran's Space Agency (ISA) announced the launch of the Kavoshgar-4 rocket carrying a test capsule designed to house the monkey.

Iran has already sent small animals into space – a rat, turtles and worms – aboard a capsule carried by its Kavoshgar-3 rocket in 2010.

The capsule had been unveiled in February 2011 by President Mahmoud Ahmadinejad, along with four new prototypes of home-built satellites.