Pembunuh Bersepatu Hak Tinggi, Tentara Wanita Penjaga Perbatasan
Killers in High Heels: Female Soldiers Patrolling Border
Editor : Heru S Winarno
Translator : Parulian Manalu

PUBLISHED: Jum'at, 12 April 2013 , 08:48:00 WIB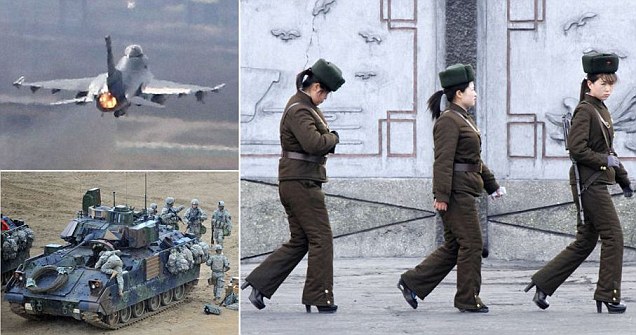 Tentara wanita Korea Utara menjaga perbatasan dengan sepatu hak tinggi (Foto: Mail Online)
FOTO sekelompok tentara wanita berpatroli di sepanjang Sungai Yalu di kota Sinuiju yang menarik banyak perhatian saat ini.

Kota ini adalah kota perbatasan penyeberangan terbesar antara Korea Utara dan China dan telah ditutup untuk kelompok wisata, tapi perjalanan bisnis masih diperbolehkan.

Foto wanita berseragam militer mengingatkan pada diktator Libya Muammar Gaddafi dengan pengawal wanita, yang mengenakan kacamata hitam dan tutup kepala dan sepatu bot hingga ke lutut.

Tentara wanita diyakini mewakili lebih dari 10 persen kekuatan militer dari seluruh Tentara Rakyat Korea Utara, menurut wisatawan yang ke Korea, banyak unit artileri di sepanjang pantai diawaki tentara wanita.

Lagu propaganda dibuat untuk menarik lebih banyak wanita ke dalam unit artileri di pesisir dan mereka sekarang menjaga hampir semua terowongan dan jembatan.

Kim Ok-Hee, 28, mantan instruktur di kamp pelatihan melalui wawancara pada 2007 menjelaskan bagaimana negara sangat bergantung pada tentara wanitanya.

Kim bertugas di boot camp 4.25, sebuah divisi mekanik yang misinya adalah untuk menjaga pantai Provinsi Pyongan Utara Provinsi terhadap infiltrasi Selatan dan oleh pasukan payung musuh selama krisis.

Boot camp memiliki lima resimen dan masing-masing resimen memiliki batalion infanteri perempuan yang terdiri dari tank dan artileri, katanya seperti dilansir Mail Online.

Tetapi bahkan dalam masyarakat seharusnya egaliter, Korea Utara, wanita dengan penampilan yang baik atau pengaruh keluarga dikerahkan untuk direkrut, seperti unit medis, sementara yang lain berakhir di unit artileri, katanya.

Choi Young-Il, 38, yang menjabat sebagai montir perawatan di angkatan udara Korea Utara, mengatakan dalam wawancara yang sama bahwa perempuan mulai digunakan di unit-nya sekitar tahun 1998.

´Dalam unit saya, semua pilot untuk pembom IL-28 adalah perempuan dan banyak pilot perempuan untuk AN-2, bualan Kim Jong-Il sebagai senjata yang lebih mematikan daripada bom nuklir, "kata Choi.
IT WAS the image of a group of female soldiers patrolling along the Yalu River at the town of Sinuiju that triggered fresh interest today.

The town is the biggest border crossing between North Korea and China and has been closed to tourist groups, but business travel was still allowed.

The image of women in uniform sparked memories of Libyan dictator Muammar Gaddafi´s distinctive band of female bodyguards, who wore sunglasses and headdresses and knee-boots.

Women are believed to represent more than 10 per cent of the entire North Korean People´s Army, according to visitors to the state, with many of the artillery units along the coasts manned with women.

Propaganda songs have been written to attract more women into the coastal artillery units and women fighters now guard nearly all tunnels and bridges.

Kim Ok-Hee, 28, a former instructor at a training camp described in a 2007 interview how the state relies heavily on its female soldiers.

Kim served at the 4.25 boot camp, a mechanised division whose mission is to guard the coasts of South and North Pyongan Provinces against the infiltration by enemy paratroopers during a crisis.

The boot camp had five regiments and each regiment had a women infantry battalion consisting of tanks and artilleries, she said.

But even in North Korea´s supposedly egalitarian society, women with good looks or family influence are deployed at more desirable postings, such as medical units, while others end up in artillery units, she said.

Choi Young-Il, 38, who served as a maintenance mechanic in the North Korean air force, said in the same interview that women began to be deployed in his units around 1998.

´In my unit, all the pilots for IL-28 bombers were women and many women were pilots for the AN-2, which Kim Jong-Il boasted as a more deadly weapon than nuclear bombs,´ Choi said.