Water Kingdom Mekarsari, Waterpark Terbesar se-Asia
Mekarsari Water Kingdom, Asia`s Biggest Water Park
Reporter : Gusmiati Waris
Editor : Ismail Gani
Translator : Intan Permata Sari

PUBLISHED: Rabu, 12 Desember 2012 , 18:43:00 WIB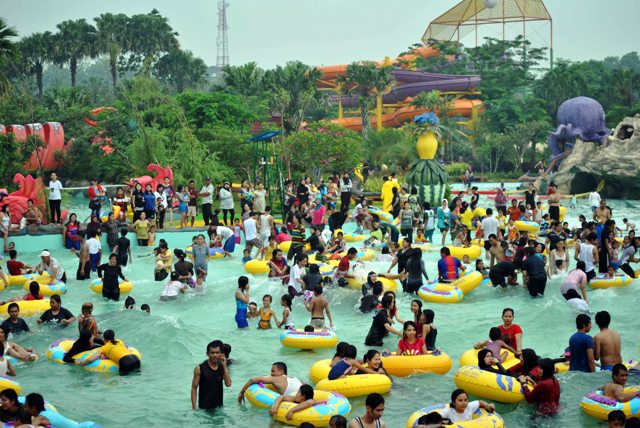 Aneka wahana di sini cocok untuk wisata keluarga (Foto: istimewa)
Bogor (B2B) - Taman Wisata Mekarsari melengkapi fasilitasnya dengan waterpark yang diklaim sebagai terbesar di Asia, yang dinamai Water Kingdom Mekarsari (WKS) dan resmi dibuka hari ini, Rabu (12/12).

Menempati lahan seluas 5,6 hektar, dengan kapasitas pengunjung 15.000 orang. Posisi WKS berada di kawasan Cileungsi, Bogor, Jawa Barat. Berjarak sekitar 10 km dari pintu tol Cibubur, Jakarta atau hanya 4 km dari Cikeas, kediaman pribadi Presiden Susilo Bambang Yudhoyono.

"Waterpark ini jadi yang terbesar di Asia memang karena ukurannya, 5,6 hektar. Di dalamnya ada banyak wahana baru yang atraktif. Waterpark ini menjadi bagian dari Taman Buah Mekarsari. Resmi dibuka, pukul 12.00 WIB siang ini," kata Direktur Operasional WKS, Raditya G Wardhana saat peresmian yang turut dihadiri Siti Hutami Endang Adiningsih yang akrab dipanggil Mamiek Soeharto.

Destinasi wisata WKS mengandalkan beberapa wahana atraktif di antaranya Boomerang Slide misalnya, dengan panjang 118 meter dan tinggi menara 15,8 meter adalah yang pertama di Pulau Jawa. Waterpark ini juga punya Lazy River alias kolam arus terpanjang di Indonesia yakni 600 meter. Ada pula Wave Pool, alias kolam ombak, yang dihasilkan oleh enam pompa yang dibuat dari Skotlandia. Enam Pompa ini mampu menciptakan enam variasi ombak berbeda!

"Mengambang di atas ban, Anda baru selesai mengitari seluruh area Lazy River 30 menit kemudian," kata Sales & Marketing Manager WKS.

Secara keseluruhan, Water Park Mekarsari dibagi jadi tiga bagian besar yang mencakup delapan kolam renang, empat seluncuran, dan satu water sport. Selain wahana-wahana di atas ada pula Kiddy Pool, Leisure Pool, Olympic Size Pool, Toddler Pool, Racer Slide dan Raft Slide.

"Waterpark ini memang untuk Anda-anda yang bosan dengan rutinitas, serta ingin rekreasi terutama bersama keluarga. Aneka wahana di sini cocok untuk wisata keluarga," tambah Andi.

Berapa harga tiket masuk waterpark terbesar se-Asia ini? Untuk hari kerja, harga tiketnya Rp 50.000 dan untuk hari libur Rp 95.000. Dalam rangka Grand Opening, Water Kingdom Mekarsari memberi diskon 50-75% mulai tanggal 1-16 Desember 2012.
Bogor (B2B) - Mekarsari Tourism Park adds a new facility namely water park, claimed to be Asia's biggest water park, named as Mekarsari Water Kingdom officially opens on Wednesday (12/12).

Established on a 5.6 hectare land, with capacity of 15,000 visitors, the water park is located in Cileungsi, Bogor, West Java. It is only 10 km from Cibubur toll gate, Jakarta, or only 4 km from Cikeas, the private residence of President Susilo Bambang Yudhoyono.

"The water park is the biggest one in Asia because it is 5.6 hectare. There are various new attractive things to do. The water park is part of Mekarsari Fruit Garden. It officially opens at 12 AM this noon," says Operational Director, Raditya G Wardhana, in the event attended by Siti Hutami Endang Adiningsih, commonly known as Mamiek Soeharto.

The tourism destination relies on several attractive attractions such as Boomerang Slide, 118 m in length and 15.8 m in height (tower). It is the first in Java island. Another attraction is Lazy River, the longest pool in Indonesia (600 m). Also, there is Wave Pool, producing 6 variations of wave using 6 pumps made in Scotland.

"Floating on a tire, you will finish touring the whole area of Lazy
River in half an hour," says the Sales & Marketing Manager.

Overall, the water park is divided into three big parts including eight swimming pools, four slides, and one water sport. Also, there are Kiddy Pool, Leisure Pool, Olympic Size Pool, Toddler Pool, Racer Slide and Raft Slide.

"The water park is for those getting tired of daily routine who want to go for a picnic with family. The attractions are suitable for family picnic," says Andi.

How much are the prices of tickets? On weekdays, the ticket is sold at Rp 50,000 and on holidays, it is at Rp 95,000. For Grand Opening Promo, it gives 50-75% discounts starting on December 1-16.