Pesan dan Sebutan Aneh dari Pelayan dan Pelanggan Kedai Kopi Ternama
The Rudest Messages Left Behind by Fed-up Waiters and Customers - Several were Insulted by Starbucks Staff
Editor : Ismail Gani
Translator : Novita Cahyadi

PUBLISHED: Kamis, 06 Oktober 2016 , 20:47:52 WIB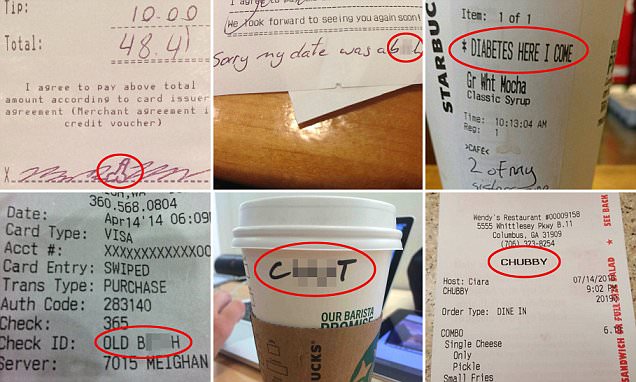 Puluhan orang berbagi foto di media sosial dari nama-nama menyebalkan yang mereka terima dari pelayan yang bekerja di Starbucks (Foto2: MailOnline)
SETIAP pelanggan kerap berjumpa dengan pelayan yang tidak sopan, begitu pula pelayan kerap harus melayani pelanggan yang menjengkelkan (dan mungkin jumlahnya lebih dari separuhnya).

Namun beberapa pelayan mengungkapkan kemangkelan mereka melampaui batas toleransi dengan meninggalkan pesan tidak senonoh di mug plastik takeaway dan tanda terima.

Dari sebutan/julukan menghina hingga komentar rasis yang ofensif, foto-foto ini mengungkapkan beberapa catatan yang paling keterlaluan yang ditinggalkan untuk pelanggan dan pelayan.

Salah satu pelayan mengatakan pesan sweary ditinggalkannya pada tanda terima sebagai cara 'tepat' untuk mengakhiri pekerjaan sebagai pekerja restoran selama tujuh tahun.

Amice09 mengunggah foto dari tanda terima di media sosial Reddit, ketika seorang pria menulis pesan: 'Sorry kencan saya a *****'.

Dia kemudian mengungkapkan bahwa wanita yang 'dikencani' sang pria meminta untuk kembali membuat minuman tiga kali setelah menyatakan mereka semua 'benar-benar menyebalkan'.

Foto tersebut kemudian mendapat 5.500 upvotes di Reddit.

LoudRen257 mengungkapkan ia disebut 'orang aneh' pada tanda terima yang dia terima dari restoran pizza di Pennsylvania via Reddit - yang mungkin jadi menyebalkan kalau kata tersebut dieja dengan benar.

Sementara pengguna Imgur berbagi foto pesan nyebelin dari seorang pelanggan yang mengungkapkan bahwa pria yang pernah menjadi pacarnya meninggalkan dia lantaran kecantol pada pelayan di restoran lain.

Sementara seorang pria menandatangani tagihan, seorang menambahkan gambar kecil mirip penis di tengah tanda tangannya.

Wanita yang menjadi kekasihnya lalu bilang: "Itu cara kekasih saya menandatangani tanda terima saat mabuk."

TheLovelyVoiceofWisdom sedang membantu neneknya membersihkan mejanya ketika ia menemukan tanda terima tua dengan pesan yang sangat kasar tersembunyi di antara angka, ia mengungkapkan pada Imgur.

Tanda terima itu menyebut wanita tua sebagai 'tua bangka'.

'Orang-orang menyebalkan seperti itu memang masih banyak berkeliaran di sekitar kita.'

Lain lagi pengalaman seorang pelanggan yang mencak-mencak setelah mengetahui seorang pelayan telah menulis 'Chubby' pada tanda terima yang diterima rekannya teman setelah mengunjungi restoran cepat saji Wendy.

Srelf mengunggah foto ke Twitter, dengan judul: 'Teman saya datang ke rumah sambil menangis di depan anak-anaknya."

Ini bukan hanya soal tanda terima pembayaran yang mengandung kata-kata kasar yang tersembunyi.

Puluhan orang berbagi foto di media sosial dari nama-nama menyebalkan yang mereka terima dari pelayan yang bekerja di Starbucks.

Jaringan kedai kopi meminta barista untuk menulis nama pertama orang pada minuman mereka untuk memberikan layanan yang lebih pribadi.

Namun kebijakan tersebut menjadi bumerang yang terjadi berulang kali.

Kurt terkejut menemukan bahwa namanya berubah menjadi sebutan yang sangat menyebalkan akibat ulah barista di Starbucks.

Foto dari kata menyebalkan tersebut telah dilihat pada media sosial Imgur lebih dari 300.000 kali.

Sementara Chad dibuat bengong setelah mendapati barista mengeja namanya dengan salah menjadi umpatan kasar ketika dia berada di Buenos Aires, dan fakta tersebut diumbarnya melalui Imgur.

Foto yang diunggah Chad dilihat lebih dari 800.000 kali.

Dan WaxMeOffMiyagi mengunggah foto dari temannya bernama Jude melalui Imgur yang ngomel-ngomel dengan jari jempol menunjuk ke bawah dengan jempol ke bawah sambil memegang frappuccino Starbucks.

Namanya pun diganti, nama Jude kemudian ditulis menjadi : 'Jew' atau Yahudi.

Kinzi juga menyebarkan foto di Imgur dari minuman Starbucks, yang menyebut dia 'malas' (lazy).

Dia pun menyindir Starbucks: 'Nama saya selalu salah dieja tetapi Starbucks yang paling hebat dan pantas dapat hadiah.'

Pelanggan lain yang dirugikan Starbucks terkait, kata-kata 'DIABETES INI MINUMANMU' muncul pada label untuk mocha putih grande yang dipesan oleh pria asal Florida.

Dia kemudian mengaku telah menulis balasan kepada sang barista ketika ia mengembalikan mug plastik, bunyinya: 'Dua saudara saya mengidap diabetes, jadi ... tidak lucu. "

Sementara beberapa pesan tidak terlalu menghina, sementara yang lain dihina.

Pelayan Sadie Karina, yang lahir di Amerika keturunan Amerika Latin, menerima pesan rasis pada tanda terima dari salah satu pelanggan di sebuah restoran Virginia pada Agustus.

Catatan itu menyebutnya 'kita bekerja mengandalkan tips.'

Dalam insiden rasis yang lain, Arainia Brown dan pacarnya Rolman Sparkman terkejut menemukan bahwa pelayan menulis pesan 'ORANG NEGRO' pada tanda terima yang mereka terima pada sebuah restoran di Texas.

Kembali di Inggris, Victoria Whittle, dari Manchester, makan dengan Mike Shawcross di sebuah hotel di Shropshire awal tahun ini, ketika ia melihat catatan menghina pada tanda terima yang mereka peroleh.

Pelayan menyebut mereka sebagai pasangan 'Shaw **** rs' - dan pihak hotel bersikeras adalah kesalahan, karena diyakini pelayan tersebut berniat menulis nama keluarga yang sebenarnya.

Sementara itu, Alan Bell yang kemudian menjadi marah ketika ia melihat bahwa nama keluarga dengan sengaja dieja secara salah sebagai 'Bell End' pada sistem pemesanan elektronik di cabang Hertfordshire dari pizza Domino.

Satu keluarga dibuat jengkel pada suatu malam ketika bersantap di sebuah restoran di New Hampshire - dengan sebutan menghina pada tanda terima mereka setelah mereka menerima makan secara gratis sebagai kompensasi seperti dilansir MailOnline.
EVERY customer has had a rude waiter, and every waiter has had rude customers (and probably more than just a few).

But some people take their frustration to the next level by leaving sneaky rude messages on takeaway cups and receipts.

From mildly insulting nicknames to grossly offensive racist remarks, these photos reveal some of the most outrageous notes left for customers and waiters.

One waitress said a sweary message left on a receipt was the 'perfect' way to end her last ever shift as a restaurant worker after seven years in the business.

Amice09 posted a picture of the receipt on Reddit, on which a man had scribbled: 'Sorry my date was a *****'.

She later revealed the female 'date' has asked her to re-make a drink three times after proclaiming them all 'absolutely disgusting'.

The photo received more than 5,500 upvotes on Reddit.

LoudRen257 revealed she was called a 'weird bictch' on her receipt from a Pennsylvania pizza restaurant on Reddit - which might have been ruder if it had been spelled correctly.

Meanwhile an Imgur user shared a picture of a discrete message her boyfriend had left for waiting staff at another restaurant.

While signing for the bill, the man had drawn a tiny picture of a penis in the middle of his signature.

The girlfriend said: 'This is how my boyfriend signs the receipt when drunk.'

TheLovelyVoiceofWisdom was helping her grandmother clean up her desk when she found an old receipt with a very rude message hidden amongst the numbers, she revealed on Imgur.

The receipt called the elderly woman an 'old *****'.

'Such rude people indeed still exist in our world,' the poster wrote.

One man was outraged after finding out a waiter had written 'Chubby' on a friend's receipt after visiting a branch of US fast food chain Wendy's.

Srelf ?uploaded a photo to Twitter, with the caption: 'My friend came home crying to her children.'

It's not only receipts where rude messages are hidden.

Dozens have shared pictures on social media of the rude names they've been given by staff working at Starbucks.

The coffee chain asks its baristas to write people's first names on their drinks to give a more personal service.

But the policy has backfired on more than one occasion.

Kurt was shocked to discover that his name had been turned into a very rude swearword by a member of Starbucks staff.

The picture of the outrageous drink has been viewed on Imgur more than 300,000 times.

Chad meanwhile was left rolling his eyes when a barista mispelled his name as 'S***' in Buenos Aires, he revealed on Imgur.

That photo was viewed more than 800,000 times.

And WaxMeOffMiyagi uploaded a picture of friend Jude to Imgur looking grumpy with her thumbs down while holding a Starbucks frappuccino.

Instead of her name, the drink says: 'Jew'.

Kinzi also shared a picture on Imgur of his Starbucks drink, which brands him 'lazy'.

He said: 'My name is always spelled wrong but Starbucks wins the prize.'

In another Starbucks-related offence, the words 'DIABETES HERE I COME' appeared on a label for one Floridian man's grande white mocha.

He then claimed to have scribbled a furious reply to the barista when he returned the cup, which read: 'Two of my sisters are diabetic, so... not funny.'

While some of the messages are only mildly insulting, others are much more offensive.

Waitress Sadie Karina, who was born in America but is of Latin-American descent, received a racist message on a receipt from one customer at a Virginia restaurant in August.

The note said 'we only tip citizens'.

In another racist incident, Arainia Brown and her boyfriend Rolman Sparkman were shocked to find that their waiter had written 'BLACK PPL' on their receipt at a Texas pancake house.

Back in the UK, Victoria Whittle, from Manchester, was eating out with partner Mike Shawcross at a hotel in Shropshire earlier this year, when she saw a rude note left on their receipt.

The waiter had called the couple 'Shaw****rs' - which the hotel insists was a genuine mistake, as it believed that to be their actual surname.

Meanwhile, Alan Bell was left furious when he saw that his surname had been cruelly misspelled as 'Bell End' on an electronic ordering system at a Hertfordshire branch of Domino's.

One family suffered through an evening of shoddy restaurant service at an eatery in New Hampshire - only to be called *s*** shows' on their receipt after they received their meal free of charge as compensation.