Pesawat Jet Impian Pesohor, Penuhi Keinginan Kalangan Berkantong Tebal
Cirrus Aircraft Set to Release Personal Aircraft for Just $2 Million
Editor : Ismail Gani
Translator : Novita Cahyadi

PUBLISHED: Minggu, 18 September 2016 , 23:58:00 WIB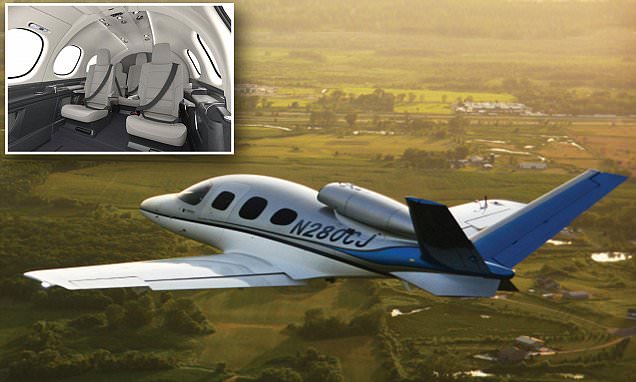 Pesawat jet pribadi ini terbang dengan kecepatan udara maksimal 300 knot kecepatan udara yang benar ((345 mil per jam) memanfaatkan 33 turbofan (Foto2: MailOnline)
PESAWAT Cirrus disiapkan untuk ´mewujudkan impian dan keinginan´ pesawat jet kategori baru yakni ´Pesawat Pribadi.´

Perusahaan menyiapkan pesawat bermesin tunggal SF50 bernilai US$2 juta disebut ´Vision Jet´ akan dikemas dengan aneka fasilitas, dan tidak akan memerlukan pilot profesional.

Menurut Cirrus, pesawat jet baru akan merevolusi perjalanan pribadi, dan mengatakan bahwa pesawat segera siap untuk terbang pada akhir tahun ini.

Cirrus masih menantikan persetujuan Federal Aviation Administration, dan setelah mendapatkan persetujuan, perusahaan akan memenuhi pesanan lebih dari 600 pengiriman kepada para pemesan yang telah memberikan uang muka, termasuk pelatih kepala Dallas Mavericks, Rick Carlisle, seperti dilaporkan Barrons.com.

´Tidak membutuhkan pilot profesional penuh waktu, jet masa depan ini dapat mengisi kekosongan yang belum dimanfaatkan antara kinerja pesawat canggih yang dioperasikan secara mudah tak ubahnya mengendalikan pesawat ringan ultra light," kata Cirrus Aircraft melalui laman resminya.

´Sangat mudah untuk terbang dan lebih mudah untuk mengoperasikan dan memilikinya, Vision Jet benar-benar sebuah revolusi untuk memenuhi kebutuhan transportasi udara pribadi.´

"Pesawat jet pribadi ini memenuhi keinginan seseorang menjadi pilot sekaligus pemilik pesawat, yang selama ini hanya jadi impian."

Ukuran Vision Jet tergolong mungil dengan panjang 12 meter, tinggi tiga meter dan bentang sayap 11,5 meter.

Dan, Cirrus Aircraft telah merancang pesawat pribadi ini dengan semua fasilitas yang dibutuhkan untuk transportasi udara.

Lima penumpang akan mendapatkan parasut yang disediakan di pesawat, kontrol iklim di tiap zona terbang, sabuk pengaman dengan airbag, interior kulit, USB charging ports dan jendela besar sehingga kelima penumpang dapat leluasa menikmati panorama dari udara.

Meskipun perusahaan pembuat jet menyatakan tidak memerlukan pilot, Barrons.com menyatakan mereka yang berniat melakukan penerbangan harus menjalani pelatihan terbang.

Namun, untuk brosur pertama kalinya tampilan kontrol dirancang untuk membuat pengendalian pesawat semudah mungkin.

Pilot akan memiliki kemampuan untuk personalisasi bagaimana informasi disajikan pada dua layar sentuh di kokpit, seperti penjadwalan bertekanan otomatis, data radar cuaca secara real-time, pesan teks dan integrasi telepon satelit dan sebagainya, lapor Flight Club.

Cirrus didirikan pada 1984 dan berbasis di Minnesota, dan juga dikenal telah membuat pesawat VK-30 pada 1987.

Perusahaan itu mengatakan mereka melanjutkan tradisi dan telah merancang monocoque karbon pesawat mulus ´yang lebih ringan dan kuat serta canggih.´

Dan produsen pesawat juga telah mengembangkan parasut khusus yang telah menyelamatkan lebih dari 90 orang di varian sebelumnya.

Pesawat jet pribadi ini terbang dengan kecepatan udara maksimal 300 knot kecepatan udara yang benar ((345 mil per jam) memanfaatkan 33 turbofan yang menghasilkan kekuatan pendorong 1.800 pon.

Dan ketika jet berada di ketinggian 28.000 kaki di udara, tekanan di kabin pesawat akan menyesuaikan di ketinggian 8.000 kaki.

Pemesan akan diberi pilihan untuk meng-upgrade ke tujuh kursi, ditambahkan layar hiburan, koneksi internet via WiFi di darat dan radar cuaca real-time seperti dilansir MailOnline.
CIRRUS Aircraft is set to 'reimagine and reinvent' the jet airplane to create a new category of aircraft – 'The Personal Jet'.

The firm's $2 million single-engine SF50 ´Vision Jet´ will be packed with amenities, and will not require a professional pilot.

According to Cirrus, the new jet will revolutionize personal travel, and they say it could be ready to fly by the end of this year.

Cirrus is currently waiting on Federal Aviation Administration approval, and shortly after it is awarded, the firm will fulfill more than 600 deliveries to individuals who have already handed in deposit, including Dallas Mavericks head coach Rick Carlisle, Barrons.com reports.

'Not requiring a full-time professional pilot or a full-blown flight department, the Vision Jet fills the untapped void between high performance pistons and the Very Light Jet,' reads Cirrus Aircraft's website.

'Simpler to fly and easier to operate and own, the Vision Jet is truly a revolution in personal transportation.

'It makes jet performance accessible to pilots and aircraft owners who, up until now, could only dream.'

The Vision Jet can fit inside a standard 40-foot hanger, as it is 11 feet tall with a wingspan of 38 feet.

And, Cirrus Aircraft has designed this personal craft with all of the necessary amenities needed for a day in the air.

The five passengers will have access to a whole-airplane parachute, zoned climate controls, airbag seat belts, leather interior, USB charging ports and large windows so your five passengers can take in the sites.

Although the jet maker suggest a full-time professional pilot is not needed, Barrons.com says those who intend on flying the craft will need to complete a jet-type rating course.

However, even for first time flyers the control display is designed to make piloting as easy as possible.

Pilots will have the ability to personalize how information is presented on two touch screens in the cockpit, such as automatic pressurization scheduling, weather radar data in real-time, text messaging and satellite phone integration and more, reports Flight Club.

Cirrus was founded in 1984 and is based in Minnesota, and it is also known for producing the VK-30 kit aircraft in 1987.

The firm says they are sticking with tradition and has designed a seamless monocoque carbon fuselage 'that is lighter and stronger making it the state-of-the-art pressure vessel in its class'.

And the aircraft manufacturer is including its Airframe Parachute System that has saved over 90 lives in previous variants.

The Vision Jet cruises at 300 knots true airspeed (KTAS) (345 miles per hour) using its 33 turbofan that produces 1,800 pounds of thrust.

And when the jet hits 28,000 feet in the air, the aircraft will be pressurized to simulate an 8,000 foot cabin.

Buyers will have the option to upgrade to seven seats, add an entertainment display, Wi-Fi ground link and an enhanced real-time weather radar.