Yoga Wajah, Bikin Awet Muda
Facial Yoga, Can Make You Look Young
Editor : Cahyani Harzi
Translator : Parulian Manalu

PUBLISHED: Rabu, 28 November 2012 , 06:24:23 WIB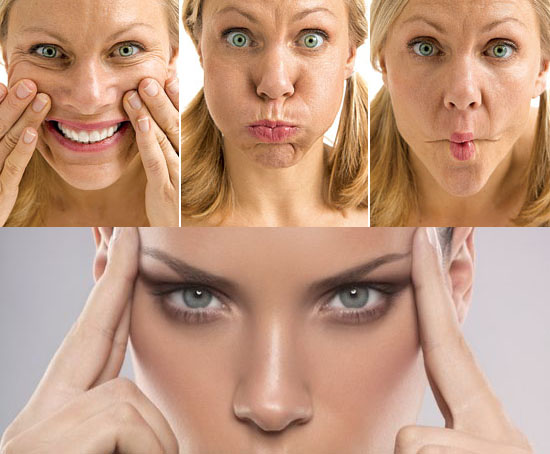 Tujuan olahraga wajah ini untuk mengencangkan otot-otot di wajah (Foto2: nymag.com)
BANYAK cara yang dilakukan supaya wajah tampak sehat dan awet muda. Salah satunya dengan melakukan senam yoga wajah.

Di saat orang memilih secara instan agar selalu tampak awet muda dengan melakukan operasi plastik atau penarikan wajah, ternyata masih ada cara yang lebih elegan dan tidak berisiko. Namanya yoga wajah atau facial yoga.

Kata yoga wajah mungkin masih terasa asing di telinga kita, maklum secara umum yoga identik dengan pengaturan pernapasan yang melibatkan anggota badan.

Facial yoga melibatkan berbagai ekspresi untuk mengubah penampilan seseorang, karena tujuan dari olahraga ini adalah mengencangkan otot-otot di wajah.

Salah satu gerakan yoga wajah adalah smiling fish frenzy, yaitu melakukan pose tersenyum dengan senyum dan mengepalkan gigi secara bersama-sama. Biasanya melakukan gerakan ini harus ditahan selama 5-7 detik, selanjutnya dilepaskan. Usahakan dilulangi sebanyak 10 kali.

Ada juga gerakan lain yang dikenal dengan istilah lion face atau wajah singa. Gerakan ini bisa membuat tegang semua otot di wajah dengan menggerakkan wajah hingga terasa kencang. Usahakan tahan gerakan ini 5-7 detik setelah itu kendurkan lagi setiap ototnya.

Gerakan berikutnya, ada teknik cheek puff, yaitu menghirup udara melalui mulut dan membusungkan pipi. Usahakan pada fase ini tutup rapat bibir untuk menahan udara di pipi, tahan selama lima detik, lalu buang napas perlahan-lahan.

Setelah pipi kanan, lakukan gerakan yang sama pada pipi kiri. Tarik napas dalam-dalam di pipi kiri saja kemudian beralih ke pipi kanan. Ulangi latihan ini hingga 10 kali.

Gerakan mengkerutkan bibir seperti pose akan mencium seseorang juga bisa mengecilkan pipi. Tahan gerakan tersebut selama lima detik dan ulangi hingga 10 kali.

Selain itu, bisa juga dengan mendorong lidah pada bagian pipi dalam kemudian bergerak ke atas dan ke bawah. Lakukan pada kedua pipi dan ulangi hingga 10 kali. Cara seperti ini bisa membuat wajah terlihat fresh. Silakan mencoba.
THERE are many ways that can be done so that your face will look healthy and look young. One of them is by doing facial yoga.

While some people prefer have an instant treatment so they would always look young, by having a plastic surgery or having a face lift, there are some other means more elegant and less risky. It is called facial yoga.

The word facial yoga may still sound foreign to us, in general, yoga is identical with controlling are breathing which also involves movement of our body parts.

Facial yoga involves various facial expressions with the aim of changing ones appearance, because the aim of this exercise is to tighten the facial muscles.

One type of facial yoga movement is called smiling frenzy, which is by doing a smiling pose by smiling and clenching your teeth together. Normally this movement lasts 5-7 seconds, and then you let loose. This movement should be done 10 times over.

There is also another type of movement known by the term lion face. This movement will enable to tighten all the muscles surrounding the face by doing a facial movement until it feels tighten. Try to maintain this movement for as long 5-7 seconds, after that loosen all your muscles.

The following movement, is the cheek puff technique, this is done by breathing in air through your mouth and puffing up your cheeks. At this phase try to close your lips tightly, to contain air under your cheeks, maintain this for as long as five seconds, then let go of your breath slowly.

After the right cheek, do the same movement on left cheek. Breath in air deeply on your left cheek only, than switch to your right cheek. Repeat this exercise up to 10 times.

Movement by constricting the lips, so it looks as though you are going to kiss someone, can also shrink your cheek. Maintain this movement for as long as five seconds and repeat it 10 times.

Apart from this, it can also be done by sticking our tongue against the interior side of our cheek, than move it up and down. Do this to both sides of your cheek, and repeat this movement up to 10 times. This method can make your face look fresh. Feel free to try it.