Tabrakan Mengerikan di Indy 500, Pembalap Dixon Luput dari Maut
Horror Crash at the Indy 500: Dixon Lucky to Survive after Collision
Editor : Ismail Gani
Translator : Novita Cahyadi

PUBLISHED: Senin, 29 Mei 2017 , 04:26:00 WIB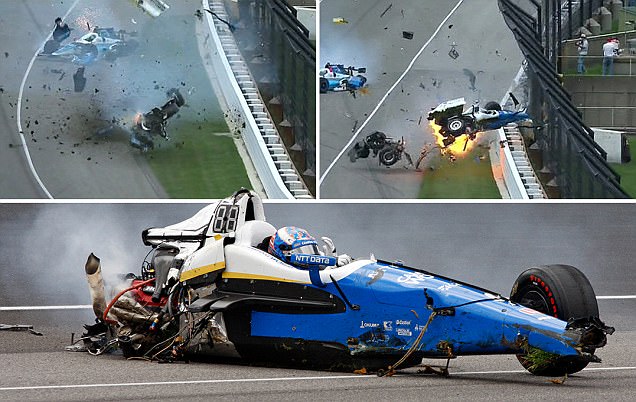 Kedua pembalap itu secara ajaib tidak cedera akibat kecelakaan mengerikan yang membuat mobil Dixon rusak parah, hanya menyisakan roda kiri depan (Foto2: MailOnline)
PEMBALAP Selandia Baru Scott Dixon terlibat dalam sebuah kecelakaan mengerikan di balapan Indy 500 setelah bertabrakan dengan pembalap Inggris Jay Howard pada Minggu.

Howard kehilangan kontrol dari roda depan kanannya setelah menabrak dinding pembatas dan sebelum tanpa sengaja memotong Dixon di tikungan, akibatnya mobil dari pembalap berusia 36 tahun tersebut melayang ke udara, melewati Howard, dan masuk ke dinding penghalang di sisi yang berlawanan dari lintasan balap.

Kedua pembalap itu secara ajaib tidak cedera akibat kecelakaan mengerikan yang membuat mobil Dixon rusak parah, hanya menyisakan roda kiri depan.

Wow. Scott Dixon terlibat kecelakaan yang mengerikan ... untungnya dia selamat. # Indy500 pic.twitter.com/55QkXRGKuj
- Mark Burnette (@cakeburn) 28 Mei 2017

Puing-puing bekas kecelakaan dibiarkan terserak di lintasan balap saat para petugas melambaikan bendera merah dan balapan dihentikan di lap 55 dari balapan 200 lap.

Beruntung mobil Dixon, pembalap kelahiran Brisbane jatuhnya di dinding pembatas setelah terlempar ke udara.

Dinding pembatas menjadi tumpuan mobil setelah tabrakan dan balapan harus dihentikan karena harus diperbaiki sebelum Indy 500 dilanjutkan.

Setelah itu Dixon berbicara tentang kejadian menakutkan: ´Saya senang semua orang baik-baik saja. Benar-benar tabrakan mengerikan, saya yakin, dan terima kasih yang sebesar-besarnya kepada semua orang [yang membantu] dan standar keselamatan yang kita miliki saat ini.

´Itu sulit. Saya pikir ketika Anda membuat keputusan tentang jalan mana yang harus saya lalui, saya berharap Jay [Howard] akan bertahan menabrak tembok tapi jelas dengan dampaknya dengan banting setir dan tidak ada cara lain untuk mencoba menghindari tabrakan maut.´

"Aku senang dia juga baik-baik saja. Saya baik-baik saja, saya hanya sedikit terkejut saat melayang. Saya merasakan kekecewaan tim.´

"Kami mulai membuat beberapa kemajuan, kami sedikit mengeluhkan tikungan. Namun saya senang semua orang baik-baik saja.

"Ini betul-betul tabrakan mengerikan dan Anda harus bertahan dan percaya pada kemajuan keselamatan yang telah kami buat selama bertahun-tahun terakhir."

Kecelakaan untuk Dixon mengakhiri minggu yang kelabu setelah dia dirampok di bawah todongan senjata di sebuah restoran makanan cepat saji beberapa jam setelah mengambil posisi terdepan untuk Indy 500.

Dixon berada di dalam mobil bersama pembalap Inggris Dario Franchitti - pemenang Indy 500 tiga kali - saat kecelakaan terjadi seperti dilansir MailOnline.
NEW ZEALANDER driver Scott Dixon was involved in an horrific crash at the Indy 500 after colliding with Englishman Jay Howard on Sunday.

Howard lost control of his front right wheel after colliding with a barrier before accidentally cutting across Dixon at a bend, with the 36-year-old´s car sent flying into the air, over Howard´s, and into the barrier on the opposite side of the track.

Both drivers miraculously appeared to be left unscathed by the horrifying accident which saw Dixon´s car left obliterated, with just the front left wheel remaining.

Wow. Scott Dixon in a terrible crash...thankfully walked away. #Indy500 pic.twitter.com/55QkXRGKuj
— Mark Burnette (@cakeburn) May 28, 2017

Debris was left scattered across the track as officials waved the red flag and the race was stopped on lap 55 of the 200-lap race.

Luckily Brisbane-born Dixon´s car came down bottom first on the inside wall after being unceremoniously flung into the air.

The safety barriers took a battering in the crash and there was a pause for them to be repaired before Indy 500 got back underway.

Afterwards Dixon spoke of the frightening incident: ´I´m glad everybody was OK. It was definitely a wild ride, for sure, and big thanks to everybody [who helped] and the safety standards we have right now.

´It´s tough. I think when you make those decisions of which way to go I was hoping that Jay [Howard] was going to stay against the wall but obviously with the impact it then started to turn down and there was nowhere else to go to try and avoid him.

´I´m glad he´s OK too. I´m OK, I was just a little beaten up there. I´m bummed for the team, man.

´We were starting to make some progress, we were a little light on the downforce. I´m just glad everybody is OK.

´It´s just a wild ride and you have to hold on and believe in the safety progress that we´ve made over the last many years.´

The crash for Dixon capped a lousy week after he was robbed at gunpoint at a fast-food restaurant hours after taking pole position for the Indy 500.

Dixon was in a car with Briton Dario Franchitti - a three-time Indy 500 winner - when the incident happened.