Militer AS Kembangkan Senjata Elektromagnetik untuk Lumpuhkan Kota
How America`s Scary New Secret `Electromagnetic Pulse` Weapon
Editor : Ismail Gani
Translator : Novita Cahyadi

PUBLISHED: Kamis, 19 Januari 2017 , 00:44:55 WIB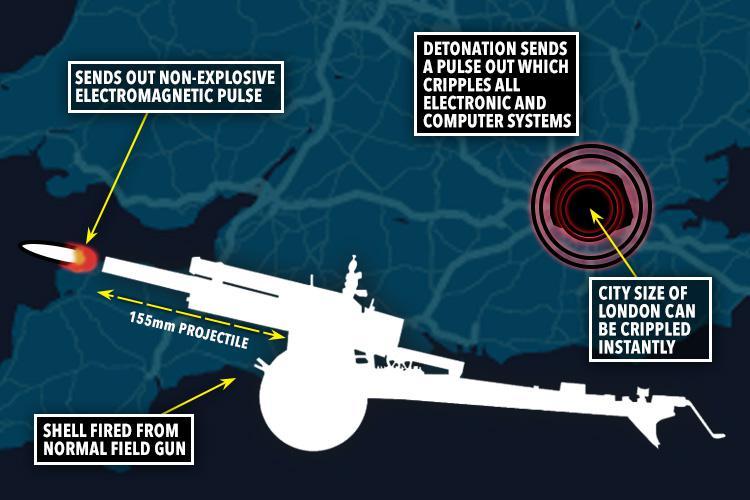 Militer AS menyediakan miliaran dolar untuk mengembangkan teknologi militer untuk melumpuhkan musuh-musuhnya (Ilustrasi: The Sun)
LEDAKAN hebat, tembakan dan bahkan senjata nuklir bisa disebut sebagai persenjataan 'jadul' - memusnahkan kota menjadi target dari persenjataan militer modern.

Angkatan Darat AS saat ini mengembangkan teknologi artileri elektromagnetik non-eksplosif yang akan melakukan kerusakan hebat tanpa menyakiti siapa pun.

Ketika diledakkan, senjata artileri elektromagnetik secara efektif akan melumpuhkan peralatan elektronik dan semua sistem komputer, termasuk perangkat digital yang Anda gunakan untuk membaca artikel ini.

Senjata baru yang luar biasa terungkap dalam rencana Angkatan Darat AS yang merinci bagaimana senjata rahasia Amerika berikutnya akan membuat senjata nuklir menjadi usang.

Senjata nuklir menimbulkan masalah sehingga AS mengubah target mereka tetap bersih dari bahaya radiasi nuklir.

Namun senjata baru yang disebut easy-to-use akan mengakibatkan kerusakan yang tidak terlihat.

Sebuah senjata prototipe telah dipasangkan pada proyektil 155mm yang dapat ditembakkan dari senjata artileri.

Rencana rahasia menyatakan: "[Senjata] memberikan vektor serangan alternatif untuk menetralkan infrastruktur industri, sipil, dan komunikasi yang dimiliki musuh tanpa menghancurkan perangkat keras yang terkait dengan sistem itu."

"Kemajuan dalam amunisi berbasis mikroelektronika dan teknologi listrik memungkinkan pelaksanaan cyber non-kinetik dan peperangan elektromagnetik atau serangan elektronik yang dapat disampaikan melalui artileri meluncurkan amunisi."

Militer AS menyediakan miliaran dolar untuk mengembangkan teknologi militer untuk melumpuhkan musuh-musuhnya.

Gaya tempur Star Wars siap menjadi kenyataan dalam waktu hanya beberapa tahun setelah bos Pentagon meneken kontrak militer pengembangan senjata laser.

Senjata laser yang dipasang pada jet siluman AS akan mendukung melumpuhkan sistem rudal lawan, pertempuran di udara, pesawat tanpa awak, kapal perang dan pasukan darat dalam sekejap seperti dilansir The Sun.
HEAVY explosions, gunfire and even nukes are so yesterday – wiping out cities is all about this game changing weapon.

The US Army is currently working on a non-explosive electromagnetic pulse artillery shell that would do catastrophic damage without hurting anyone.

When detonated, a non-explosive electromagnetic pulse artillery shell would effectively knock out electronic equipment and all computer systems useless, including the device you are reading this story on.

The extraordinary new weapon has been revealed in US Army plans which detail how America's next secret weapon could render nuclear weapons obsolete.

The problem with nukes is that they turn their targets into radiation no go zones.

But the new easy-to-use weapon will leave no visible damage.

A prototype is to be fitted to a 155mm projectile which can be fired from a artillery gun.

The secret plan reads: "[The weapon] provides an alternative attack vector for the neutralisation of an adversary's underlying industrial, civil, and communications infrastructure without the destruction of the hardware associated with those systems.

"Advances in munitions-based microelectronics and power technologies make possible the implementation of non-kinetic cyber and electromagnetic or electronic warfare (EW) attacks that could be delivered via artillery launched munitions."

The US military is ploughing billions of dollars into keeping ahead of its enemies.

Star Wars style combat is poised to become a reality in just a few years' time as Pentagon military bosses award contracts to phase in laser guns.

Aircraft-mounted laser weapons on the US stealth jets will be able to toast opposition missile systems, air-to-air fighter jets, drones, ships and ground forces in an instant.