Gagasan Cemerlang Selamatkan Penumpang dari Musibah
The Plane that Can Detach Its Entire Cabin in the Event of an Emergency
Editor : Ismail Gani
Translator : Novita Cahyadi

PUBLISHED: Sabtu, 31 Desember 2016 , 00:53:16 WIB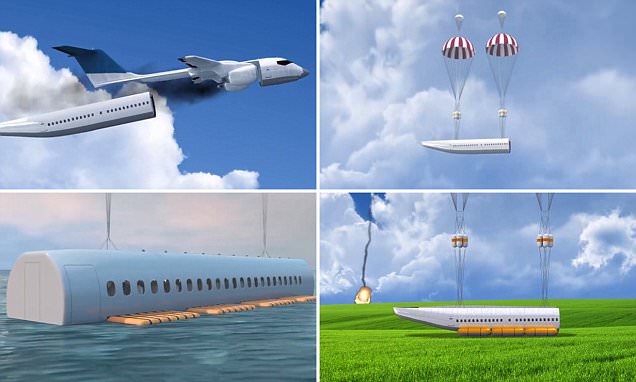 Foto2: MailOnline
SEJUMLAH insinyur mengungkapkan kiat baru yang tergolong radikal untuk menyelamatkan penumpang pesawat dalam keadaan darurat.

Disain menunjukkan sebuah pesawat dengan kabin yang bisa dilepas dalam situasi darurat.

Saat lepas landas, mendarat atau selama mengudara, kabin didisain ulang untuk mampu lepas dari pesawat dan aman mendarat di tanah atau air untuk menyelamatkan semua penumpang kapal.

"Selamat dari kecelakaan pesawat adalah mungkin," kata Vladimir Tatarenko, insinyur penerbangan, kepada LiveLeak.

'Sementara insinyur pesawat di seluruh dunia sedang mencoba untuk membuat pesawat lebih aman, tapi mereka tak dapat berbuat apa-apa untuk menyelamatkan penumpang.'

Tatarenko adalah bahwa penggagas utama di balik desain dan telah bekerja pada proyek ini selama tiga tahun terakhir, menurut Independent.

Parasut yang melekat pada atap kabin yang langsung dilepaskan ketika kabin terlepas dari pesawat.

Ada juga tabung karet yang mengembang untuk meredam dampak benturan ke tanah atau air, dan pelampung tampaknya cukup kuat untuk mempertahankan kabin mengapung.

'Teknologi yang ada menggunakan Kevlar dan karbon komposit untuk pesawat, sayap, flaps, spoiler, ailerons, ekor akan digunakan sebagai bagian dari desain,' kata Tatarenko.

"Hal ini memungkinkan untuk sebagian mengimbangi bobot yang harus disanggah parasut.'

Desain termasuk ruang darurat yang menampung bagasi penumpang 'di bawah kabin, sehingga tidak akan terjadi kehilangan bagasi selama penerbangan jika harus dilepaskan dari pesawat.

Independen menjelaskan video demo memancing reaksi positif dari penontonnya. Sebagian dari mereka menilai disain tersebut luar biasa, sementara yang lain skeptis dan menilai hal itu tidak praktis.

Beberapa tanggapan terkait pada dampak potensial pada sisa pesawat, kemungkinan kabin terpisah menabrak gunung atau bangunan dan rencana evakuasi untuk pilot.

Seseorang berkomentar: 'Dari jutaan penerbangan setahun, kurang dari 500 orang meninggal dunia per tahun akibat kecelakaan pesawat."

'Sepertinya biaya yang dikeluarkan tidak efektif."

Sementara yang lain memiliki kekhawatiran terlalu: 'seluruh konsep ini secara dramatis melemahkan badan pesawat karena sekarang Anda memiliki sendi dan perlengkapan untuk menghubungkan pesawat dan tubuh bersama-sama di mana setelah Anda memiliki seluruh badan pesawat untuk memperkuat badan pesawat. "

Namun, jajak pendapat yang dilakukan oleh inovatornya mendapati bahwa 95% orang akan bersedia untuk membeli tiket lebih mahal untuk memanfaatkan sistem darurat tersebut.

Ini bukan desain pertama yang dihasilkan insinyur asal Ukraina tersebut.

Tahun lalu, Tatarenko menerima paten untuk penemuan dengan sistem kapsul pelarian yang akan menyelamatkan penumpang.

Kapsul tersebut akan dirilis dalam hitungan detik dari situasi darurat dan keluar melalui pintu belakang di ujung ekor pesawat.

Setelah dikeluarkan, dua mesin akan mengambil kendali untuk memperlambat kecepatan dan kemudian parasut akan muncul keluar.

Namun, menurut Tatarenko, hal itu tidak bisa menyelamatkan nyawa penumpang jika pesawat meledak di dalam atau dihantam serangan roket seperti dilansir MailOnline.
ENGINEERS have revealed a radical new way to save plane passengers in the event of an emergency.

The design shows an aircraft with a detachable cabin that releases in emergency situations.

During take-off, landing or flight, the redesigned cabin detaches from the plane and safely lands on the ground or water– saving everyone's lives on board.

'Surviving in a plane crash is possible,' Vladimir Tatarenko, aviation engineer, told LiveLeak.

'While aircraft engineers all over the world are trying to make planes safer, they can do nothing about the human factor.'

Tatarenko is that mastermind behind the design and has been working on this project for the past three years, according to Independent.

Parachutes are attached to the roof of the cabin that are instantly released when the cabin is detached from the plane.

There are also rubber tubes that inflate to cushion the impact to the ground or water, and the inflatable devices seem strong enough to keep the cabin afloat.

'The existing technology of using of Kevlar and carbon composites for fuselage, wings, flaps, spoilers, ailerons, tail will be used during the design,' Tatarenko explained.

'It allows to partly compensate the weight of parachute system.'

The design includes a storage space that holds passengers' luggage underneath the cabin, so there won't be any lost luggage during the flight if it has to detach.

Independent explained viewers of the demonstration video have mixed reactions to the innovation.

Some are all for the cutting-edge design, while others are skeptical and feel it's impractical.

A few reservations pertain to the potential impact on the rest of the plane, the possibility of the detached cabin smashing into mountains or buildings and the escape plan for the pilots.

One person commented: 'Of the millions of flights a year, less than 500 people die worldwide a year from plane crashes.'

'Seems not terribly cost effective'

While another had concerns too: 'This whole concept dramatically weakens the airframe because now you have joints and fittings to connect a fuselage and a body together where once you had a whole fuselage to reinforce the airframe.'

However, a questionnaire conducted by the inventor found that 95% of people would be willing to buy a more expensive ticket in order to use such a safety system.

This isn't the first design the Ukrainian engineer has produced.

Last year, Tatarenko received patents for an invention with an escape capsule system that would rescue passengers on board.

The capsule would be released within seconds of the emergency situation and through a rear hatch at the tail end of the plane.

Once ejected, two gunpowder engines will take control to slow down the speed and then a parachute will pop out.

But, according to Tatarenko, it could not save lives if the plane explodes inside or comes under a rocket attack.