Pendaki Nekat! Berkemah di Tebing pada Ketinggian 914 Meter
Extreme Campers Pitch Climbing Tents more than 3,000ft High on El Capitan`s in Yosemite
Editor : Ismail Gani
Translator : Novita Cahyadi

PUBLISHED: Senin, 12 Desember 2016 , 01:22:34 WIB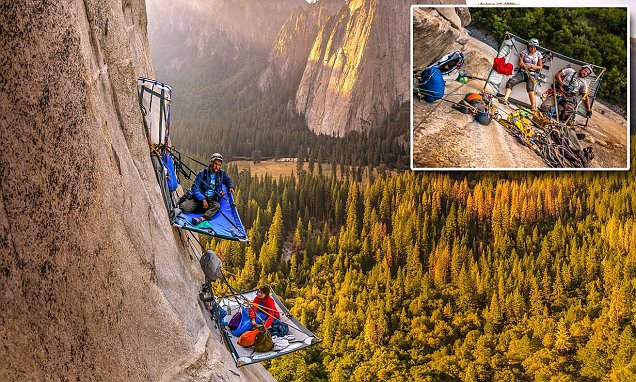 Foto-foto tersebut diambil oleh fotografer Belgia Alexandre Eggermont, yang berkemah dengan kedua rekannya, Morgane Choquet dan Samuel Cobby (Foto: MailOnline)
APABILA Anda tidak tertarik berkemah dan takut berada di ketinggian, maka mimpi terburuk Anda bakal menjadi kenyataan.

Bertengger di ketinggian 914 meter, sekelompok pendaki pemberani terlihat berkemah di sisi tebing yang berdiri tegak di Yosemite National Park, California, AS.

Dengan tenda yang dirancang khusus, petualang bernyali ini dapat menyangkutkan tenda dan berusaha tidur dengan nyaman meskipun sebenarnya sulit untuk enjoy karena tubuh mereka harus diikat sabuk pengaman.

Bertengger tinggi di atas lembah yang penuh pohon, para pendaki pasti mendapati pemandangan indah setelah terlelap.

Foto-foto tersebut diambil oleh fotografer Belgia Alexandre Eggermont, yang berkemah dengan kedua rekannya, Morgane Choquet dan Samuel Cobby.

Banyak yang mengomentari foto-foto tersebut, yang disebut sebagai aksi 'berani' dan 'gila'.

Memang, salah satu komentator mengatakan: 'foto yang sangat menarik! Saya pikir Anda semua gila, tapi itu tetap foto yang luar biasa. Bravo! "

Lainnya berkomentar jenaka: 'Jelas bukan [tempat] untuk berjalan dalam tidur.'

Ketiganya berjalan kaki ke tebing terkenal El Capitan - yang berdiri tegak hampir 1.100 meter di atas dasar lembah - setelah memanjat dinding granit pada musim gugur lalu.

Pendaki sering berkemah di tebing saat pendakian untuk beristirahat, karena butuh waktu beberapa hari untuk mencapai puncak tebing.

Sementara tenda khusus melindungi mereka dari cuaca yang tidak bersahabat, dan mereka tidak terlindung dari reruntuhan bebatuan.

Tentu dapat dibayangkan bagaimana sulitnya mereka untuk buang hajat seperti dilansir MailOnline.
IF YOU'RE not keen on camping and suffer from a fear of heights, then this is your worst nightmare come true.

Perched more than 3,000 feet high, a group of daredevil climbers are seen suspended on El Capitan's vertical rock face in California's Yosemite National Park.

Thanks to specially designed tents, the avid adventurers can pitch up on the side of a cliff wherever they please and take a well-earned nap.

Perched high above a valley full of trees, the climbers certainly have stunning views to wake up to.

The pictures were taken by Belgian photographer Alexandre Eggermont, who was camping with friends Morgane Choquet and Samuel Cobby.

Many have commended the photos, deeming the subjects 'brave' and 'crazy'.

Indeed, one commenter said: 'Very exciting picture! I think you are all crazy, but it makes fabulous pictures. Bravo!'

Another humoursly added: 'Definitely not [a spot] for a sleepwalker.'

The trio trekked to the famous El Capitan rock face - which stands nearly 3,600 feet above the valley floor - to climb the granite wall last autumn.

Climbers often camp on cliff faces during difficult climbs, as it often takes several day to summit.

While the specialised tents protect them from harsh weather, they do not protect from falling rock.

Toilet breaks can also prove tricky to navigate!