Presenter TV `Netek` ASI dari Ibu yang Kampanye Manfaat ASI
TV Presenter Sucks Milk from Topless Mum`s Breasts
Editor : Ismail Gani
Translator : Novita Cahyadi

PUBLISHED: Jum'at, 05 Juli 2013 , 12:24:00 WIB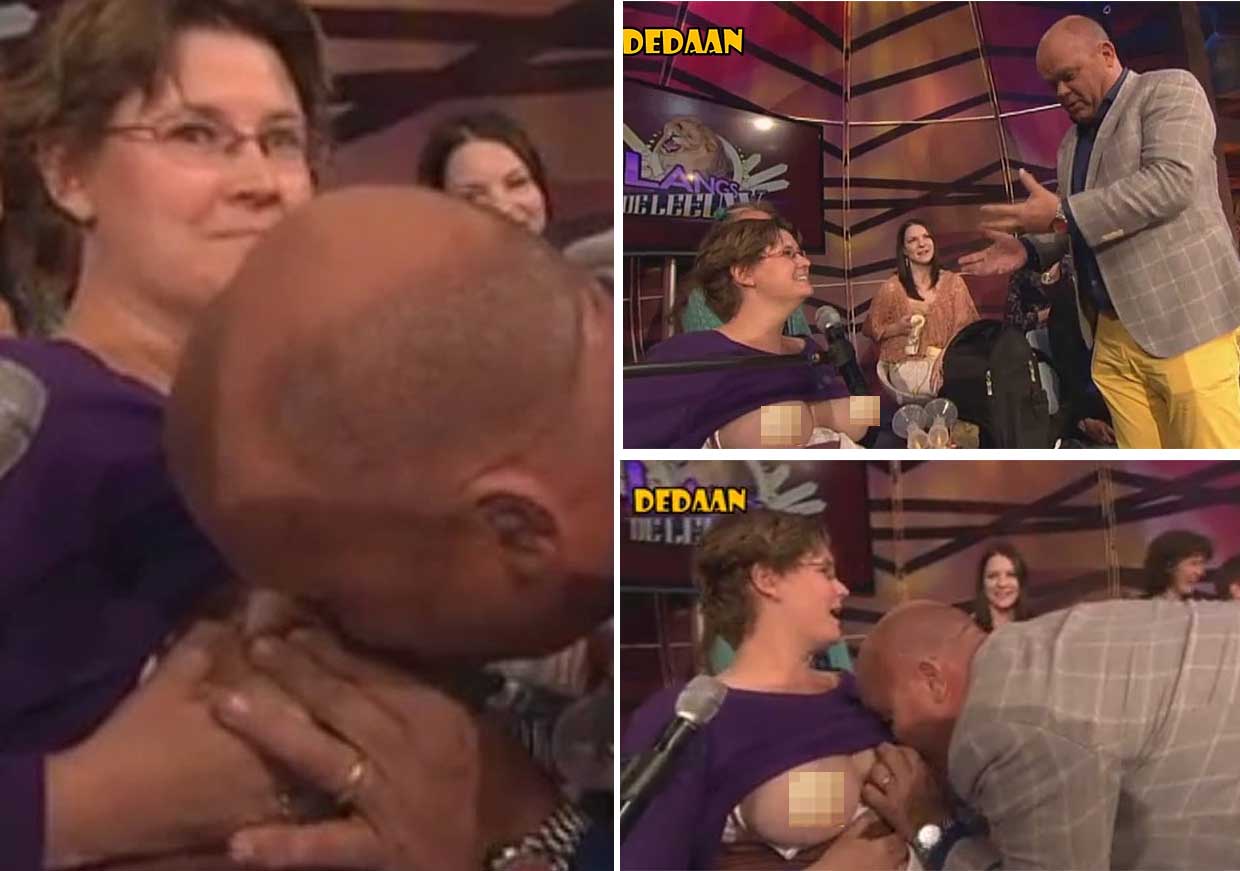 Adegan mengejutkan di TV Belanda ketika presenter acara menetek dari seorang ibu (Foto2: The Sun)
PRESENTER sebuah stasiun TV Belanda membuat pemirsanya tertegun karena ´netek´ dari seorang ibu yang menjadi tamu di acaranya pada tayangan primetime.

Komedian Paul De Leeuw langsung meremas payudara seorang ibu yang mengangkat baju dan membuka branya dalam program wawancara Langs De Leeuw, yang didedikasikan untuk ibu menyusui.

Tamu di program acara Du Leeuw itu adalah sekelompok perempuan yang menyumbangkan ASI-nya untuk kaum ibu yang kesulitan memberi ASI pada bayinya.

Satu relawan yang dipanggil Wendy menawarkan sang presenter bintang untuk mencicipi ASI dalam botol yang ia siapkan untuk keperluan pertunjukan televisi tersebut, seperti dilansir The Sun.

Ketika presenter yang secara terbuka mengaku gay bercanda ia lebih memilih untuk minum dari ´sumber´ susu - Wendy kemudian mengangkat baju dan melepas branya seraya berkata: "Nah, asalkan tidak digigit, Anda mungkin dapat mencobanya."

Para penonton di studio kemudian menyaksikan dengan terkejut ketika Du Leeuw menjawab tawaran langka tersebut dan menetek dari kedua payudara Wendy.

Setelah menikmati susu ASI, presenter pun bercanda: "Saya menikmati satu detik rasanya menetek, tapi saya dapat merasakan bahwa Anda makan asparagus kemarin."

Aksi tersebut menimbulkan kemarahan di Belanda dari kritikus yang menuding tayangan tersebut menjijikkan.

Pemirsa juga menggiring isu tersebut ke Twitter untuk menyerang De Leeuw dan kelompok yang membiarkan aksi memalukan itu ditayangkan.

Namun Wendy membela diri atas tindakannya melalui media sosial pula, dan bersikeras bahwa tayangan itu ´bertujuan mulia´.
A DUTCH TV host stunned viewers by sucking milk from a mother´s breasts on his primetime Saturday night show.

Comedian Paul De Leeuw pounced on the topless mum during the latest episode of his chat show Langs De Leeuw, which was dedicated to breastfeeding.

Du Leeuw´s guests were a group of women who donate spare milk to mums who struggle to produce it.

One volunteer called Wendy invited the star to taste the contents of a bottle she had expressed during the show.

When the openly gay presenter joked he´d prefer to drink it from the source - she unhooked her boobs from a breast-pump and told him: "Well, if you don´t bite you may try it."

The studio audience then watched dumbfounded as Du Leeuw took her up on the offer and sucked milk from both her breasts.

After swallowing down his sample, he joked: "I find the second one better tasting, but I can taste that you´ve eaten asparagus yesterday."

The stunt has provoked outrage in the Netherlands from critics who branded it disgusting.

Viewers have also taken to Twitter to attack De Leeuw and the group for allowing the stunt to be aired.

But Wendy has defended her actions on the social media site, insisting they were "for a good cause".