Bayi Jatuh dari Mobil Lantaran Ibunda Lalai Mengunci Pintu
Unbelievable Moment a Baby Falls Out of a Moving Car
Editor : Ismail Gani
Translator : Novita Cahyadi

PUBLISHED: Minggu, 29 Januari 2017 , 01:58:18 WIB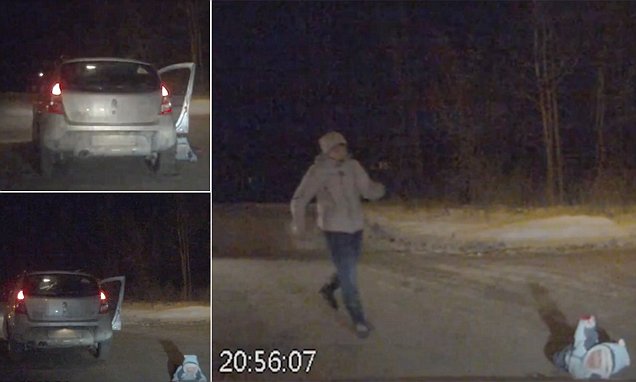 Insiden mengejutkn ini terjadi di Perm, Rusia dan difilmkan oleh mobil di belakang kendaraan yang ditumpangi seorang ibu dan anak (Foto: MailOnline)
APABILA ada iklan yang menyebut tentang pentingnya child locks di pintu mobil, peristiwa naas ini tidak bakal terjadi.

Kejadian yang direkam kamera di dashboard (dashcam) ketika kejadian mengejutkan seorang bayi jatuh dari mobil yang sedang berjalan dan terguling ke jalan.

Insiden mengejutkn ini terjadi di Perm, Rusia dan difilmkan oleh mobil di belakang kendaraan yang ditumpangi seorang ibu dan anak.

Dua mobil sedang melaju di malam hari dan pada kecepatan yang relatif lambat karena mendekati tikungan jalan.

Mobil sedang melaju menuju tikungan ketika tiba-tiba salah satu pintu penumpang terbuka dan bayi berpakain biru jatuh.

Mobil yang menguntit dan sedang merekam kejadian tersebut segera ngerem mendadak dan berhenti sebelum menabrak sang bayi.

Sementara mobil berhenti di depannya berhenti dan seorang wanita keluar dari mobil untuk menyelamatkan sang bayi malang.

Dia berlari menuju bayinya yang terlihat berguling-guling di tanah dan melambaikan tangan, seakan memberi isyarat dia tidak apa-apa.

Sang ibu terlihat terkejut dan segera menggendong bayinya dan memeluknya kembali ke mobil.

Si bayi malang tampaknya tidak cedera di tengah cuaca yang tidak bersahabat dan dia pun selamat seperti dilansir MailOnline.
IF THERE was ever an advert for the importance of child locks on car doors, this would probably be it.

Captured on a dashcam is the unbelievable moment a baby fell from a moving vehicle and rolled onto the road.

The bizarre incident occurred in Perm, Russia and was filmed by a car following the vehicle containing the mother and child.

The two cars travel at night time and at a relatively slow speed as they approach a bend in the road.

The car in front proceeds around the corner when suddenly one of its passenger doors open and a baby dressed in blue falls out.

Reacting immediately the vehicle with the dashcam applies the brakes and is able to stop before reaching the child.

Meanwhile the vehicle it fell out from continues down the road for a few yards before the woman driving slams on the brakes and opens her door.

She runs towards her baby who can be seen rolling around on the ground and waving, as if beckoning her over.

The petrified mother then picks him up quickly and holds him in her arms.

He does not appear to be hurt by the fall and is wilfully carried back to the car by his mum.