Donald Trump Sewot, Kerumunan Massa Pelantikannya Disebut Kalah dari Inaugurasi Obama
Donald Trump Accused the Media of Reporting Small Crowds at His Inauguration
Editor : Ismail Gani
Translator : Novita Cahyadi

PUBLISHED: Minggu, 22 Januari 2017 , 17:56:45 WIB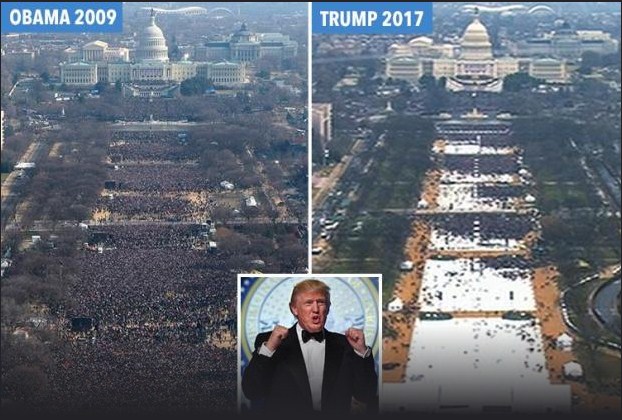 Sebagian rakyat AS menolak Donald Trump sebagai Presiden AS ke-45 terlihat dari kerumunan massa pada pelantikannya lebih sedikit ketimbang Barack Obama, media massa yang dituding sengaja mempermalukan dia (Foto: The Sun)
DONALD Trump sewot pada pemberitaan sejumlah media massa pada Sabtu malam yang melaporkan tentang sejumlah kerumunan orang yang hadir pada pelantikannya - dia pun 'ngeles' dan mengaku bahwa kerumunan yang terlihat sedikit dan tampak putih karena penutup plastik tanah untuk melindungi rumput.

Presiden baru ngotot ada "satu juta setengah" orang yang berkerumun dari US Capitol ke Monumen Washington, meskipun perhitungan lain menyebutnya hanya sekitar 250.000 orang saja.

Kemudian Sekretaris Pers Gedung Putih Sean Spicer menuding pers membuat laporan palsu yang kemudian membandingkan jumlah pendukung Trump tidak sebanding dengan rakyat yang hadir pada pelantikan Obama pada 2009.

Dia menuding: "Sejumlah wartawan terlibat dalam pembuatan laporan palsu secara sengaja."

"Ini adalah pertama kalinya dalam sejarah bangsa kita menggunakan penutup lantai untuk melindungi rumput di Mall."

"Ini memiliki efek menyoroti setiap kawasan di mana orang-orang tidak berdiri, sementara di tahun terakhir rumput dihilangkan dan ini masalah visual."

Dan dia mengaku: "Ini adalah penonton terbesar yang pernah menyaksikan pelantikan, secara periode, baik secara pribadi dan seluruh dunia.

"Ada upaya-upaya untuk mengurangi antusiasme pelantikan yang memalukan dan salah."

Dia kemudian meninggalkan podium dan menolak untuk menjawab pertanyaan wartawan.

Namun USA Today melaporkan penutup tanah yang sama digunakan di Mall saat pelantikan Presiden Obama pada 2013, memang terbukti lebih banyak yang hadir.
Dan fakta tersebut diperiksa ulang oleh kantor berita terkemuka Associated Press menyatakan: "Trump ngawur."

"Foto-foto di National Mall dari pelantikannya membuat jelas bahwa kerumunan massa tidak meluas ke Monumen Washington. Sejumlah besar ruang kosong terlihat jelas di Mall."

"Itu kerumunan biasa dan sebagian besar kursi kosong, termasuk pada parade perdana."

"Sejumlah hotel di District of Columbia melaporkan tingkat hunian kamar biasa saja, jarang untuk sebuah acara besar seperti pelantikan presiden hal itu terjadi."

"Dan penumpang pada sistem Metro Washington tidak mencolok terkait pelantikan presiden. Pada pukul 11:00. Hari itu, sekitar 193.000 tiket terjual, menurut akun Twitter layanan angkutan massal tersebut."

"Pada jam yang sama delapan tahun lalu, sudah terjual 513.000 tiket. Empat tahun kemudian, terjual 317.000 tiket untuk pelantikan kedua Obama," seperti dilansir The Sun.
DONALD Trump launched a bizarre attack on the media last night for reporting small crowds at his inauguration – claiming it only LOOKED that way because the grass was covered by protective mats.

The new president insisted there were "a million and a half" people stretching from the US Capitol to the Washington Monument, despite other estimates of around 250,000.

Later White House Press Secretary Sean Spicer accused the press of false reporting for publishing photos that show there were fewer people than at Obama's inauguration in 2009.

He said: "Some members of the media were engaged in deliberately false reporting.

"This was the first time in our nation's history that floor coverings have been used to protect the grass at the Mall.

"This had the effect of highlighting any areas where people were not standing, while in years past the grass eliminated this visual."

And he claimed: "This was the largest audience to ever witness an inauguration, period, both in person and around the globe."

"These attempts to lessen the enthusiasm of the inauguration are shameful and wrong."

He then left the podium and refused to answer any of the reporters' questions.

But USA Today reported similar ground coverings were used on the Mall during President Obama's 2013 inauguration, which was more heavily attended.

And a fact check by respected news agency Associated Press states: "Trump is wrong."

"Photos of the National Mall from his inauguration make clear that the crowd did not extend to the Washington Monument. Large swathes of empty space are visible on the Mall."

"Thin crowds and partially empty bleachers (seats) also dotted the inaugural parade route."

"Hotels across the District of Columbia reported vacancies, a rarity for an event as large as a presidential inauguration.

"And ridership on the Washington's Metro system didn't match that of recent inaugurations. As of 11am. That day, there were 193,000 trips taken, according to the transit service's Twitter account.

"At the same hour eight years ago, there had been 513,000 trips. Four years later, there were 317,000 for Obama's second inauguration."