Kelly Brooks Telanjang Dada agar Kulitnya Coklat Keemasan
Kelly Brooks Goes Topless to Ensure an Even Bronze
Editor : Ismail Gani
Translator : Novita Cahyadi

PUBLISHED: Senin, 17 Juni 2013 , 19:41:00 WIB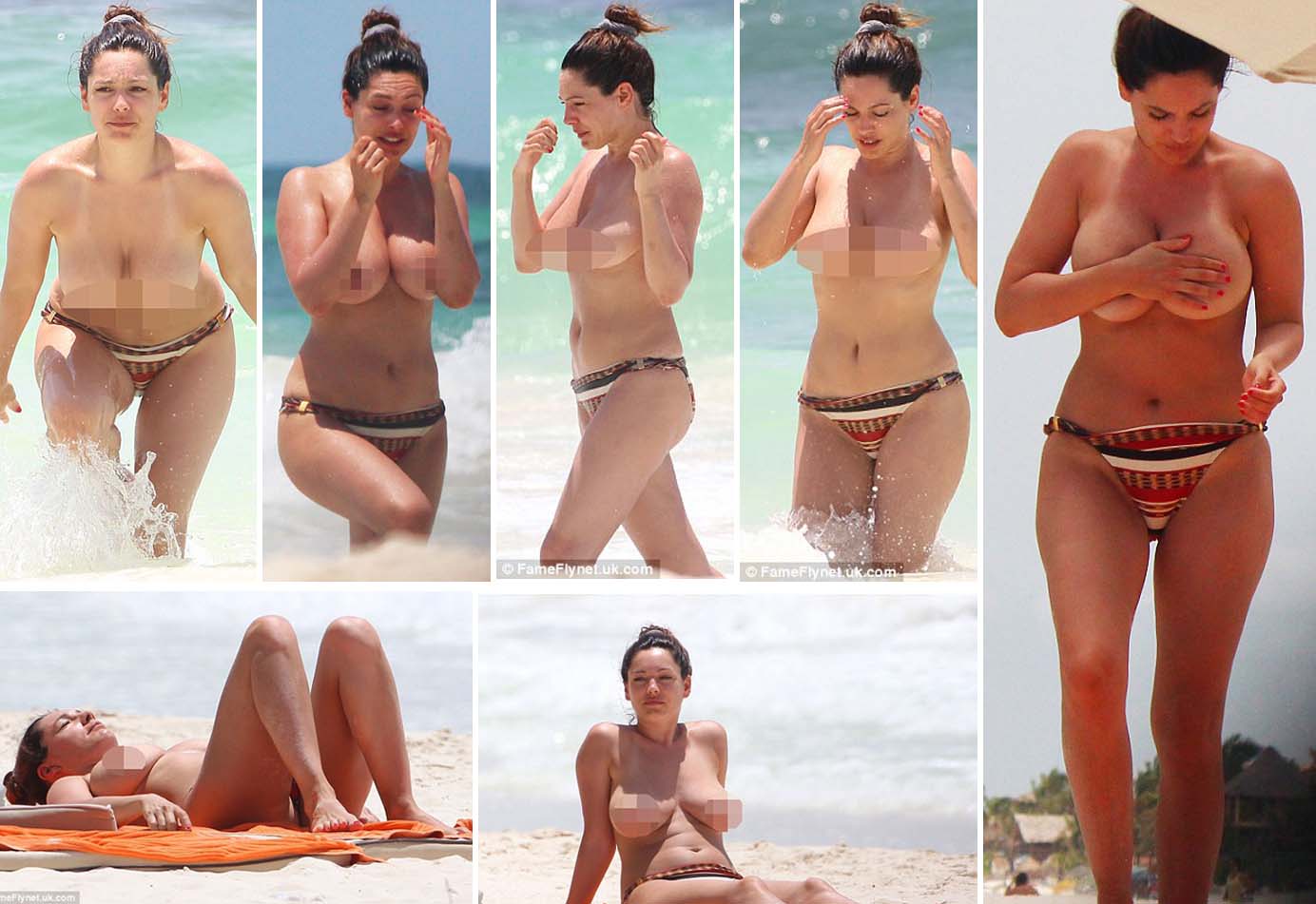 Kelly Brooks santai saja jadi `santapan` kamera di Paparazzi di pantai Tulum, Meksiko (Foto2: Mail Online)
DIA memiliki ´aset´ yang membuat iri kalangan selebriti dunia. Jadi tak heran Kelly Brook tidak malu untuk memamerkan sosok femininnya. Dalam upayanya mendapatkan kulit coklat (all-over tan) dengan berjemur matahari di Tulum, Meksiko, Minggu, Kelly memilih telanjang dada saat ia menikmati berjemur di tepi pantai.

Model 33 tahun ini tidak khawatir orang lain ´mengintip´ ketika ia memelorotkan bra di pantai, menampilkan bentuk tubuh yang ingin dilihat banyak orang.

Keindahan tubuh model kelahiran Kent dengan rambut brunette diikat di atas kepalanya ketika ke pantai tanpa polesan rias wajah.

Namun ia menggunakan scrunchie untuk mengikat rambutnya, Kelly kemudian nge-tweet bahwa dia malu untuk menggunakan celana dalamnya sebagai ikat rambut.

Dia menulis: "Aku lebih malu untuk tampil dengan celana dalam sebagai ikat rambut ketimbang tampil telanjang dada # class lol."

Saat ia tiba di pantai sehari sebelumnya, Kelly terlihat menampilkan sosoknya dalam bikini segitiga kecil, sebelum ia memutuskan untuk melepas bra dan hanya mengenakan celana untuk memastikan seluruh tubuhnya terkena sinar matahari.

Bertekad kembali ke Inggris dengan kulit cokelat keemasan, Kelly berbaring tertelungkup sebelum berputar ke depan saat berjemur.

Tidak ada tanda-tanda Danny Cipriani, pacarnya datang menemani, karena ia tetap di Inggris sementara Kelly liburan dengan seorang teman wanita.

Sebelumnya, Kelly telah diposting beberapa gambar dari liburan pada halaman Twitter-nya, memamerkan tubuhnya dalam bikini biru terang saat ia santai menjalani ´penyembuhan´ di perairan dekat reruntuhan Maya kuno, seperti dilansir Mail Online.
Resep Diet
Sementara Kelly terkenal di seluruh dunia untuk sosok yang patut ditiru, ia mengaku dalam sebuah wawancara baru-baru ini bahwa dia tidak terlalu khawatir tentang apa yang dia makan - membiarkan makan apa saja yang disukainya tanpa pantangan berat.

Dia menjelaskan: "Kalau Anda melakukan diet selama enam minggu, tidak ada gunanya - karena akan kembali pada kebiasaan sebelum diet. Saya tidak pernah bisa mengelompokkan makanan yang dipantang seperti susu, itu tidak berkelanjutan.

"Dan saya tidak menghitung kalori. Anda perlu hubungan yang sehat dengan gaya hidup Anda secara keseluruhan. Itu berarti bekerja keluar berapa banyak latihan yang realistis untuk Anda, memasak makanan sehat dan menjadi masuk akal. "

Kelly mengatakan sebelumnya dari dietnya, "Saya makan bubur atau telur rebus untuk sarapan. Saya suka teh dan kopi dan bisa minum sepanjang hari dan makan biskuit, tapi saya makan buah jika saya ingin tetap sehat."

"Saya juga makan banyak ikan, untuk makan siang dan makan malam. Saya suka sushi atau saya akan memilih tuna Niçoise salad atau salmon steak. Saya suka membuat banyak sup sehat di musim dingin, juga."
SHE´S got one of the most envied bodies in the celebrity world. So it´s no wonder Kelly Brook isn´t shy when it comes to showing off her feminine figure. In a bid to get an all-over tan while on holiday in Tulum, Mexico on Sunday, Kelly went topless as she soaked up the sunshine.

The 33-year-old model had no qualms about who saw as she shed her bikini top, displaying her famous curves in the process.

The Kent-born beauty wore her brunette hair tied up on top of her head as she went make-up free for the outing.

But while she appeared to have used a scrunchie to secure her hair, Kelly later tweeted that she was mortified to have used her knickers as a hair tie.

She wrote: ´I´m more mortified to be pictured with my knickers as a hair scrunchie than topless #class lol.´

As she arrived on the beach earlier in the day, Kelly was seen displaying her figure in a tiny triangle bikini, before she decided to remove the top and just wear the bottoms to ensure an even bronze.

Clearly determined to return to the UK with a golden tan, Kelly laid on her back before turning onto her front as she caught some rays.

There was no sign of Kelly´s boyfriend Danny Cipriani on the break, as he has remained in the UK while she holidays with a female friend.

Earlier, Kelly had posted some pictures of the holiday on her Twitter page, showing off her figure in a bright blue bikini as she relaxed in ´healing´ waters near ancient Mayan ruins.
Diet Recipes
While Kelly is famous around the world for her enviable figure, she admitted in a recent interview that she doesn´t worry too much about what she eats - letting herself have treats every now and then.

She explained: ´If you´re doing a diet for six weeks, there´s no point -- you´ll be back where you started soon after you stop. I could never cut out a food group like dairy, it´s not sustainable.

´And I don´t calorie count. You need a healthy relationship with your whole lifestyle. That means working out how much exercise is realistic for you, cooking healthy meals and being sensible.´

Kelly has said before of her diet: ´I have porridge or boiled eggs for breakfast. I love tea and coffee and could drink them all day and snack on biscuits, but I eat fruit if I'm trying to be healthy.

´I also eat a lot of fish, for lunch and dinner. I love sushi or I'll have a tuna Niçoise salad or salmon steak. I like to make lots of healthy soups in winter, too.'