Wanita, 23, Didapati `Berhubungan Intim` dengan Anjing Pit Bull
Woman, 23, Found `Having Sex` with a Pit Bull Terrier
Editor : Ismail Gani
Translator : Novita Cahyadi

PUBLISHED: Minggu, 24 Februari 2013 , 19:59:00 WIB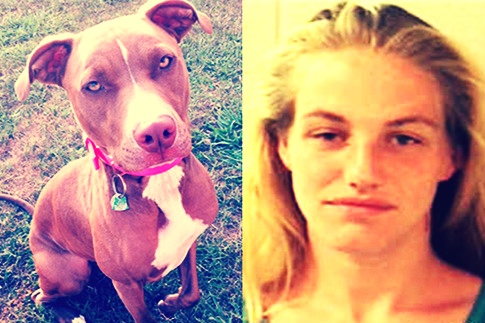 Anjing jenis Pitt Bull Terrier dan Kara Vandereyk (Foto: elitedaily.com)
APA yang terjadi di Las Vegas tidak selalu tinggal di Vegas, jika itu terjadi, Huffington Post tidak akan melaporkan kabar tentang wanita berusia 23 tahun yang kedapatan, Selasa (18/2) sedang berhubungan seks dengan anjing pit bull di kota yang dikenal dengan julukan ´kota dosa´.

Menurut Las Vegas Metropolitan Police laporan, pihak berwenang setempat menanggapi panggilan darurat ketika mendapati wanita, Kara Vandereyk, tengah berhubungan seks dengan anjing pit bull di halaman belakang rumahnya "di bawah tatapan mata dari para tetangga," seperti dilaporkan KVVU.

The Las Vegas Review Journal, mengutip dari laporan polisi yang sama, wanita itu kepada polisi mengaku sebagai bipolar dan tidak dapat mengingat namanya.

Stasiun KVVU melaporkan bahwa "Vandereyk didapati tengah bugil di halaman belakang kediamannya ketika petugas datang." Dia diberi selimut untuk menutupi tubuhnya dan dibawa ke Penjara Clark County.

Dia didakwa dengan percabulan kotor.

Sayangnya, serangkaian laporan berita selama tahun lalu menunjukkan bahwa kejahatan serupa kerap terjadi.

Bulan lalu, seorang wanita 24 tahun di Delaware didakwa melanggar hak-hak binatang dan pelanggaran tingkat dua, atas konspirasi, setelah ia diduga melakukan hubungan seks dengan anjing sementara pacarnya merekam peristiwa menjijikan tersebut.

Pada November 2012, seorang wanita usia 20 tahun di Arizona ditangkap dan dituduh memiliki "hubungan seks vaginal dan oral dengan hewan bertaring" setelah mantan pacarnya melapor ke polisi.

Nevada adalah salah satu dari banyak negara di mana tindakan terhadap hewan tidak dilarang oleh hukum. Namun, Nevada memiliki hukum yang melarang perbuatan keji kotor dan terbuka (berhubungan seks di depan umum) serta undang-undang baru yang sekarang membuat penyalahgunaan hewan dan kekejaman sebagai tindak kejahatan .
WHAT happens in Vegas doesn´t always stay in Vegas; if it did, we wouldn´t be reporting on a 23-year-old woman who was arrested Tuesday for allegedly having sex with a pit bull in the notoriously sinful city.

According to a Las Vegas Metropolitan Police report, local authorities were responding to a call when they encountered the woman, Kara Vandereyk, having sex with the pit bull in her backyard "in full view of the neighbors," KVVU reports.

The Las Vegas Review Journal, citing the same police report, said the woman told police she was bipolar and was unable to remember her name. The station writes that "Vandereyk was naked and on the ground when officers arrived." She was given a blanket to cover herself and brought to the Clark County Jail.

She was charged with gross lewdness.

Unfortunately, a series of news reports over the past year show that this crime isn´t as rare as it should be.

Just last month a 24-year-old woman in Delaware was charged with bestiality and second-degree conspiracy after she allegedly had sex with a dog while her boyfriend photographed her. In November 2012, a 20-year-old woman in Arizona was arrested and accused of having "vaginal and oral sex with two canines" after her ex-boyfriend tipped off the police.

Nevada is one of many states where bestiality is not prohibited by law. However, Nevada has a law against gross and open lewdness (having sex in public) as well as a new law that now makes animal abuse and cruelty a felony offense.