Bukan Editan PhotoShop, Paduan `Body Paint` dengan Alam
The Couples Who Really are at One with Nature!
Editor : Ismail Gani
Translator : Novita Cahyadi

PUBLISHED: Rabu, 22 Februari 2017 , 23:10:26 WIB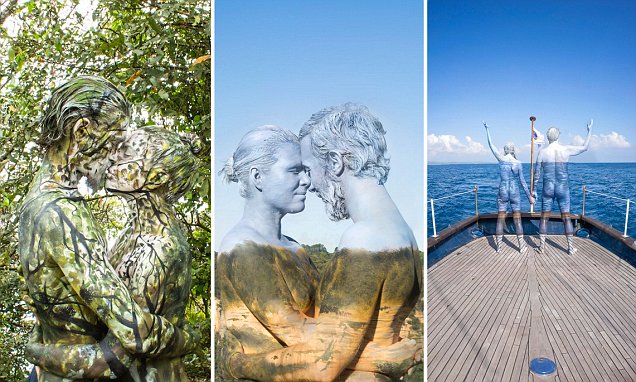 Seniman Orly Faya telah memadukan sekian banyak pasangan dengan alam selama empat tahun terakhir dan mengatakan setiap sesi benar-benar unik (Foto2: MailOnline)
FOTO-FOTO luar biasa menunjukkan bagaimana sepasang insan berpadu dengan alam berkat cat tubuh (body paint) yang memperlihatkan mereka tampak benar-benar menyatu dengan lingkungan di sekitar mereka.

Foto-foto romantis tersebut menunjukkan bagaimana pencinta alam 'memadukan' karyanya dengan alam, menyatu dengan hutan belantara, pegunungan, dan bentangan laut.

Seniman Orly Faya, yang bermukim di Australia, keliling dunia berbekal kuas dan cat, memadukan tubuh manusia dengan keindahan alam sekitar, menemukan pemandangan alam sebagai latar belakang dari hasil karyanya yang luar biasa.

Orly mengatakan: 'Saya mencintai alam dan saya menyukai bentuk tubuh manusia, dan penggabungan elemen-elemen ini adalah jenis alkimia yang membuat orang untuk merajut kembali hubungan dengan alam sebagai sifat sejati mereka.'

'Melukis tubuh manusia dengan keindahan alam adalah pengalaman yang sangat berbeda dari keintiman, dan merasa' hadir' karena kehendak alam sebagai dorongan yang indah dan kuat.'

Orly telah memadukan sepasang insan dengan alam selama empat tahun terakhir dan mengatakan setiap sesi benar-benar unik.

Setiap 'menggabungkan sesi' membutuhkan waktu setidaknya tiga hari, mulai dari kegiatan memilih lokasi, merancang, pembuatan, piknik pasca produksi, editing akhir dan publikasi.

Orly mengatakan: 'Karya-karya tersebut dibuat di seluruh dunia dengan pasangan yang berbeda untuk alasan yang berbeda, mulai dari pengantin baru hingga pasangan gaek yang telah lama menikah.'

'Ironisnya gairah penggabungan saya lahir tepat setelah istirahat menyakitkan, ketika World Wildlife Fund meminta saya untuk membuat instalasi kamuflase dari seorang wanita berpadu dengan kura-kura laut.'

'Setelah itu pengalaman pertama saya menjadi terpesona pada meniru ilusi dan mulai melukis tubuh manusia sesuai bentangan alam yang menjadi obyek foto.'

"Suatu hari saya melihat perspektif yang menakjubkan di lanskap yang indah dan bertanya-tanya tentang kemungkinan lukisan seseorang tepat pada bentangan alam itu sendiri.'

'Maknanya sangat berarti bagi saya, ketika seseorang bertanya jauh ke dalam eksistensi manusia, dan karena itu sangat peduli tentang hubungan yang melekat antara manusia dengan bumi.'

Lex, 45 dan Corina, 43, dari Sydney yang menikah selama enam tahun adalah salah satu dari sekian pasangan yang bergabung ke dalam alam hasil karya Orly Faya ini. Mereka bilang: "Bagi kami, itu adalah tentang menghormati ibu pertiwi karena tanpa Bumi kita tidak punya apa-apa."

"Ini adalah kesempatan untuk merasa terhubung merangkul cinta dan kasih kita digabungkan bersama pada cinta tanah air.'

Vince dan Maja, keduanya 36, dari Sydney, Australia, menjadi obyek cat tubuh menjelang pernikahan mereka, dan mengaku: 'Orly Faya mengecat tubuh kami dengan pemandangan gunung yang menakjubkan seminggu sebelum pernikahan kami.'

"Kami memiliki banyak kenangan indah dari masa damai di antara semak-semak, dan penggabungan ini adalah cara khusus bagi kami untuk menemukan cinta kami satu sama lain dan untuk Bumi, dan mengubahnya menjadi sesuatu yang indah yang mengingatkan kita semua pada kenangan indah,' seperti dilansir MailOnline.
THESE remarkable photos show couples so artfully covered in body paint that they completely blend into their surroundings.

The romantic pictures show the lovers perfectly 'at one' with nature, as they are camouflaged against seascapes, mountains, grasslands, and jungle scenes.

Artist Orly Faya, who is based in Australia, travels all over the world with her case of brushes and paints, merging people into their surroundings, finding the most beautiful nature spots to form her backgrounds.

Orly said: 'I love nature and I love the human form, and merging these elements is a kind of alchemy that causes people to reconnect to their true nature.

'Being painted into the earth is a very different experience of intimacy, and to feel 'held' by the nature is a beautiful and powerful thing.'

Orly has been camouflaging couples for four years and says each session is completely unique.

Each 'merge session' takes at least three days, and involves choosing a location, the ceremony, production, post-production picnic, final editing and file supply.

Orly said: 'These works were created all over the world with different couples for different reasons, ranging from newlyweds to partners that had been through thick and thin.

'Ironically my merging passion was born right after a painful break up, when World Wildlife Fund commissioned me to create a camouflage installation of a woman merged with sea turtles.

'After that first experience I became fascinated by mimetism or mimicking illusions and began painting people into everything.

'One day I saw a stunning perspective in a beautiful landscape and wondered about the possibility of painting someone right into the earth itself.

'The meaning of such an act was huge for me, as someone who enquires deep into human existence, and therefore cares deeply about our inherent connection to the earth.'

Lex, 45 and Corina, 43, from Sydney who have been married for six years are one of the many couples who have been merged into nature at the stroke of Orly Faya's brush. They said: 'For us, it was about honouring Mother Earth as without her we have nothing.

'It was an opportunity to be able to feel connected embracing her love and our love combined together embedded in country.'

Vince and Maja, both 36, from Sydney, Australia, went to be painted a year into their marriage, they said: 'Orly Faya painted us into a stunning mountain landscape a week before our wedding.

'We have many happy memories of peaceful times in the bush here, and so this merging was a special way for us to capture our love for each other and for the land, and transform it into something beautiful that reminds us of all those times.'