Masya Allah... Terowongan 3,5 Km Dibangun untuk Simpan Alquran Tua
Jabal Noor-ul-Quran - Home to Old and Worn Out Scriptures because Islam Forbids to Destroy Korans
Editor : Ismail Gani
Translator : Novita Cahyadi

PUBLISHED: Minggu, 22 Januari 2017 , 23:43:00 WIB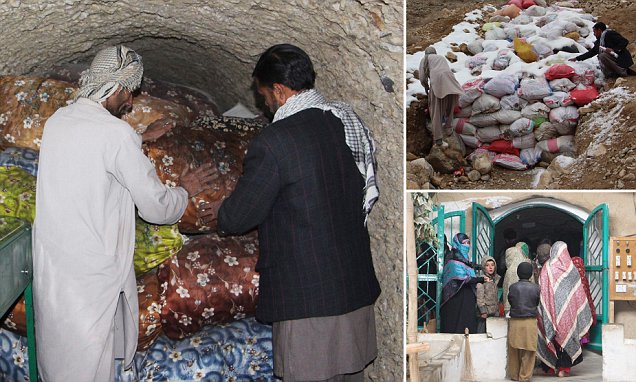 Islam melarang keras Alquran dirusak atau dibuang, pengusaha Pakistan memilih menyiapkan ruang khusus di bawah tanah untuk menyimpan rapi kitab suci (Foto2: MailOnline)
SEORANG pengusaha membangun sebuah tempat khusus di sebuah bukit di Pakistan yang ditujukan untuk menyimpan kitab suci Alquran yang sudah tua maupun rusak.

Jutaan kitab suci umat Islam disimpan dalam terowongan khusus yang panjangnya lebih tiga kilometer di bawah tanah di lereng bukit dari Pegunungan Chilthern di Quetta, Baluchistan.

Samad Lehri mendirikan yayasan Jabal-e-Noor pada 1992 untuk menyimpan kitab suci Alquran, seperti diperintahkan dalam ajaran Islam dilarang untuk membakar, merusak atau menodai Alquran.

Yayasan ini dinamai Gunung Jabal-e-Noor, yang berarti sebagai ´gunung cahaya´ di Arab Saudi tempat Rasulullah wahyu pertama dari Alquran.

Lehri pertama kali menyimpan kitab suci pada ruangan khusus di bukit, tapi kemudian harus mulai menggali terowongan untuk membuat lebih banyak ruangan agar dapat dapat menyimpan lebih banyak Alquran.

Hingga hari ini, terowongan sepanjang 3,5 kilometer menjadi tempat menyimpan sekitar 2,5 juta Alquran yang berasal dari seluruh penjuru Pakistan.

Sementara itu, tak terhitung jumlah Alquran yang masih disimpan dalam karung, menunggu giliran masuk ke terowongan yang sedang diaspal.

Beberapa kitab suci Alquran berusia lebih dari 600 tahun, dan beberapa Alquran yang dinilai bersejarah disimpan dalam lemari kaca.

Tempat tersebut dikunjungi oleh ribuan orang setiap hari, yang ingin melihat koleksi yayasan Lehri.

Pengelolanya tidak mengenakan biaya kepada pengunjung tapi bersedia menerima sumbangan, yang digunakan unuk membiayai pembangunan terowongan untuk menyimpan lebih banyak Alquran seperti dilansir MailOnline.
A BUSINESSMAN has created a shrine in a Pakistani hillside devoted to old and damaged copies of the Koran.

Millions of copies of the Muslim holy book are stored in miles of tunnels underneath a hill in the Chilthern Mountains in Quetta, Baluchistan.

Samad Lehri created the Jabal-e-Noor foundation in 1992 to bury the books, as it is forbidden in Islam to burn, destroy, or otherwise desecrate the Koran.

The foundation is named after the Jabal-e-Noor Mountain, which translates as ´mountain of light´ in Saudi Arabia where the Prophet is said to have received the first revelations of the Koran.

Lehri first began to store sacred books in rooms built in the hill, but then had to start digging tunnels for more space to accommodate the growing number of copies.

Today, about 2.2 miles of tunnels serve as a resting place for an estimated 2.5 million Korans which Lehri has been given by Muslims from across the country.

Meanwhile, countless books more remain lined up in sacks, waiting for new tunnels to be paved.

Some of the copies of the holy book are more than 600-years-old, and some of the more notable copies are displayed in glass cases.

The shrine is visited by thousands of people every day, who are eager to see Lehri´s collection.

The businesses does not charged visitors an admission fee but he welcomes donations, which are used to fund digging more tunnels to store the growing collection of books.