Kucing Setia, Siang Malam Jaga Makam Pemeliharanya
Cat Misses Her Dead Owner so Much She has Spent a Year Living on Her Grave in Indonesia
Editor : Ismail Gani
Translator : Novita Cahyadi

PUBLISHED: Senin, 31 Oktober 2016 , 23:53:26 WIB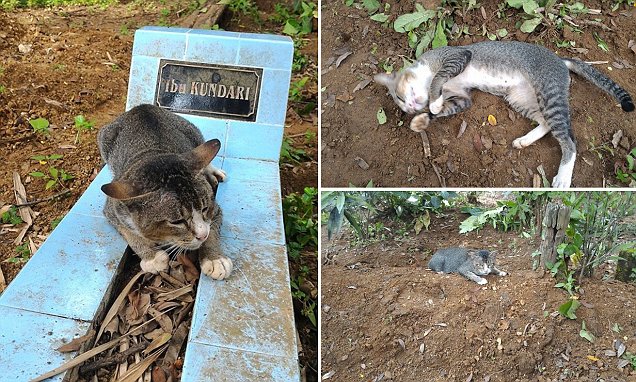 Meskipun diberi makanan dan air oleh orang yang lewat, ia menolak untuk meninggalkan makam, dia berguling-guling dan tidur di situ setiap malam (Foto2: MailOnline)
KUCING yang dirundung duka ini sangat merindukan mendiang pemiliknya dan hampir setahun tinggal di atas makamnya di Jawa Tengah.

Hewan malang ini terdengar melolong sedih sambil berbaring di atas makam di sebuah pemakaman umum di Jawa Tengah.

Seorang warga bernama Keli Keningau Prayitno, 28, mencoba untuk mengadopsi kucing tapi kembali ke tempat yang sama - meringkuk di atas makam dari mendiang pemiliknya.

Hewan peliharaan ini berjalan ke bekas rumah pemiliknya setiap hari di mana dia diberi makan oleh anak-anak dari sang nenek - kemudian kembali lagi ke makam.

Meskipun diberi makanan dan air oleh orang yang lewat, ia menolak untuk meninggalkan makam, dia berguling-guling dan tidur di situ setiap malam.

Keli, ayah satu nak mengatakan: 'Sejak ibu yang merawatnya meninggal dia memilih tinggal di dekat makam. Dia tidak ingin pulang. Dia berada di makam hampir satu tahun.

"Saya pikir dia kucing liar dan mencoba untuk merawatnya tetapi setiap kali dia selalu kembali ke tempat yang sama."

"Saya melihatnya setiap hari dan melihat dia selalu ada di makam, tapi kadang-kadang pergi selama beberapa jam kemudian kembali.

"Saya mengikutinya dan dia pergi ke rumah di mana ia dulu tinggal dan anak-anak mendiang yang merawatnya yang kini memberinya makan."

'Kemudian kucing akan kembali lagi ke tempat yang sama. Dia tidur di sana dan terus mengeong."

"Saya sedih melihatnya. Ini menunjukkan betapa hewan sangat dekat dengan pemiliknya .. '

Keli mengatakan ia mengikuti sang kucing dan mendapati mantan pemilik kucing adalah seorang wanita tua bernama Kundari yang baru saja meninggal.

Meskipun rumah baru yang ditawarkan, bahkan setahun kemudian kucing masih bisa dilihat berada di makam sejak pagi hingga malam hari.

Keli menambahkan: "Kami mengambil beberapa makanan dan air untuk kucing tapi dia masih suka pulang. Dia sehari-hari tinggal di kuburan."

Bulan lalu terungkap bahwa seekor anjing usia tiga tahun telah menunggu selama satu tahun di pinggir jalan di Thailand mencari pemiliknya.

Anjing, bernama Jaow Loung, jatuh dari kendaraan dan menunggu dengan sabar untuk bertemu kembali tetapi mati tertabrak sebuah mobil yang melintas pada 25 September.

Dia disamakan dengan anjing Akita Jepang bernama Hachiko yang menunggu setiap hari selama sembilan tahun pada kereta yang digunakan untuk membawa jenazah induk semangnya menuju pemakaman, seperti dilansir MailOnline.
THIS grieving cat misses her late owner so much she has spent a year living at her grave, it has emerged.

The heartbroken animal was first heard crying while lying in the earth at the burial plot in Central Java, Indonesia.

Passer-by Keli Keningau Prayitno, 28, tried to adopt the cat but it returned to the same spot - nuzzling the small blue headstone.

The pet walks to her former home every day where she is fed by the old lady's children - then returns to the grave.

Despite being given food and water by passers-by, it refuses to leave the grave, rolls in the earth and sleeps there every night.

Father-of-one Keli said: 'Since the cat's mother died she has stayed here at the grave. She does not want to go home. She has been here for almost a year.

'I thought she was homeless and tried to help but every time she would keep returning to the same place.

'I saw her everyday and noticed that she was always there, but sometimes would leave for a couple of hours then come back.

'I followed her and she was going to the home where she used to live and the lady's children would feed her.

'Then the cat would go back again to the same place. She sleeps there and meows.

'It's very sad to see. It shows just how close animals are to their owners..'

Keli said he had followed the cat and discovered the former owner had been an old lady called Kundari who had recently died.

Despite being offered new homes, even a year later the cat can still be seen at the grave night and day.

Keli added: 'We take some food and water to the cat but she still likes to go home. She's at the grave everyday.'

Last month it emerged that a three-year-old dog had been waiting for a year at a roadside in Thailand for his missing owner.

The dog, named Jaow Loung, had fallen from a vehicle and waited patiently to be reunited but was killed by a passing car on September 25.

He was likened to Japanese Akita dog Hachiko who waited every day for nine years for the train that used to bring late owner HidesaburÅ* Ueno home.