Kereta Api Jepang Setia pada Konsumen Meski Seorang Penumpang
The Train that Stops at a Station Everyday to Pick Up One Passenger
Editor : Ismail Gani
Translator : Novita Cahyadi

PUBLISHED: Senin, 30 Januari 2017 , 02:38:51 WIB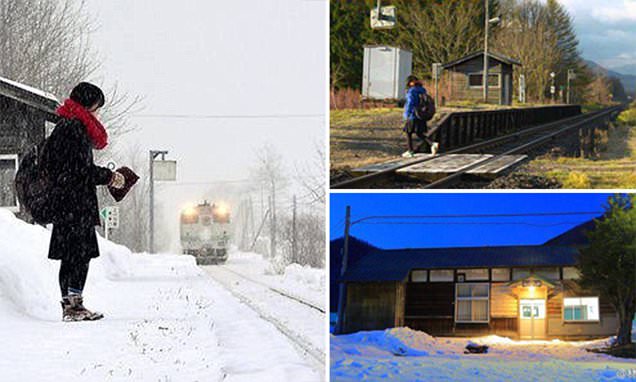 Sang siswa, Kana, setiap hari menantikan layanan kereta pukul 07:04 setiap hari dan kembali tiba di rumah pukul 17:08, dan dia adalah satu-satunya penumpang yang menggunakan stasiun kereta api tersebut (Foto: MailOnline)
SEBUAH perusahaan kereta api melayani rute ke stasiun terpencil selama tiga tahun terakhir hanya untuk mengangkut seorang penumpang.

Stasiun Kami-Shirataki di Hokkaido, Jepang, disambangi oleh kereta api dua kali sehari, sekali di pagi hari dan sekali di sore hari, sehingga seorang pelajar putri dapat pergi dan pulang sekolah tepat waktu.

Sang siswa, Kana, setiap hari menantikan layanan kereta pukul 07:04 setiap hari dan kembali tiba di rumah pukul 17:08, dan dia adalah satu-satunya penumpang yang menggunakan stasiun kereta api tersebut.

Layanan Hokkaido Railway Co mendapat pujian lantaran komitmennya kepada satu-satunya penumpang di kawasan terpencil.

Perusahaan ini awalnya berencana untuk menutup stasiun kereta api, yang hampir tidak terpakai, hingga pada 2012 karena lokasinya yang terpencil.

Setelah melakukan investigasi, diketahui bahwa jalur ini digunakan setiap hari oleh seorang pelajar putri - sehingga perusahaan mengumumkan bahwa mereka akan tetap melayani rute tersebut hingga dia lulus dari sekolah menengah atas pada Maret 2016.

Berbicara pada video, Kana mengatakan: 'Saya pergi dan pulang sekolah naik kereta ini selama tiga tahun terakhir dan layanan tersebut menjadi sangat berharga bagi kelanjutan sekolah saya.'

"Saya merasa sedih kalau mengingat bahwa layanan tersebut akan ditutup. Saya kini hanya bisa bersyukur karena sudah lulus sekolah."

Kereta berhenti di stasiun berdasarkan jadwal sekolah dan menghentikan layanan saat sekolahnya libur.

Stasiun ini melayani single-track dan terletak 50 mil dari titik awal resmi jalur di Shin-Asahikawa.

Kini jalur kereta api tersebut resmi ditutup secara permanen pada 26 Maret tahun lalu seperti dilansir MailOnline.
A TRAIN company has been stopping at a remote station for the past three years to pick up just one passenger.

The Kami-Shirataki station in Hokkaido, Japan, is visited by a train twice a day, once in the morning and once in the afternoon, so that a schoolgirl can get to class and home on time.

Teenager, Kana, catches the service at 7.04am every day and returns promptly at 5.08pm, and she is the only person to use the station.

Hokkaido Railway Co's service has been praised for its commitment to its customers following the discovery.

The company had initially planned to shut down the train station, which was almost unused, in 2012 due to its remote location.

After investigating, it was found that the line was used every day by the young girl - so the company announced that it would stay open until she graduates from high school in March 2016.

Speaking on a video, Kana said: 'I got on and off of this train for the past three years and this station's presence has become something I have taken for granted.'

'I do feel sad to think that it will disappear. I am now filled with gratitude.'

Trains stop at the station based on the schoolgirl's timetable and pass by when she is on holiday on her classes are off.

The station is served by the single-track and lies 50 miles from the official starting point of the line at Shin-Asahikawa.

It is now scheduled to close permanently on March 26.