5 Gadis Norwegia `Masuk` Islam demi Tiket Justin Bieber
5 Norwegian Teen Girls `Convert` to Islam for Justin Bieber Tickets
Editor : Heru S Winarno
Translator : Parulian Manalu

PUBLISHED: Selasa, 23 April 2013 , 07:25:00 WIB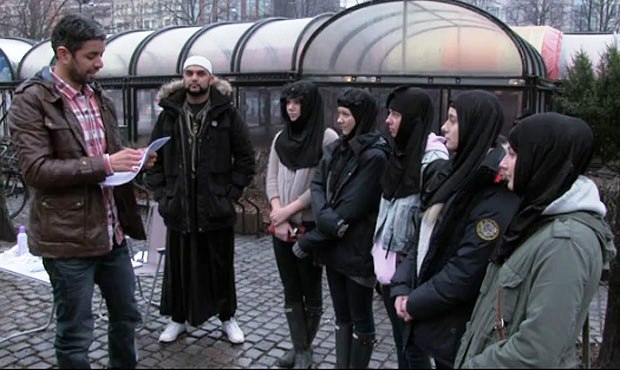 Lima gadis remaja Norwegia yang ditipu untuk masuk Islam dengan membaca Syahadat dalam bahasa Arab padahal artinya: Justin Bieber adalah `najis` dan diduga gay (Foto: The Sun)
LIMA gadis remaja Norwegia bersedia masuk Islam asalkan mendapat tiket gratis konser Justin Bieber. Padahal mereka ´dikerjai´ oleh acara komedi televisi. Mereka mengira membaca Syahadat dalam bahasa Arab padahal setelah diterjemahkan, maknanya menghujat Justin Bieber sebagai ´najis dan gay´.

Sebuah acara TV NORWEGIAN telah menipu gadis-gadis remaja untuk memeluk agama Islam sebagai syarat untuk mendapat tiket konser Justin Bieber secara gratis.

Lima gadis remaja setuju untuk menjadi mualaf dengan memeluk Islam dan sebagai ganjarannya mereka akan menerima tiket untuk menonton bintang pop - mereka benar-benar tidak menyadari mereka sedang ditipu untuk sebuah acara televisi, seperti dilansir The Sun.

Acara komedi, The Anne-Kat Hærland melihat gadis-gadis menghapus riasan mereka, memakai jilbab dan melafalkan akidah Islam dalam bahasa Arab.

Uskup Halvor Nordhaug, dari Gereja Lutheran Norwegia, mengatakan kepada koran Dagen bahwa aksi tersebut dinilainya ´tragis´.

Menurutnya: "Ini adalah contoh dari sebuah ide di mana ironi dan kurangnya rasa hormat berubah menjadi sesuatu yang tragis."

"Itu menunjukkan kurangnya rasa hormat untuk menghargai keyakinan agama."

Gadis-gadis itu diminta mengulangi kata-kata dalam bahasa Arab yang mereka kira bacaan Syahadat padahal artinya adalah "Justin Bieber adalah najis dan kemungkinan dia seorang gay."

Presenter acara mengatakan: "Kami ingin mengetahui seberapa jauh pecinta ´Beliebers´ di Norwegia bersedia mendapatkan tiket konser secara gratis."

Justin Bieber baru-baru ini membatalkan konsernya di Oman setelah para pemimpin Muslim di negara itu mengkritik sang penyanyi dan gerakannya dianggap "terlalu seksi".

Bieber di Norwegia awal bulan ini sebagai bagian dari tur dunianya.
FIVE Norwegian teenage girls want convert to Islam to get a free Justin Bieber concert tickets. Though they ´bullied´ by the television comedy show. They thought reading the Shahada in Arabic but after translation, it means blasphemy Justin Bieber as ´impure and gay´.

A NORWEGIAN TV show has been slammed for tricking teenagers into agreeing to convert to Islam to win Justin Bieber tickets.

Five teenage girls agreed to convert on the promise they would receive tickets to see the pop star – totally unaware they were being duped for a spoof show.

The Anne-Kat Hærland comedy show saw the girls remove their makeup, don hijabs and recite Islamic creed in Arabic.

Bishop Halvor Nordhaug, from the Norwegian Lutheran Church, told Norwegian paper Dagen he thought the stunt was "tragic".

He said: "This is an example of an idea where irony and lack of respect turns into something tragic.

"I believe the contest is a foolish statement and it shows a lack of respect for what faith means."

The girls were also told to repeat what translated to: "Justin Bieber is impure and probably gay."

The show's presenter said: "We wanted to find out how far Norwegian 'Beliebers' are willing to go for tickets to one of Bieber's concerts."

Justin Bieber recently cancelled a concert in Oman after Muslim leaders in the country criticised the singer and deemed his moves "too sexy".

Bieber was in Norway earlier this month as part of his world tour.