Kementan Dukung Investor India Kembangkan Industri Gula di Maluku
Investors from India Interested to Develop the Sugar Industry in Indonesia`s Moluccas
Reporter : Gusmiati Waris
Editor : Cahyani Harzi
Translator : Dhelia Gani

PUBLISHED: Rabu, 20 April 2016 , 00:24:59 WIB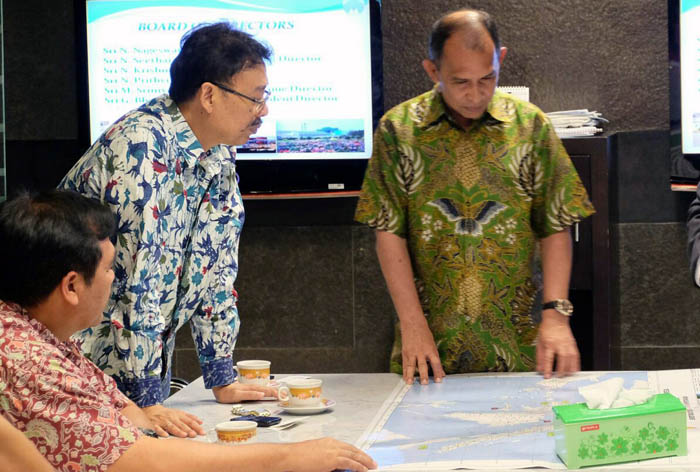 Staf Ahli Menteri Bidang Investasi Kementerian Pertanian, Syukur Iwantoro (berdiri kiri) dan Gubernur Provinsi Maluku, Said Assegaf (kanan) Foto: istimewa
Jakarta (B2B) - Lahan seluas 27.000 hektar di Kabupaten Maluku Tenggara Barat, Provinsi Maluku akan dimanfaatkan oleh investor dari India untuk mengembangkan industri gula khususnya perkebunan tebu, dan saat ini tengah mengurus perizinannya di Kementerian Pertanian sementara Badan Koordinasi Penanaman Modal (BKPM) akan mendukung kemudahan bagi investor asing tersebut.

Kabar tersebut mengemuka dari pertemuan Staf Ahli Menteri Bidang Investasi Kementerian Pertanian, Syukur Iwantoro saat bertemu dengan Gubernur Provinsi Maluku, Said Assegaf dan investor dari India di Jakarta pada Senin (18/4).

Syukur Iwantoro mengatakan Maluku merupakan kawasan pertumbuhan ekonomi yang sangat strategis bagi investor asing, dan menjadi perhatian Presiden RI Joko Widodo untuk dimanfaatkan oleh investor asing.

"Potensi lahannya Maluku sangat baik untuk dimanfaatkan investasi gula, jagung dan sapi," kata Syukur melalui pernyataan tertulis yang diterima B2B pada Selasa (19/4).

Gubernur Said Assegaf menyatakan pihaknya menyiapkan lahan seluas 27.000 hektar untuk dikembangkan sebagai lahan perkebunan tebu di Kabupaten Maluku Tenggara Barat. "Kami siap memfasilitasi kebutuhan para investor asing yang ingin investasi di Maluku."

Cahyo Purnomo dari BKPM menyatakan akan mendukung kemudahan bagi investor dari India untuk menanamkan modalnya pada perkebunan tebu di Maluku.

"Proses perizinan pasti akan dibantu oleh Kementan melalui staf ahli menteri bidang investasi," kata Ketua Tim Pakar Upaya Khusus (Upsus) Kementan Sam Herodian.
Jakarta (B2B) - The land area of 27,000 hectares in the West Southeast Mollucas of Mollucas province will be utilized by investor from India to develop the sugar industry in particular sugar cane plantations, and is currently taking care of licensing at the Agriculture Ministry, while the Investment Coordinating Board (BKPM) will facilitate foreign investment in Indonesia, according to the senior officials.

The news was revealed of the meeting Expert Staff to Agriculture Minister for Investment, Syukur Iwantoro with Mollucas Governor, Said Assegaf and investors from India in here on Monday (4/18).

Mr. Iwantoro said Moluccas province is a strategic economic zones for foreign investors, and concern of President Joko Widodo to foreign investors.

"The potential of land in Moluccas is very appropriate for investment of sugar, corn and cattle," he said by written statement to the B2B on Tuesday (4/19).

Governor Assagaff said he have set up 27,000 hectares of land to be developed as a sugarcane plantations in West Southeast Maluku district. "We are ready to facilitate the needs of foreign investors in Moluccas province."

Cahyo Purnomo of BKPM said it would support investors from India to invest of sugarcane plantations in Moluccas.

"The licensing process will be supported by the ministry through the senior officials," said chairman of the expert team for special effort, Sam Herodian.