Sekjen Kementan Dorong Pemanfaatan Kontrak Kerja 2017, Rp31,03 Triliun
Indonesian Agricultural Development Budget in 2017 Reached 31.03 Trillion Rupiahs
Reporter : Gusmiati Waris
Editor : Cahyani Harzi
Translator : Dhelia Gani

PUBLISHED: Jum'at, 27 Januari 2017 , 00:55:00 WIB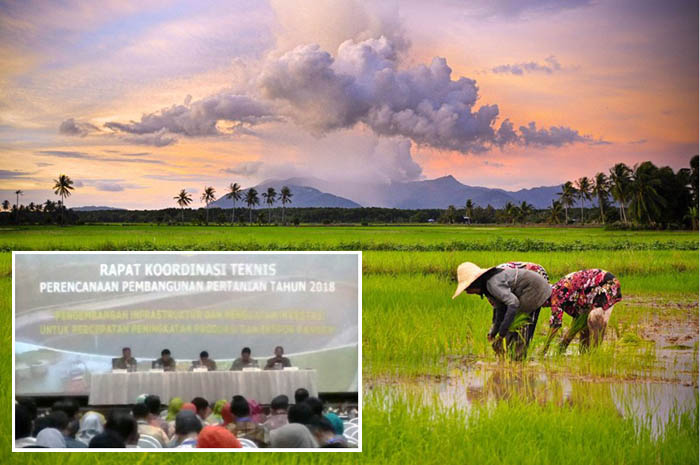 Kerja keras petani yang bekerja hingga menjelang senja dan Rakortek pertanian 2017 (Foto: istimewa & B2B/Gusmiati Waris)
Jakarta (B2B) - Kementerian Pertanian RI (Kementan) segera melaksanakan kegiatan tahun anggaran (TA) 2017 sebesar Rp31,03 triliun atau 74% dari total pengadaan barang/jasa 2017, Sekjen Kementan Hari Priyono pada Rabu (26/1) menginstruksikan para pejabat eselon dua di kementerian, satuan kerja perangkat daerah (SKPD) lingkup pertanian provinsi.

"Kegiatan TA 2017 baru saja kita mulai. Segera melakukan percepatan pelaksanaan kegiatan, dengan melakukan langkah-langkah konkrit percepatan pelaksanaan kegiatan, dan diikuti langkah konkrit untuk memproses dan mengontrol pelaksanaan pengadaan barang dan jasa serta melaporkan realisasinya dengan baik," kata Sekjen Hari Priyono pada rapat koordinasi teknis (Rakortek) Perencanaan Pembangunan Pertanian 2018.

Dia mengapresiasi kerjasama yang baik dalam upaya meningkatkan kinerja produksi komoditas strategis: padi, jagung, cabai, bawang merah, dan daging sapi/kerbau pada 2016. Program upaya khusus (Upsus) berdampak pada peningkatan produksi pangan nasional.

Berdasarkan angka ramalan (Aram) II dari Badan Pusat Statistik tahun 2016, produksi padi 2016 mencapai 79,1 juta ton gabah kering giling (GKG) atau naik 4,97% dibandingkan 2015, produksi jagung mencapai 23,2 juta ton atau naik 18,10% dari angka tetap (Atap) 2015 sebesar 19,6 juta ton. Produksi bawang merah 1,3 juta ton atau naik 5,74% dari 2015 sebanyak 1,2 juta ton, produksi cabai 2,1 juta ton atau naik 9,95% dari 2015 sebesar 1,9 juta ton, produksi daging sapi/kerbau mencapai 0,56 juta ton atau naik 3,7% dari 2015 sebesar 0,54 juta ton.

"Saya berharap para sekretaris SKPD beserta pejabat yang menangani perencanaan lingkup pertanian provinsi, diharapkan telah dilakukan langkah-langkah konkrit meliputi penyelesaian perangkat satuan kerja, percepatan pelaksanaan pengadaan barang dan jasa 2017, memahami pedoman umum dan pedoman teknis pelaksanaan kegiatan 2017, dan upaya-upaya percepatan lainnya," kata Hari Priyono.

Dalam rangka percepatan pelaksanaan kegiatan 2017, telah ditandatangani kontrak pengadaan barang/jasa pada rapat kerja nasional (Rakernas) Pembangunan Pertanian 2017 senilai Rp31,03 triliun pada Rabu (4/1).

Kontrak Kerja 2016
Kontrak pengadaan barang dan jasa tahun 2016 di Kementerian Pertanian RI senilai Rp34,6 triliun untuk pupuk bersubsidi, pencetakan sawah baru, benih bersubsidi, alat dan mesin pertanian (Alsintan) prapanen, Alsintan pascapanen, asuransi pertanian, pemeliharaan gedung perkantoran, pengembangan ternak sapi, dan pakan ternak pada 4 Januari 2016.

Penandatanganan kontrak dengan mitra terkait dari pihak ketiga disaksikan Menteri Pertanian RI Andi Amran Sulaiman didampingi para pimpinan dari Kepolisian RI (Polri), Kejaksaan Agung, Komisi Pemberantasan Korupsi (KPK), LKPP, TNI AD, para direktur dari BUMN dan perusahaan swasta, dan para pejabat eselon satu di Kementan.

Kontrak pengadaan barang/jasa sebesar Rp34,6 triliun di Kementan bertujuan mempercepat pelaksanaan program, kegiatan, dan anggaran Tahun Anggaran (TA) 2016 untuk pupuk bersubsidi dengan PT Pupuk Indonesia Holding sebesar Rp30 triliun, untuk pencetakan sawah baru dengan Zeni TNI AD Rp1,7 triliun dan Zeni Kodam Rp1,5 triliun, benih bersubsidi senilai Rp404,4 miliar dengan PT Pertani dan Rp404,4 miliar dengan PT Sang Hyang Sri (SJHS), 11 kontrak pengadaan Alsintan prapanen dengan enam perusahaan sebesar Rp360 miliar, Alsintan pascapanen dengan Kubota senilai Rp8,3 miliar, PT Jasa Asuransi Indonesia (Jasindo) senilai Rp114 miliar untuk asuransi pertanian, PT SIMS Services meraih kontrak Rp723,7 juta untuk fasilitasi keamanan kantor dan lingkungan Direktorat Jenderal Hortikultura, PT Tataruang Dinamika meraih kontrak Rp637,5 juta untuk pemeliharaan gedung kantor Direktorat Jenderal Hortikultura, CV Karya Inayah Selaras mendapat kontrak Rp308,6 juta untuk pengadaan obat, vitamin, mineral sapi donor dan calon donor, mineral untuk sapi resipien dan calon bibit, dan kontrak Rp180 juta untuk pengadaan hijauan pakan ternak dengan Kelompok Ternak Sukabumi.

"Pengadaan barang dan jasa dari pemerintah ini dilaksanakan Kementan sesuai Peraturan Presiden atau Perpres No 172/2014 melalui penunjukan langsung dan e-Katalog sehingga bisa langsung ditetapkan pemerintah. Januari ini diharapkan sudah dapat didistribusikan kepada para penerima manfaat yaitu kelompok tani dan gabungan kelompok tani," kata Mentan Amran Sulaiman dalam sambutannya kepada 300 mitra pihak ketiga yang hadir untuk meneken kontrak maupun sebagai saksi.

Menurutnya, secara umum bantuan pemerintah untuk TA 2016 lebih banyak daripada TA 2015, khususnya Alsintan yang tahun ini mencapai 100.000 unit sementara tahun lalu hanya 80.000 unit. Bantuan Alsintan untuk kebutuhan petani prapanen terdiri atas mesin traktor, rice transplanter, dan pompa air sementara combine harvester, power thrasser, dryer machine, corn sheller untuk mendukung kegiatan pascapanen.

"Tahun 2016 juga mengalokasikan anggaran pencetakan sawah baru seluas 200.600 hektar didukung oleh Zeni TNIAD dan Zeni Kodam, lebih luas dibandingkan 2015 yang hanya 23 ribu hektar," kata Mentan.
Jakarta (B2B) - Secretary General of Indonesia Agriculture Ministry Hari Priyono has instructed to high officials in the ministry, and agriculture working unit of provincial immediately use 2017 state budget amounted to 31.03 trillion rupiah or 74% of total procurement of goods/services this year.

"2017 budget activity 2017 we will start by utilize the state budget to increase national food production, use immediately for procurement of goods and services and control use of budget and continued reporting project realization," said Mr Priyono on meeting technical coordination themed ´2018 Agricultural Development Planning´ here on Wednesday (1.26.17).

He appreciated the good cooperation to increase production of strategic food: rice, corn, chilli, shallots, and beef/buffalo meat in 2016. Special Efforts program by by the government had a positive impact on Indonesia after successfully stop rice imports.

Refers to the second forecast figures of the Central Statistics Agency in 2016, rice production in 2016 reached 79.1 million tons of milled rice (GKG) or increase 4.97% compared to 2015, maize production reached 23.2 million tons or increase 18.10% of actual production in 2015 of 19.6 million tons. Shallots production reached 1.3 million tons or increase 5.74% of 2015 to 1.2 million tons, chili production 2.1 million tons or increase 9.95% of 2015 of 1.9 million tons, production of beef/meat buffalo reached 0.56 million tons or up 3.7% from 2015 of 0.54 million tons.

"I expected the officials at the provincial level who handle agricultural planning, is expected to undertake concrete steps, accelerating the procurement of goods and services in 2017, understand the general guidelines and the technical guidelines for the utilization of the state budget," Mr Priyono said.

In order to support acceleration of use the budget in 2017, has signed a contract procurement of goods/services 31.03 trillion rupiah at national meeting of 2017 Agricultural Development here on Wednesday (1.4.17).

2016 Agricultural Budget
Procurement contracts of 2016 goods and services in Agriculture Ministry for procurement of 2016 fiscal year reached 34.6 trillion rupiahs for subsidized fertilizers, new paddy fields, subsidized seeds, agricultural machinery for pre-harvest and post-harvest, agricultural insurance, maintenance of office buildings, cattle development and animal feed.

Procurement contracts was signed by the minister with third parties witnessed by the leaders of Indonesian National Police, Attorney General Office, Anti-graft Commission, Indonesia´s Agency Procurement of Goods/Services of the Government called the LKPP, Indonesian army, executives of SOEs and private companies, and the first echelon officials in the ministry.

Procurement contracts of 34.6 trillion rupiahs in the ministry aims to accelerate the implementation of programs, activities and budget for Fiscal Year 2016 for the subsidized fertilizers by Indonesian Fertilizer Holding Corp. 30 trillion rupiahs, new paddy fields by the army corps of engineers 1.7 trillion rupiahs and 1.5 trillion rupiahs by army corps of engineers of regional military command, procurement of subsidized seed 404.4 billion rupiahs by Pertani Corp. and 404.4 billion rupiahs by Sang Hyang Sri Corp., 11 contracts with six companies of 360 billion rupiahs for procurement of agricultural machinery pre-harvest. Agricultural machinery for post-harvest by Kubota 8.3 billion rupiahs, Indonesia Insurance Services Corp. for agricultural insurance 114 billion rupiahs, SIMS Services Corp. won 723.7 million rupiahs contract for security facilitation office in Directorate General of Horticulture, Tataruang Dinamika Corp. won 637.5 million rupiahs contract for maintenance of office building in Directorate General of Horticulture, Karya Inayah Selaras Corp. won 308.6 million rupiahs contract for procurement of drugs, vitamins, minerals for for artificial insemination of cattle, and 180 million rupiahs contract of animal feed by farmers group of Sukabumi.

"Procurement of goods and services without tenders and e-Catalog is in accordance Presidential Decree No. 172/2014. This January is expected to be distributed to farmers across Indonesia," said Minister Sulaiman in his speech.

According to him, government assistance for fiscal year 2016 more than 2015, particularly for the 100,000 units of agricultural machinery while last year to 80,000 units. Agricultural machinery for pre-harvest consists of a tractor engine, rice transplanter, and water pumps, while the combine harvester, power thrasser, dryer machine and corn sheller for postharvest.

"This year also provided budgets for 200,600 hectares of new paddy fields supported by the army, while in 2015 only 23 thousand hectares," Minister Sulaiman said.