Swasembada Bawang Putih 2019, Kementan Ajukan Tambahan Anggaran Rp1 Triliun
Indonesia`s Ministry Will Developing Garlic Production Zones in Four Provinces
Reporter : Gusmiati Waris
Editor : Cahyani Harzi
Translator : Dhelia Gani

PUBLISHED: Rabu, 31 Mei 2017 , 02:03:00 WIB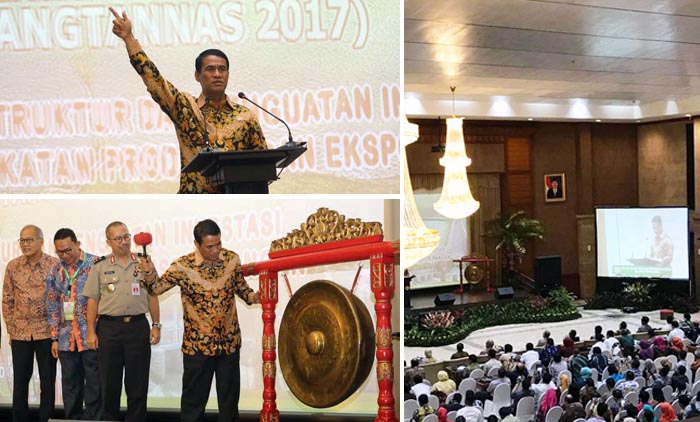 Mentan Andi Amran Sulaiman memberi arahan pada pembukaan Musrenbangtan Nasional 2017 yang diikuti peserta dari seluruh Indonesia termasuk TNI AD dan Polri (Foto2: B2B/Gusmiati W & Humas Kementan/Fajar)
Jakarta (B2B) - Pemerintah RI menetapkan target swasembada bawang putih pada 2019 dengan penyediaan lahan 60.000 hektar, sementara saat ini baru 1.000 hektar di Kabupaten Temanggung, Provinsi Jawa Tengah, hal itu mendorong Kementerian Pertanian RI untuk mengajukan tambahan anggaran Rp1 triliun dalam Anggaran Pendapatan dan Belanja Negara (APBN-P) 2017 untuk pengembangan sentra produksi di Kabupaten Solok (Sumbar), Temanggung (Jateng) Lombok Timur (Nusa Tenggara Barat) dan Enrekang (Sulsel).

Menteri Pertanian Andi Amran Sulaiman mengatakan untuk mencapai target swasembada bawang putih pada 2019 membutuhkan penambahan lahan tanam 60.000 hektar, dengan kebutuhan anggaran sekitar Rp1 triliun yang akan diajukan oleh Kementan dalam APBN-P 2017. Sementara dana impor bawang putih selama ini mencapai Rp20 triliun per tahun untuk memenuhi kebutuhan konsumen dalam negeri.

"Apabila tambahan anggaran Rp1 triliun dikabulkan maka Kementan optimistis Indonesia tidak perlu lagi mengimpor bawang putih dari China, dan kita mampu mencapai swasembada bawang putih pada 2019," katanya kepada pers usai membuka Musyawarah Perencanaan Pembangunan Pertanian Nasional 2017 (Musrenbangnas) di Jakarta pada Selasa (30/5).

Menurutnya, Kementan sudah menyiapkan lahan 60.000 hektar di empat provinsi untuk memasok kebutuhan setiap pulau, dengan pengembangan zonasi produksi seperti halnya bawang merah, sehingga kelak kebutuhan Pulau Sumatera dipasok dari Solok. Begitu pula untuk Pulau Jawa dipenuhi oleh produksi bawang putih Temanggung, Enrekang memenuhi kebutuhan Indonesia bagian timur sementara Kalimantan dipasok dari NTB selain memenuhi kebutuhan bawang putih untuk Bali Nusra.

Langkah Terobosan
Sebelumnya diberitakan, Kementan akan mengembangkan 20.000 hektar lahan bawang putih di Kabupaten Temanggung, Jateng. Mentan Amran Sulaiman pada pertengahan April lalu telah menginstruksikan Dirjen Hortikultura Spudnik Sujono menyiapkan anggaran untuk mendukung benih dan pupuk bagi petani bawang putih sehingga Indonesia mampu swasembada bawang putih pada 2019, dan Temanggung ditargetkan pasok 30% kebutuhan nasional.

"Sekarang baru 304 hektar, saya minta Dirjen Hortikultura untuk menambah anggaran bawang putih untuk Temanggung. Tolong dihitung lagi pak Dirjen supaya bisa mencapai luas 10 ribu hektar lalu 20 ribu hektar pada 2019. Insya Allah kita bisa menyelesaikan 30 persen kebutuhan nasional dari bawang putih Temanggung," kata Mentan kepada Dirjen Spudnik Sujono yang berdiri di dekatnya saat berbincang dengan wartawan usai panen di Desa Petarangan, Kecamatan Kledung, Kabupaten Temanggung pada 12 April 2017.

Mentan mengharapkan dukungan Bupati Bambang Sukarno dan pihak terkait di Kabupaten Temanggung untuk mendukung target 20.000 hektar lahan bawang putih pada 2019.

Dia mengaku berkoordinasi dengan Menko Perekonomian Darmin Nasution, Menperindag Enggartiasto Lukita dan Kepala Staf Kantor Kepresidenan RI Teten Masduki sebelum bertolak ke lokasi panen bawang putih, dan ketiganya mengingatkan tentang harapan Presiden Joko Widodo agar Indonesia segera menghentikan impor bawang putih.

"Kepentingan petani bawang putih harus dilindungi, negara harus hadir, tidak boleh dibiarkan karena hanya melindungi kepentingan segelintir orang tapi mengorbankan nasib dan masa depan ribuan petani bawang putih. Ini episode berikutnya Mentan untuk bertarung membela petani bawang putih," kata Mentan.

Dia juga meminta Dirjen Spudnik mengembangkan zona produksi bawang putih di Sumatera Barat, Jawa Timur, Nusa Tenggara Barat (NTB) dan Nusa Tenggara Timur (NTT) seperti halnya bawang merah dan cabai yang berhasil dilakukan oleh Ditjen Hortikultura sejak 2016 sehingga sentra produksi tersebut dapat menjadi penyanggah kebutuhan konsumen di luar Jawa.
Jakarta (B2B) - Indonesian government set a target of garlic self-sufficiency in 2019 by providing 60,000 hectares of land, while currently only available 1,000 hectares in Temanggung district of Central Java province, and the ministry proposed an additional 1 trillion rupiah in the 2017 Budget State Revised for developing garlic production center in Solok district (West Sumatra province), Temanggung (Central Java) East Lombok (West Nusa Tenggara) and Enrekang (South Sulawesi).

Agriculture Minister Andi Amran Sulaiman said to achieve the target of garlic self-sufficiency in 2019 requires additional 60,000 hectares of planting land, then it takes a budget of about 1 trillion rupiah that will be submitted by the ministry in the 2017 Budget State Revised. Meanwhile, garlic import funds currently reach 20 trillion rupiah per year to meet domestic demand.

"If the additional budget of 1 trillion rupiah is approved, the ministry optimistic that Indonesia does not need to import Chinese garlic, and we are capable of garlic self-sufficiency in 2019," he told the press after opened the 2017 National Agricultural Development Planning Congress here on Tuesday (May 30).

National Breakthrough
Previously reported, Indonesian Agriculture Ministry will develop 20,000 hectares of of garlic in Temanggung district, Central Java province. Minister Sulaiman instructed Director General of Horticulture, Spudnik Sujono prepare budget in support of seed and fertilizer for garlic farmers so that Indonesia able to garlic self-sufficiency in 2019, and Temanggung targeted to supply 30% of national needs.

"Currently 304 hectares, I asked the director general of horticulture to add the budget of garlic for Temanggung. Please counted again so that it can reach 10 thousand hectares then 20 thousand hectares in 2019. God willing, we can solve 30 percentof the national requirement of Temanggung," said Minister Sulaiman to Mr Sujono were standing near him while talked with reporters after garlic harvest in Petarangan village of Kledung subdistrict in April 12.

Mr Sulaiman expect support Regent Bambang Sukarno and other related parties in Temanggung district to the target 20.000 hectares of garlic in 2019.

He claimed coordinate with Senior Minister Darmin Nasution, Minister of Trade Enggartiasto Lukita and Chief of Staff of the Presidential Office locations Teten Masduki prior to harvest of garlic, and they stressed the President Joko Widodo hope that Indonesia immediately stop imports of garlic.

"The interests of garlic farmers must be protected, the state should be present, not because it protects the interests of a few importers but sacrifice the fate and future of thousands garlic farmers. It´s the next episode of Indonesian agriculture minister to fight for garlic farmers," he said.

Mr Sulaiman also asked Mr Sujono developing garlic production zones in West Sumatra, East Java, West Nusa Tenggara and East Nusa Tenggara as well as onions and chili were successfully carried out by the Directorate General of Horticulture since 2016 that production center can be the buffer consumer needs outside of Java.