Bupati Cellica Surprise Tiga Menteri Sambangi Karawang Demi Toko Tani
Indonesia`s Karawang Regent Admire the Attention of President Widodo on Farmers
Editor : M. Achsan Atjo
Translator : Dhelia Gani

PUBLISHED: Rabu, 19 April 2017 , 03:19:00 WIB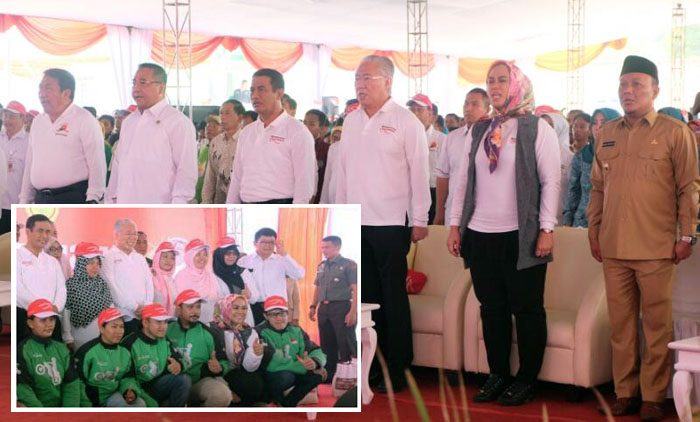 Kiri ke kanan: Plt Kepala BKP Kementan Spudnik Sujono, Mendes Eko PS, Mentan Andi Amran Sulaiman, Mendag Enggartiasto Lukit dan Bupati Karawang Cellica N (Foto2: Humas Kementan/Makmur H SE)
Karawang, Jawa Barat (B2B) - Bupati Karawang Cellica Nurrachadiana mengaku surprise atas kehadiran tiga menteri di Kecamatan Jayakerta pada kegiatan Apel Siaga Toko Tani Indonesia (TTI) menghadapi Ramadan dan Lebaran 2017, Selasa (18/4) yang disebutnya sebagai ´pertama kali dalam sejarah Karawang´ ada tiga menteri datang ke Karawang untuk meningkatkan kesejahteraan petani dan menjamin ketersediaan pangan murah bagi konsumen di Jabodetabek.

"Baru kali ini dalam sejarah Karawang, ada tiga menteri datang ke sini. Selamat datang buat bapak menteri di kabupaten yang beken sebagai lumbung beras pusat ketahanan pangan nasional, industrialisasi dan goyang Karawang," kata bupati berparas rupawan yang mengenakan hijab ini tentang hajat Kementerian Pertanian menghadapi hari besar keagamaan nasional (HBKN) Ramadan dan Idul Fitri 2017.

Dia pantas ´ge-er´ alias gede rasa, pasalnya Menteri Pertanian RI Andi Amran Sulaiman tidak datang sendirian, tapi hadir di Karawang bersama Menteri Perdagangan Enggartiasto Lukita; Menteri Desa Pembangunan Daerah Tertinggal dan Transmigrasi, Eko Putro Sandjojo; Asisten Teritorial (Aster) Kasad Brigjen Widagdo Hendro Sukoco yang menggantikan Mayjen Komaruddin Simanjuntak karena promosi menjadi Pangdam Udayana; dan Pelaksana Tugas (Plt) Badan Ketahanan Pangan (BKP) Kementerian Pertanian, Spudnik Sujono.

Dia mengaku bangga pada Pemerintahan Joko Widodo - Jusuf Kalla karena memikirkan nasib petani dan kepentingan konsumen, dan Mentan Andi Amran Sulaiman memberi kepercayaan kepada 26 gabungan kelompok tani (Gapoktan) di Kabupaten Karawang untuk memasok TTI yang dikembangkan oleh BKP Kementan.

"Besar harapan rakyat atas kestabilan harga pangan utuk memutus rantai pasok yang demikian njelimet. Mata rantai perdagangan itu hari ini diputus sehingga ada jaminan harga pangan bagi petani, dan kepastian ketersediaan pangan dengan harga terjangkau bagi konsumen di Jakarta," kata Bupati Cellica.

Apel Siaga TTI
Mentan Andi Amran Sulaiman mengatakan kiprah TTI didorong kegundahan pemerintah pada petani yang bekerja keras di sawah namun tidak mendapatkan manfaat dari kinerjanya yang luar biasa mendukung ketersediaan pangan bagi rakyat.

"Petani tidak menikmati hasil kerja kerasnya, karena tidak mendapatkan keuntungan yang signifikan tapi hanya dinikmati segelintir orang. Mereka tega naikkan harga setinggi langit seperti cabai rawit merah hingga Rp160 ribu per kilogram. Akibatnya, petani dan konsumen teriak. TTI adalah aplikasi dari perintah Presiden Jokowi bahwa pemerintah harus hadir di tengah masyarakat," kata Mentan.

Menurutnya, apel siaga TTI merupakan bagian dari langkah pemerintah menghadapi Ramadan dan Idul Fitri 2017, dan TTI sebagai solusi permanen mengatasi gejolak harga dengan mengembangkan kegiatan pengembangan usaha pangan masyarakat (PUPM) melalui TTI.

"Fluktuasi pasokan dan harga pangan yang tidak menentu, harus dapat diatasi dan dikendalikan agar ketersediaan pangan mencukupi dan harganya stabil. Hal ini sangat penting, karena jika dibiarkan dikhawatirkan dapat menimbulkan masalah pangan yang dapat mengganggu sendi-sendi pembangunan lainnya seperti ekonomi, sosial, hukum, keamanan dan bahkan ketahanan negara," kata Mentan.
Karawang, West Java (B2B) - Karawang Regent Cellica Nurrachadiana admitted surprise at the minister´s visit in Jayakerta subdistrict for the launched of Indonesian Kiosk Food (TTI) for Ramadan and Eid 2017, Tuesday (April 18) which she described as ´the first time in Karawang history´ three ministers came to Karawang for welfare of farmers and support availability of food for consumers in Indonesian capital.

"This is the first time in Karawang history there are three ministers have come here. Welcome in here known as rice granary of West Java province, industrialization and Karawang dance," said the beautiful regent who wore hijab about strategy of the agriculture ministry face national religious holidays such as Ramadan and Eid.

He deserves pride, because Agriculture Minister Andi Amran Sulaiman is not alone, but is accompanied by
Trade Minister Enggartiasto Lukita; Minister of Rural Development and Transmigration, Eko Putro Sandjojo, Territorial Assistant Army Chief of Staff Brig. Gen. Widagdo Hendro Sukoco who replaced Maj. Gen. Komaruddin Simanjuntak who became Bali´s Udayana Military Commander and Acting Director General of Food Security Agency Spudnik Sujono.

She was proud of Joko Widodo administration for thinking about the fate of farmers and interests of consumers, and Minister Sulaiman gave trust to 26 joint farmer groups to supply TTI developed by the BKP.

"The people´s expectation of food price stability to break the long supply chain, the trade chain is cut off today so there is a guarantee of food prices for farmers, and availability of food at affordable prices for consumers in Jakarta," Regent Nurrachadiana said.

Benefit of the TTI
Minister Sulaiman said TTI´s gait was fueled by the government´s anxiety on farmers working hard in the rice fields, but did not benefit from their hard work supporting food production for the people.

"Farmers do not benefit in kind, but which benefited only a limited number of traders. Traders raise the price of chili to 160 thousand rupiah per kilogram. Farmers and consumers protested. TTI is orders of President Joko Widodo that the government should be close to the people," he said.

Minister said it encourages the Indonesian Agriculture Ministry since 2015 to make a breakthrough as a permanent solution to overcome price volatility through the business development community food through

"Fluctuations in supply and food prices is uncertain, should be addressed and controlled so that food supplies enough and the price is stable. This is very important, because if not addressed could pose problems that would interfere with the economic, social, legal, security and resilience of the country," Minister Sulaiman said.