BBPP Ketindan Tingkatkan Kompetensi Gempita Kelola UPJA
Indonesian`s Agriculture Training Center Conducts Training for Youth Farmers
Editor : M. Achsan Atjo
Translator : Dhelia Gani

PUBLISHED: Senin, 12 Juni 2017 , 04:57:00 WIB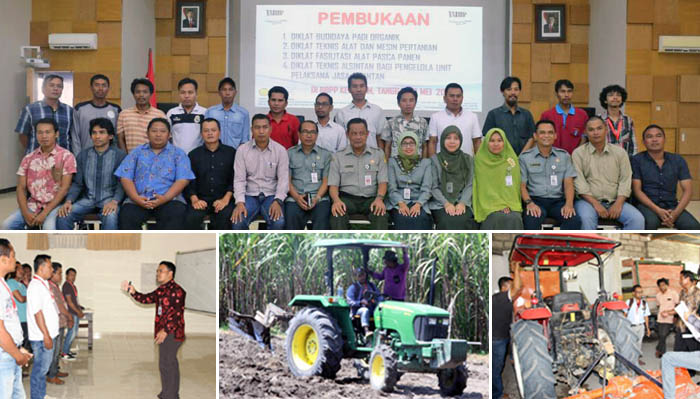 Kepala BBPP Ketindan, Djajadi Gunawan (duduk ke-7 kanan) dan Kabid Penyelenggaraan Pelatihan, Marfuhah (duduk ke-6 kiri) bersama para peserta pelatihan (Foto2: Humas BBPP Ketindan/Yeniarta MM
Jakarta (B2B) - Balai Besar Pelatihan Pertanian (BBPP) Ketindan berupaya meningkatkan kompetensi teknis Gerakan Pemuda Tani Indonesia (Gempita) sebagai SDM pengelola Unit Pelayanan Jasa Alsintan (UPJA) dengan menggelar pelatihan budidaya padi organik, teknis Alsintan, alat pasca panen belum lama ini di BBPP Ketindan, Kabupaten Malang, Provinsi Jawa Timur.

Kepala BBPP Ketindan Djajadi Gunawan mengatakan pelatihan teknis bagi pengelola UPJA ini, Gempita diharapkan mampu dan memahami peran dan fungsi Alsintan sehingga dapat menganalisa kesesuaian dan kebutuhan Alsintan, menganalisa biaya operasional Alsintan, identifikasi dan analisa potensi wilayah UPJA, mengembangkan tata kelola kelembagaan UPJA dan memahami perkembangan UPJA dalam memperkuat program upaya khusus padi, jagung dan kedelai (Upsus Pajale).

"Untuk meningkatkan kompetensi teknis SDM pengelola UPJA, Badan Penyuluhan dan Pengembangan SDM Pertanian atau BPPSDMP sebagai eselon satu memfasilitasi kegiatan pelatihan bagi pengelola UPJA di BBPP Ketindan," kata Djajadi Gunawan.

Menurutnya, pelatihan diharapkan dapat meningkatkan kompetensi Gempita sebagai salah satu pengelola UPJA yang bertugas memberikan pelayanan jasa Alsintan kepada petani, sehingga Gempita mampu mendampingi dengan baik agar dapat memberikan hasil usaha yang maksimal, dan usaha jasa pelayanan Alsintan dapat tumbuh berkembang secara mandiri dan berkesinambungan.

Selain Gempita, pelatihan diikuti oleh kelompok tani (Poktan), gabungan kelompok tani (Gapoktan), Gempita pengelola UPJA, Brigade Tanam dan Brigade Panen.

"Alsintan mempunyai peran dan potensi sangat strategis karena kontribusinya dalam meningkatkan produktivitas dan efisiensi sumberdaya, selain peningkatan kualitas melalui proses dan diversifikasi produk yang menghasilkan nilai tambah tinggi dalam mendukung program pengembangan agribisnis," kata Djajadi Gunawan.

BBPP Ketindan juga menyediakan traktor roda dua dan empat, mesin tanam padi, mesin panen padi kombinasi, mesin pompa air irigasi, mesin perontok padi, mesin penggiling padi dan mesin pengering padi untuk dipelajari fungsinya dan mempraktikkan penggunannya untuk mendukung peningkatan produksi pertanian.

Djajadi Gunawan mengharapkan Gempita yang dibentuk oleh Kementerian Pertanian RI dapat mendukung langkah dan kebijakan pemerintah, untuk lumbung pangan dunia melalui sinergi dengan para pemangku kepentingan.

"Gempita merupakan ujung tombak seluruh pemuda di negeri ini untuk mendukung pembangunan pertanian," katanya.
Jakarta (B2B) - The Indonesian´s Ketindan Agricultural Training Center called the BBPP Ketindan improve the technical competence of Association of Indonesian Youth Farmers called the Gempita as the agricultural machinery service manager (UPJA) for organic rice cultivation training, agricultural mechanization, post-harvest handling, recently in Malang Regency of East Java province.

Director of the BBPP Ketindan, Djajadi Gunawan said said technical training for Gempita as UPJA manager can understand the role and function of agricultural machinery so that it can analyze the needs, operational cost, identification and analysis, develop institutional governance, and understand the field condition to support the achievement of food self-sufficiency.

"To improve the technical competence of UPJA´s human resources management, the BBPP Ketindan as agriculture training center of Agriculture Ministry´s Agency for Agricultural Extension and Human Resources Development (BPPSDMP) facilitate training activities," Mr Gunawan said.

According to him, the training is expected to improve the competence of Gempita as UPJA´s manager to support the performance of farmers, and service of agricultural machinery can develop continuously.

In addition to the Gempita, the training is followed by farmer groups, combined farmer groups, Gempita, farm workers, and post-harvest workers.

"Mechanization of agriculture has a very strategic role and potential to increase resource productivity and efficiency, and diversify agricultural products as an value added to support agribusiness development program," Mr Gunawan said.

The BBPP Ketindan also provides two-and four-wheeled tractor, rice planting machine, combination rice harvesting machine, irrigation water pump machine, rice threshing machine, rice grinding machine and rice drying machine to study its function and practice activities.

Mr. Gunawan expect the Gempita established by the Agriculture Ministry support the government´s policies and measures to achieve the target as a world food barn.

"The Gempita is the spearhead of youth in Indonesia to support agricultural development," he said.