Kadistan Empat Provinsi Keluhkan Bulog Belum Serius Laksanakan Permendag No 27/2017
Indonesia`s Shallot Farmers Question the Logistics Agency`s Commitment
Reporter : Gusmiati Waris
Editor : Cahyani Harzi
Translator : Dhelia Gani

PUBLISHED: Senin, 05 Juni 2017 , 05:19:00 WIB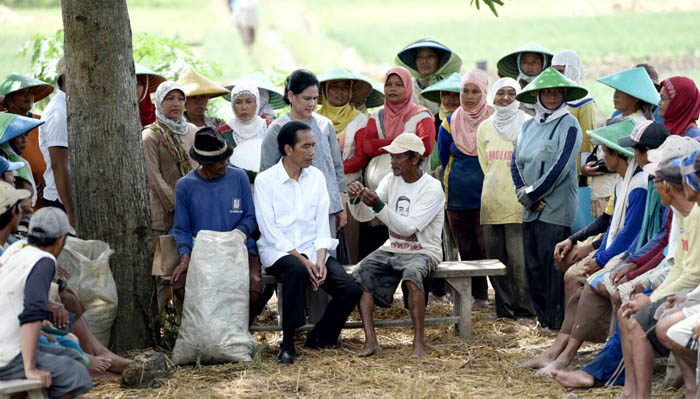 Presiden RI Joko Widodo dan Ibu Iriana Widodo berbincang dengan petani bawang merah Brebes pada kunjungan kerja di Jawa Tengah (Foto: Setkab)
KESULITAN yang mendera petani akibat Badan Urusan Logistik (Bulog) tidak serius melaksanakan perintah Presiden RI Joko Widodo mendorong para petani mengadu kepada Menteri Pertanian Andi Amran Sulaiman melalui surat yang disampaikan oleh kepala dinas pertanian provinsi Sumatera Barat, Jawa Tengah, Jawa Timur dan Sumatera Barat.

Kepala dinas pertanian dari empat provinsi tersebut menyatakan Bulog belum serius melaksanakan arahan Presiden Jokowi terkait pengendalian harga pangan yang diatur melallui Peraturan Menteri Perdagangan (Permendag) No 27/2017.

Disebutkan bahwa harga bawang merah di Solok, Sumbar di tingkat petani rata-rata Rp12.120 per kg, dan hal ini di bawah harga acuan pembelian per kilogram yang ditetapkan Permendag No 27/2017 bahwa harga di tingkat petani untuk jenis konde basah Rp15.000, konde Askip Rp18.300, dan rogol Rp22.500, sedangkan penjualan di tingkat konsumer di kisaran Rp32.000 per kg.

Hal yang sama menimpa petani bawang merah di tiga kabupaten: Enrekang, Bantaeng, dan Jeneponto hanya Rp11.000 per kg, seperti disampaikan dalam surat Pelaksana Harian (Plh) Kepala Dinas Sulawesi Selatan, Hj Fitriani MA.

Kondisi yang lebih memprihatinkan menimpa petani bawang merah di Kabupaten Malang, harga per kg hanya Rp9.500, sementara di Kabupaten Banyuwangi mencapai Rp14.000. "Harga rendah di tingkat petani karena Bulog tidak mematuhi komitmen untuk menyerap hasil produksi bawang merah petani," kata Kepala Dinas Pertanian Jatim, Bambang Heryanto.

Menyikapi hal itu, Kepala Dinas Pertanian dan Perkebunan Jateng, Juni Astuti mengharapkan agar Bulog ´hadir di tengah petani´ mengingat panen raya bawang merah di provinsinya berlangsung pada Juni diperkirakan 17.195 ton dan pada Juli 31.159 ton.

"Jawa Tengah merupakan penyanggah kebutuhan bawang merah secara nasional atau 31% sehingga Bulog harus lebih serius menyerap produksi petani, sehingga suplai dan inflasi tetap terjaga dan nilai tukar petani pun meningkat," kata Juni Astuti.

Senator Temui Mentan
Sebelumnya diberitakan, Petani bawang merah dari Kabupaten Solok, Provinsi Sumatera Barat didampingi anggota Dewan Perwakilan Daerah (DPD) Parlindungan Purba dan Nofi Chandra menyambangi Menteri Pertanian RI Andi Amran Sulaiman, Senin (29/5) untuk menyampaikan keluhan petani terkait minimnya serapan bawang merah oleh Perum Badan Urusan Logistik (Bulog) sehingga harga di tingkat petani hanya Rp11.000 per kg.

Mentan Amran Sulaiman menyambut kunjungan tersebut untuk menyampaikan kabar baik sekaligus ´kabar buruk´ tentang melimpahnya produksi bawang merah di Kabupaten Solok, namun harga jual per kilogram merugikan petani, dan pemerintah berjanji untuk membantu meringankan beban petani bawang merah.

"Kami sudah minta kepada Bulog untuk membeli seharga Rp15 ribu per kilogram, hal itu sesuai komitmen pemerintah untuk membantu petani karena saat ini Indonesia tidak lagi mengimpor bawang merah," kata Mentan di ruang kerjanya yang didampingi Dirjen Prasarana dan Sarana Pertanian (PSP) Pending Dadih Permana dan Tenaga Ahli Mentan Baran Wirawan.

Parlindungan Purba dan Nofi Chandra menyampaikan apresiasi kepada Mentan Amran Sulaiman atas perhatian pemerintah pada petani bawang merah di Solok sehingga produksinya terus meningkat.

"Hasil pertemuan ini akan kami koordinasikan dengan Bulog di Solok untuk menindaklanjuti instruksi Mentan," kata Parlindungan Purba.

Sementara Edward Jamil yang mewakili petani bawang merah Solok, mengaku datang langsung kepada Mentan, karena sedang panen raya bawang merah sehingga Bulog dapat menyerap produksi petani di harga Rp15.000 per kg.
THE DIFFICULTY of farmers Indonesian Logistics Agency (Bulog) did not serious carry out instructions of Indonesian President Joko Widodo encourage farmers convey it to the Agriculture Minister Andi Amran Sulaiman through the letter delivered by head of province´s agriculture offices of West Sumatra, Central Java, East Java and West Sumatra.

The four heads of agricultural offices agreed that the Bulog had not serious implemented President Widodo´s instruction about food prices controls regulated through the Trade Minister Regulation No 27/2017.

It was mentioned that the shallot prices in Solok district of West Sumatera province at the farmer level is 12,120 rupiah per kg. This is below the purchase reference price set by the trade minister at the farm level varies from 15,000 rupiah, 18,300 rupiah and 22,500 rupiah, while sales at consumer of 32,000 rupiah per kg. ($1 = 13,321.00 rupiah).

The same thing happened to shallot farmers in three districts: Enrekang, Bantaeng, and Jeneponto only 11,000 rupiah per kg, as delivered by letter of Acting Head of South Sulawesi agriculture office Hj Fitriani MA.

Malang shallot farmers more alarming, the price per kg is only 9,500 rupiah, while in Banyuwangi reach 14.000 rupiah. "The price is low because Bulog ignored the commitment to buy the farmers´ shallot production," said Head of East Java Agriculture Office Bambang Heryanto.

In response, Head of Central Java Agriculture Office Juni Astuti expects Bulog to execute the President´s order support the farmers, because onion harvest in her province is estimated to reach 17,195 tons in June and July 31,159 tons.

"Central Java represents a national need for shallots or 31% so the Bulog should be more serious in purchasing farmers´ production, so that supply and inflation are maintained and farmer exchange rates increase," she said.

Indonesian Senators Complaint
Shallots farmers from Solok district of West Sumatra province accompanied by senators from the Regional Representative Council (DPD) Parlindungan Purba and Nofi Chandra met with the Indonesian Agriculture Minister Andi Amran Sulaiman on Monday (May 29) to convey the farmers´ complaints about the lack of purchases by National Logistics Agency (Bulog) so that the price at farm level only 11,000 rupiah per kg.

Minister Sulaiman welcomed their visit on good news and ´bad news´ about the abundance of shallot production in Solok district, but the selling price is not profitable for farmers and Jakarta promises to ease the burden on farmers.

"We have asked the Bulog to buy 15 thousand rupiah per kilogram, according to the government´s commitment to help farmers because Indonesia does not import shallots," Minister Sulaiman said in his office accompanied by Director General of Infrastructures and Agricultural Facility (PSP) Pending Dadih Purnomo and and special staff Baran Wirawan.

Mr Purba and Mr Chandra expressed their appreciation to Minister Sulaiman for his attention to shallots farmers in Solok to encourage increased agricultural production.

"The outcome of meeting will be coordinated with the Bulog office in Solok, as instructed by agriculture minister," Mr Purba said.

While Edward Jamil who represents farmers, admitted to meet the minister because shallots harvest in Solok so that Bulog can buy farmers´ production at the price of 15,000 rupiah per kg.