Rizal Ramli Apresiasi Nyali Mentan Tangani Praktik Kartel Pangan
Fast and Furious of Indonesian Agriculture Minister Facing Food Cartels
Reporter : Gusmiati Waris
Editor : Cahyani Harzi
Translator : Dhelia Gani

PUBLISHED: Senin, 12 Juni 2017 , 07:02:00 WIB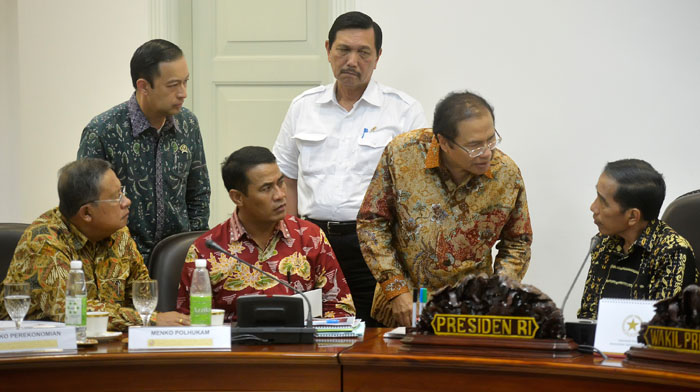 Mantan Menko Rizal Ramli (ke-2 kanan) kordinasi dengan Presiden RI Joko Widodo dan Mentan Andi Amran Sulaiman (duduk ke-2 kiri) didampingi Menko Darmin Nasution dan Menko Luhut B Panjaitan (Foto: Setkab)
Jakarta (B2B) - Ekonom senior Rizal Ramli menyatakan kebijakan ekonomi kerapkali kontraproduktif dengan agenda Nawa Cita Presiden RI Joko Widodo, dan hanya Menteri Pertanian RI Andi Amran Sulaiman yang berani menyatakan perang terhadap praktik kartel untuk mempermainkan harga komoditas pangan, dengan mengabaikan kemampuan daya beli rakyat sebagai konsumen dan melupakan kesejahteraan petani.

Rizal Ramli, mantan Menteri Koordinator Bidang Kemaritiman pendiri lembaga riset independen dan otonom Institute for Development of Economics and Finance (Indef) yang didirikannya pada 1995 di Jakarta, menengarai masih banyak pejabat tinggi negara dan aparatur sipil negara (ASN) berperilaku koruptif dan ´bermain mata´ dengan pelaku kartel yang memburu rente.

"Banyak policy ekonomi yang justru kontraproduktif dengan dengan Nawa Cita Presiden Jokowi, bahkan cita-cita adiluhung Pancasila," kata Rizal Ramli pada talkshow JakTV bertajuk ´Ekonomi dalam Bingkai Pancasila´ yang secara khusus menguraikan kebijakan dan keberanian Mentan Amran Sulaiman sebagai satu-satunya menteri Jokowi yang berani mengambil sikap untuk berseberangan dengan para pemburu rente.

Dia pun menguraikan tentang ´kebijakan ekonomi pesanan´ yang menyuburkan praktik perburuan rente (rent seeking) dengan melakukan praktik kartel dan mempermainkan harga komoditas pangan tanpa memperhatikan daya beli dan keberlangsungan hidup yang yang layak bagi masyarakat.

Anomali Harga
Pernyataan keras Rizal Ramli bukan tanpa alasan, pasalnya pada awal Ramadan harga pangan mengalami anomali harga, harga normal bawang putih Rp22.000 per kg kemudian melonjak hingga Rp60.000 per kg padahal sebagian besar bawang putih merupakan komoditas impor.

"Kenaikan harga bawang putih ini akibat perilaku sadis sejumlah pihak yang mengabaikan hak asasi manusia dari rakyat Indonesia, terutama bagi Muslim yang bersiap melaksanakan ibadah puasa," kata Amran Sulaiman.

Menurut logika Mentan, harga bawang seharusnya tidak tinggi karena dominan impor dan selayaknya yang harganya naik adalah komoditas bukan impor seperti bawang merah, tapi harganya malah relatif stabil dan bahkan menunjukkan trend penurunan.

Geram atas permainan segelintir pelaku mafia pangan, Mentan bertindak cepat menggandeng Polri, Komisi Pengawas Persaingan Usaha (KPPU), Kementerian Dalam Negeri, Kementerian Perdagangan, Badan Urusan Logistik (Bulog), dan Kementerian Pertanian membentuk Satuan Tugas Pangan (Satgas Pangan) untuk memerangi praktik kartel pangan yang meresahkan masyarakat.

Tindakan Satgas Pangan berhasil menggerebek penimbun bawang putih Cilincing, Marunda dan Bekasi di gudang milik PT Tunas Perkasa Indonesia (TPI) Rabu dini hari (17/5) mendorong penurunan harga bawang putih dari Rp40.000 ke Rp25.000 per kilogram hanya beberapa jam setelah penggerebekan.

Mentan Amran Sulaiman menyoroti pencabutan ijin impor kepada perusahaan yang terbukti menimbun komoditas dan melaukan praktik kartel dan akan melakukan pemantauan dan pengawasan terhadap 42 importir.

"Jangan coba-coba bermain, kalau tidak ingin masuk penjara dan izin impor dicabut," kata Mentan kepada pers.
Jakarta (B2B) - Indonesia´s senior economist Rizal Ramli says the economic policies are often counterproductive with Nawa Cita´s agenda of President Joko Widodo and only Agriculture Minister Andi Amran Sulaiman has the courage to face cartel practices, who do not care interests of the people and welfare of farmers.

Rizal Ramli, the former Coordinating Minister for Maritime Affairs was also founder of an independent research institute, the Institute for Development of Economics and Finance (Indef) which he founded in 1995 in Jakarta, indicates that there are still many high state officials and civil servants behaving corruptly and ´cobbled´ with with the cartel perpetrators.

"Many economic policies are counterproductive with Nawa Cita of President Widodo, even the ideals of Pancasila," Rizal Ramli told a JakTV talk show entitled ´Pancasila Economy´ which specifically outlines the policies and courage of Minister Sulaiman as a minister who dares to oppose rent seekers.

He elaborated the economic policies that encourage rent seeking by practicing cartels, and regulate the price of food commodities regardless of purchasing power and public interest.

Price Anomaly
Rizal Ramli´s statement has a reason, after the beginning of Ramadan food prices have an anomaly price, the normal price of garlic 22,000 rupiah then jumped to 60,000 rupiah per kg although most imported commodities.

"Garlic prices rise due to the cruel behavior of some parties that deny human rights of the people, especially for Muslims who prepare fasting in Ramadan," Mr Ramli said.

According to the logic of Minister Sulaiman, the price of garlic should not be high because of the dominant imports, and price increases only on non-imported commodities such as onion, but the price is relatively stable and prices tend to fall.

Furious to the food mafia, Mr Sulaiman acted quickly to invite the National Police (Polri), Business Competition Supervisory Commission (KPPU), Home Affairs Ministry, Trade Ministry, National Logistics Agency to establish Food Task Force called the Satgas Pangan eradicated the cartel practices that troubled the public.

The Satgas Pangan managed raided garlic hoarders in some areas of East Jakarta, in Tunas Perkasa Indonesia Corp. warehouse, early Wednesday (May 17) which then pushed garlic prices down of 40,000 to 25,000 rupiah per kilogram just hours after the raid.

Minister Sulaiman highlighted the revocation of import licenses to companies that proved to be hoarding commodities and conducting cartel practices, and would conduct monitoring and supervision of 42 importers in Indonesia.

"Do not try if do not want to go to jail, and garlic import permit will revoked," Mr Sulaiman said.

($1 = 13,321.00 rupiah)