"Kebutuhan Pangan Nasional Meningkat di Atas 1,35% per Tahun"
Indonesian Food Needs Increase as High as 1.35% per Year
Reporter : Gusmiati Waris
Editor : Cahyani Harzi
Translator : Dhelia Gani

PUBLISHED: Rabu, 11 Februari 2015 , 07:19:00 WIB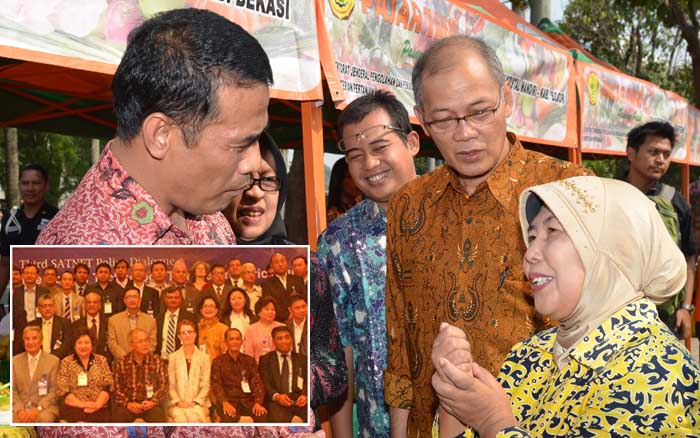 Mentan Amran Sulaiman (kiri) berbincang dengan petani didampingi Sekjen Kementan Hari Priyono (kanan) Foto2: B2B/ Mya
Bogor, Jawa Barat (B2B) - Menteri Pertanian RI Amran Sulaiman menegaskan peran strategis pertanian dalam perekonomian nasional. salah satunya adalah memenuhi kebutuhan pangan penduduk pada 2015 untuk 252 juta orang dengan tingkat pertumbuhan di atas 1,35% per tahun di masa depan.

"Kebutuhan ini semakin sulit dipenuhi karena terbatasnya kapasitas produksi pangan terutama akibat meningkatnya konversi lahan, persaingan pemanfaatan lahan oleh kegiatan usaha lain, degradasi lahan dan sumber daya air, dan dampak dari perubahan iklim global," kata Amran Sulaiman melalui kata sambutannya yang dibacakan Sekretaris Jenderal Kementerian Pertanian RI, Hari Priyono saat membuka Policy Dialogue tentang Peranan Alih Teknologi Sektor Pertanian untuk Pembangunan Berkelanjutan di Bogor, Jawa Barat pada Selasa.

Amran menambahkan, sektor pertanian Indonesia didukung sekitar 12 juta hektar lahan basah dan 24 juta hektar lahan kering. Dari sumber daya alam tersebut, Indonesia berpeluang menghasilkan produksi pangan yang memadai untuk memenuhi kebutuhan pangan seluruh penduduk Indonesia.

"Namun hal itu lebih mudah diucapkan daripada dilaksanakan. Peningkatan produksi pangan dan ketersediaan lahan dapat dipenuhi melalui peningkatan teknologi yang dibutuhkan petani dan dapat mereka manfaatkan di lahan milik mereka. Dengan demikian, inovasi teknologi harus terus dikembangkan melalui alih teknologi pertanian," kata Amran Sulaiman seperti disampaikan Hari Priyono.

Mentan mengakui, alih teknologi sangat penting untuk meningkatkan produktivitas pertanian. Di banyak negara - khususnya Asia Selatan dan Timur - produktivitas pertanian meningkat, yang sebagian besar sebagai hasil dari adopsi teknologi baru pertanian.

Pertemuan dua hari ini diselenggarakan oleh Perserikatan Bangsa-Bangsa (PBB) the Centre for Alleviation of Poverty through Sustainable Agriculture (CAPSA), lembaga regional yang berada di bawah United Nations Economic and Social Commission for Asia and the Pacific (ESCAP), yang dihadiri oleh para petinggi di bidang penelitian dan penyuluhan pertanian dari Asia dan Pasifik, perwakilan dari masyarakat, akademisi, sektor swasta serta organisasi internasional untuk mengetahui langkah-langkah yang diperlukan dalam mengembangkan dan memperkuat proses alih teknologi pertanian di tingkat nasional maupun regional.
Bogor, West Java (B2B) - The Indonesian Agriculture Minister, Amran Sulaiman stated that currently, one of the strategic roles of agriculture in the national economy is the food needs of the population in 2015, amounted to 252 million people with the growth rate as high as 1.35% per year in the future.

"This role is increasingly hard to attain because of the limited capacity of food production caused mainly by land conversion, competition in utilization by other business activities, degradation of land and water resources, and the impact of global climate change," Mr Sulaiman said through his opening remarks that was read by the Secretary General of Agriculture Minister, Hari Priyono while opened Policy Dialogue on the Role of Agricultural Sector Technology Transfer for Sustainable Development here on Tuesday.

Mr Sulaiman added, Indonesia has approximately 12 million hectares of wetland and 24 million hectares of dry land. From these resources, Indonesia definitely has an opportunity to produce enough food for the population.

"However, food production is easier said than done. Increases in food production and availability can be secured through improved technologies that the farmers need and they can use on their farms. Thus, technological innovation must continously be developed and transfered to farms," Mr Sulaiman said as delivered by Mr Priyono.

Minister admits in many parts of the world - particularly South and East Asia - growth in agricultural productivity has been rapid, largely as result of the extensive adoption of new agricultural technologies.

The two-day meeting organized by the United Nations (UN) from the Centre for Alleviation of Poverty through Sustainable Agriculture (CAPSA), a regional agency under the United Nations Economic and Social Commission for Asia and the Pacific (ESCAP), which was attended by The main researchers and agricultural extension workers of the Asia Pacific region, representatives of the community, academics, the private sector and international organizations to establish important steps in developing and strengthening agricultural technology transfer process at national and regional levels.