Penyuluh Pertanian Berperan Penting Capai Swasembada Beras 1984
Agriculture Extension Important Role to Reach Self Sufficient in Rice in 1984
Reporter : Gusmiati Waris
Editor : Ismail Gani
Translator : Novita Cahyadi

PUBLISHED: Kamis, 23 Mei 2013 , 07:32:00 WIB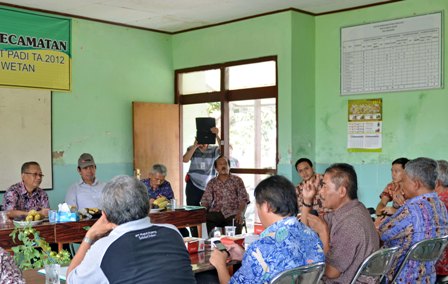 Wakil Menteri Pertanian, Rusman Heriawan (kiri) tatap muka dengan para penyuluh pertanian di Kecamatan Cilamaya, Karawang, Jawa Barat (Foto: Kementan)
Bogor (B2B) - Wakil Menteri Pertanian, Rusman Heriawan mengatakan pada era Bimbingan Masyarakat (Bimas), peran penyuluh pertanian berhasil mengubah Indonesia dari negara pengimpor beras terbesar di dunia menjadi negara berswasembada beras pada 1984, sehingga Presiden Soeharto menerima penghargaan dari Food Agricultural Organisation (FAO).

Namun demikian sejak berlakunya UU Pemerintahan Daerah Nomor 22/1999 dimana tanggung jawab penyelenggaraan penyuluhan diserahkan kepada pemerintah kabupaten/kota peran penyuluhan merosot drastis.

"Hal ini akibat alih fungsi tenaga penyuluh, tidak berfungsinya kelembagaan dan penyelenggaraan penyuluhan secara optimal serta kurangnya dukungan sarana, prasarana, dan pembiayaan penyuluhan. Baik dari pemerintah pusat maupun pemerintah daerah sebagai akibatnya produksi pertanian mengalami stagnasi," kata Rusman Heriawan saat menutup Koordinasi Pimpinan Kelembagaan Penyuluhan, Kelembagaan Teknis dan Kelembagaan Penelitian dan Pengembangan Pertanian di Cisarua, Bogor, Jawa Barat, Rabu (22/5).

Memperhatikan kenyataan tersebut, kata Wamentan, langkah awal yang ditempuh pemerintah untuk membangkitkan kembali penyuluhan pertanian adalah menerbitkan UU Sistem Penyuluhan Pertanian, Perikanan, dan Kehutanan (SP3K).

"Berdasarkan UU SP3K tersebut, pemerintah melakukan penataan terhadap kelembagaan, ketenagaan, penyelenggaraan, sarana dan prasarana serta pembiayaan penyuluhan," tambah Rusman.

Dia juga meminta dukungan Badan Penelitian dan Pengembangan Pertanian terus meningkatkan penelitian dan inovasi untuk mengembangkan teknologi tepat guna dari hulu sampai ke hilir, sebagai upaya peningkatan produktivitas dan efisiensi usaha tani di tingkat lapangan.

"Saya juga berharap Badan Penyuluhan dan Pengembangan Sumber Daya Manusia Pertanian terus meningkatkan kompetensi para penyuluh pertanian, tenaga Pengendali Organisme Pengganggu Tumbuhan, dan tenaga fungsional lainnya sebagai pendamping petani dalam upaya meningkatkan produksi dan produktivitas pertanian," ungkap Wamentan.
Bogor (B2B) - Vice Agriculture Minister Rusman Heriawan said, the Community Guidance era, the role of agricultural extension workers managed to transform Indonesia from the country´s largest rice importer in the world a country self sufficient in rice in 1984, so President Soeharto received an award from the Food Agricultural Organisation (FAO).

However, since the enactment of Local Government Law No. 22/1999 which handed over the responsibility of organizing extension to the district / city governments, the role of agricultural extension fallen so drastically.

"This is due to the conversion of extension workers, malfunction institutions and the implementation of agricultural extension are not optimal and lack of support facilities, infrastructure, and financial counseling. Both the central government and local government, as a result of agricultural production has stagnated," said Rusman Heriawan when closed Coordination Institutional leadership Education, Technical and Institutional Institutional Research and Agricultural Development in Cisarua, Bogor, West Java, on Wednesday (22/5).

Noting this fact, said Vice Minister of Agriculture, the first step taken by the government to revive the agricultural extension was issued Law Extension System for Agriculture, Fisheries and Forestry (SP3K).

"Based on the SP3K Act, the government of the institutional arrangement, staffi ng, organization, infrastructure and education funding," added Rusman.

He also asked for the support of Research and Development continues to increase research and innovation in the development of appropriate technology from upstream to downstream, as efforts to increase farm productivity and efficiency at field level.

"I also hope the Agency Counseling and Human Resource Development of Agriculture continues to increase the competencies of agricultural extension, Pest Control personnel, and other functional personnel as a companion to the farmers in order to increase agricultural production and productivity," said Vice Minister of Agriculture.