Kakao Kamerun Terancam Hujan, RI Berpeluang Tingkatkan Kapasitas Ekspor
Extreme Weather Threatens Cameroon`s Hopes of Becoming a Cocoa Giant
Editor : Ismail Gani
Translator : Novita Cahyadi

PUBLISHED: Rabu, 14 Juni 2017 , 01:19:31 WIB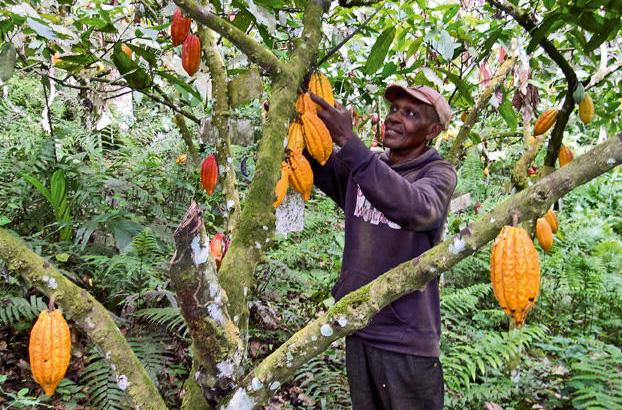 Petani kakao Kamerun (Foto: cirad.fr)
RENCANA Kamerun untuk memproduksi lebih dari dua kali lipat produksi kakao pada 2020, mempengaruhi peringkat negara tersebut di jajaran produsen global dan meningkatkan pendapatan bagi para petani, di bawah ancaman cuaca ekstrim, menurut perusahaan negara yang membeli kakao dari petani Kamerun.

Hujan lebat telah memperlambat hasil panen yang diharapkan dan petani yang bingung, dengan meningkatnya pengalihan lahan kakao untuk produksi tanaman pangan untuk memenuhi kebutuhan pangan domestik.

"Hujan sangat mempengaruhi produksi kakao akhir-akhir ini, bahkan hasil panen kakao sangat mengkhawatirkan, memicu kekhawatiran produksi bagi petani dan pemerintah," kata Jerome Mvondo, direktur jendral Pengembangan Kakao Kamerun di Buea, wilayah barat daya dan zona penghasil kakao utama Kamerun.

Kamerun adalah petani kakao terbesar kelima di dunia di bawah Pantai Gading, Ghana, Nigeria dan Indonesia. Menurut statistik pemerintah, tanaman tersebut menghasilkan sekitar setengah dari ekspor produk utama negara seperti makanan, kayu, ikan dan mineral.

Penjualan kakao menyumbang sekitar 250 miliar franc Kamerun (US$426 juta) atau setara Rp5,67 triliun ke kas negara setiap tahun, dengan asumsi $1 = Rp13.321

Pada 2012, pemerintah Kamerun mengumumkan rencana untuk meningkatkan produksi kakao dari sekitar 225.000 ton per tahun menjadi 600.000 ton pada 2020.

Namun hasil panen kakao saat ini terancam oleh hujan yang tidak menentu dan berkepanjangan, terutama di wilayah Southwest. Pada musim 2015-2016 terakhir, produksi kakao Kamerun mencapai 269.000 ton, kata Mvondo.

Rencana penanaman seluas 247.000 hektar pohon kakao baru setiap tahun untuk peremajaan tanaman, dengan areal yang dibudidayakan tumbuh hanya 2.500 hingga 3.500 hektar sejak 2014, kata Mvondo seperti dikutip Reuters yang dilansir MailOnline.

'Hujan Ancam Hasil Panen'
Petani mengatakan bahwa mereka dulu khawatir bahwa hujan saat panen akan menunda pengeringan biji kakao mereka, namun sekarang hujan sering mengejutkan mereka di jantung musim kemarau, saat tanaman kakao berbunga dan menghasilkan tunas.

"Hujan sekarang datang setiap saat, sehingga menyulitkan kita menanam tanaman baru, menyemprot biji kakao dengan pestisida melawan penyakit dan mengeringkan biji kakao secara alami. Ini benar-benar mengurangi hasil dan pendapatan kami," kata Ajasco Nzeme, petani kakao dari Tombel, di wilayah Southwest Kamerun.

"Saya hampir menyerah dari pertanian kakao, saya telah merencanakan untuk memperluas lahan kakao saya seluas empat hektar pada 2018, namun dengan hujan yang mengganggu itu tidak sebanding kesulitan yang bakal dihadapi," kata Nzeme, yang menanam kakao di lahan 40 hektar.

Hujan lebih cepat datang sejak awal Februari padahal biasanya pada awal April, mengakibatkan tunas kakao rontok dan buah kakao membusuk.

"Petani bahkan menolak pestisida gratis yang ditawarkan oleh pemerintah karena khawatir akan hanyut oleh hujan begitu disemprotkan ke tanaman kakao," kata Mvondo.

Selain membunuh bunga kakao dan polong muda, hujan lebat tidak biasa dapat mempengaruhi kualitas hasil panen kakao, dan memaksa petani untuk mengeringkan kakao dengan pengasapan ketimbang mengeringkannya di udara terbuka, kata para petani.

Banyak petani mengatakan bahwa mereka juga menghadapi kesulitan untuk menjual hasil panen kakao ke pasar.

Andrew Ngomnkalle, seorang petani kakao berusia 59 tahun di Tombel, mengatakan bahwa hasilnya menyusut dari 60 kantong per hektar pada 2014 menjadi 35 kantong pada 2016.

"Saya telah menjadi petani kakao sepanjang hidup saya tapi tidak pernah menyaksikan kebingungan seperti itu akibat pola curah hujan," katanya.

Panen Melorot, Harga Jatuh
Perubahan cuaca juga membuat kakao lebih rentan terhadap hama dan penyakit, kata Zachee Nzohngandembou, pejabat eksekutif Pusat Lingkungan Hidup dan Transformasi Pedesaan, sebuah organisasi nonpemerintah di Limbe yang bekerja dengan petani setempat.

Kerugian dari penyakit dan hama terjadi antara 30% sampai 40% panen Kamerun pada musim 2014hingga 2015, menurut Badan Kakao dan Kopi Nasional, yang mengatur produksi kakao dan kopi.

Situasi petani semakin memburuk pada tahun lalu dengan merosot lebih dari sepertiga dalam harga yang harus dibayarkan oleh eksportir, mengikuti tren penurunan harga di pasar internasional.

Menurut data pemerintah, satu kilo kakao dihargai sekitar 900 hingga 960 franc Kamerun (US$1,50 sampai $1,65 atau Rp19.981 hingga Rp21.979) di lahan petani, turun dari 1.600 franc pada 2012 - 2013.

Di beberapa daerah terpencil, terutama di wilayah Southwest, harga bisa jatuh hingga 700 franc.

Banyak petani di Kamerun mengatakan bahwa mereka meninggalkan produksi kakao untuk mendapatkan uang tunai dan memilih menanam tanaman pangan seperti jagung dan kedelai.

"Kami tidak punya pilihan selain berkonsentrasi pada tanaman komersial seperti pisang raja dan cocoyam untuk bisa memberi makan keluarga kami," kata Nzeme.

Para ahli sepakat bahwa memperburuk variabilitas iklim telah menjadi hambatan utama yang dihadapi oleh produsen kakao di seluruh dunia.

Produksi global turun sebesar 217.000 ton pada musim 2015-2016, menjadi lebih dari 4 juta ton, turun 5 persen dari musim sebelumnya, menurut laporan Organisasi Internasional Kakao November 2016.

Di Afrika, produksi kakao diperkirakan jatuh pada periode yang sama hingga 124.000 ton - hampir 4 persen - menjadi 2,9 juta ton, dengan penurunan sebagian disebabkan oleh kondisi cuaca buruk dan wabah penyakit polong hitam.

Meski demikian, pemerintah mengatakan pihaknya masih berharap dapat meningkatkan produksi kakao dengan memberi informasi meteorologi petani yang lebih baik sehingga mereka dapat membuat keputusan yang lebih tepat kapan harus menanam dan panen.

Henry Eyebe Ayisi, menteri pertanian Kamerun, mengatakan bahwa pemerintah bermitra dengan organisasi non-pemerintah seperti the Global Centre for Compliance, Hazards and Disaster Management untuk membantu petani lebih memahami ancaman iklim.

Sebuah program baru akan mengirimkan pesan singkat bulanan untuk membantu petani merencanakan kegiatan pertanian mereka dengan lebih baik dalam menghadapi perubahan kondisi cuaca, kata Eyebe.
CAMEROON'S plan to more than double cocoa production by 2020, moving the country up the global ranks of producers and improving incomes for its farmers, is under increasing threat from extreme weather, according to the state support company for growers.

Heavy rains have slowed expected output and rattled farmers, with many switching to food crop production to make a more reliable living.

"The rains have been so severe in recent times, coming even when least expected, generating production worries for both farmers and the government," said Jerome Mvondo, director-general of the Cameroon Cocoa Development Corporation, at an event in Buea, the capital of the country´s Southwest region and its main cocoa-producing zone.

Cameroon is the world's fifth biggest cocoa grower behind the Ivory Coast, Ghana, Nigeria and Indonesia. According to government statistics, the crop accounts for about half the country´s exports of basic products such as food, timber, fish and minerals.

Cocoa sales contribute about 250 billion CFA francs ($426 million) to state coffers each year.

In 2012, Cameroon's government announced plans to increase cocoa production from around 225,000 tonnes annually to 600,000 tonnes by 2020.

But that goal is now threatened by erratic and prolonged rains, especially in the Southwest region. In the last 2015-2016 season, production was around 269,000 tonnes, Mvondo said.

Plans to plant an additional 100,000 hectares (247,000 acres) of new cocoa trees each year have fallen short, with the area under cultivation having grown by just 2,500-3,500 hectares since 2014, Mvondo said.

'The Rains Come in Any Order'
Farmers say they used to worry that rain during the harvest would delay the drying of their cocoa beans, but now rains often take them by surprise at the heart of the dry season, when the cocoa plants flower and produce buds.

"The rains now come in any order, making it difficult for us to plant new crops, spray cocoa pods with pesticides against diseases and dry the cocoa bean naturally. This has really reduced our output and income," said Ajasco Nzeme, a cocoa farmer from Tombel, in Cameroon's Southwest region.

"I am almost giving up cocoa farming. I had planned on expanding my cocoa farm by four hectares by 2018, but with the disturbing rains it is not worth the trouble," said Nzeme, who grows 16 hectares (40 acres) of the crop.

Rains have been coming as early as February rather than at the more common beginning of April, causing buds to fall off the cocoa trees and the pods to blacken.

"The farmers are even refusing free pesticides offered by the government for fear it will be washed away by the rains as soon as it is applied," Mvondo said.

Besides killing cocoa flowers and young pods, the unusual rain can affect the quality of the crop that is harvested, and force farmers to smoke-dry beans instead of drying them in the open air, farmers said.

Many farmers say they also face increasing difficulty getting their harvest to market on mostly earthen roads.

Andrew Ngomnkalle, a 59-year-old cocoa farmer in Tombel, said his yield had dwindled from 60 bags per acre in 2014 to 35 bags in 2016.

"I have been a cocoa farmer all my life but have never witnessed such confusion in the pattern of rainfall," he said.

Harvest Losses, Lower Prices
Changing weather is also making cocoa more susceptible to pests and disease, said Zachee Nzohngandembou, executive officer of the Centre for the Environment and Rural Transformation, a nongovernmental organisation in Limbe that works with local farmers.

Losses from diseases and pests claimed between 30 and 40 percent of Cameroon´s harvest in the 2014-15 season, according to the National Cocoa and Coffee Board, which regulates cocoa and coffee production.

The farmers´ situation has been made worse over the past year by a slump of more than one third in the prices paid for the beans by exporters, following a downward trend in prices on the international market.

According to government data, a kilo of beans fetches about 900-960 FCA francs ($1.50 to $1.65) in production areas, down from 1,600 francs in 2012-13.

In some remote areas, particularly in the Southwest region, prices can be as low as 700 francs.

Many farmers in Cameroon say they are deserting cocoa production for other cash and food crops.

"We have no choice than to concentrate on cash crops like plantains and cocoyam to be able to feed our families," said Nzeme.

Experts agree that worsening climate variability has become a major bottleneck faced by cocoa producers worldwide.

Global production decreased by 217,000 tonnes in the 2015-2016 season, to just over 4 million tonnes, a decline of 5 percent from the previous season, according to a November 2016 report by the International Cocoa Organization.

In Africa, production is estimated to have fallen over the same period by 124,000 tonnes - almost 4 percent - to 2.9 million tonnes, with the drop attributed mostly to adverse weather conditions and an outbreak of black pod disease.

Nevertheless, the government says it still hopes to boost cocoa production by giving farmers better meteorological information so that they can make more informed decisions on when to plant and harvest.

Henry Eyebe Ayisi, Cameroon´s minister of agriculture, said the government is partnering with non-governmental organisations such as the Global Centre for Compliance, Hazards and Disaster Management to help farmers better understand climate threats.

A new programme will send monthly text messages to help growers better plan their farming activities in the face of changing weather conditions, Eyebe said.