DPR Dukung Kementan Fokus pada Komoditas Perkebunan Strategis
Indonesia Ambition as the Largest Cocoa Producer in the World
Reporter : Gusmiati Waris
Editor : Cahyani Harzi
Translator : Dhelia Gani

PUBLISHED: Sabtu, 20 Mei 2017 , 12:03:00 WIB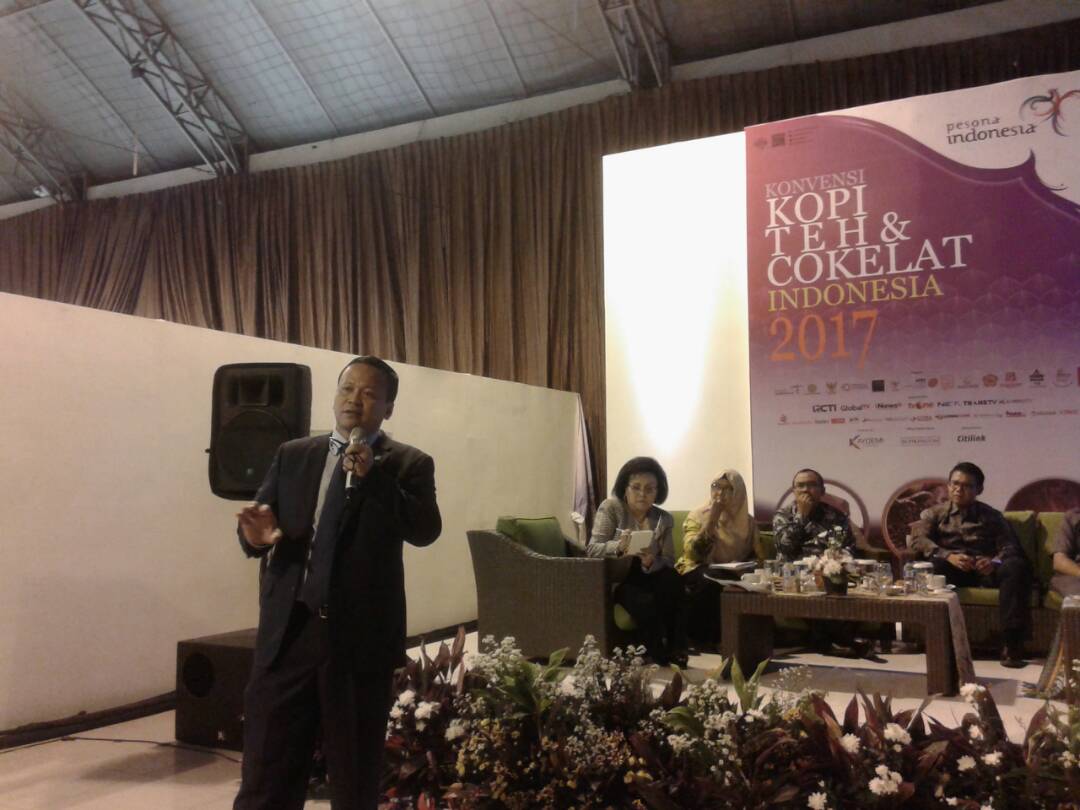 Ketua Komisi IV DPR Edhy Prabowo (Foto: Humas Kementan)
Jakarta (B2B) - Ketua Komisi IV DPR Edhy Prabowo mengharapkan dukungan kementerian terkait, pemerintah daerah, asosiasi, dan para pemangku kepentingan untuk mendukung pencapaian Indonesia sebagai penghasil kopi, teh, kakao, dan destinasi agrowisata terbaik di dunia.
"Komoditas kopi, teh dan kakao merupakan produk unggulan Indonesia, dan Indonesia memiliki peluang tersebut asalkan mau bekerja keras mewujudkannya," kata Edhy Prabowo di Jakarta (19/5) pada Konvensi Kopi, Teh dan Coklat Indonesia (KKTC 2017).
KKTC 2017 berlangsung sejak Kamis (18/5) hingga Minggu (21/5) di La Piazza Kelapa Gading, Jakarta Utara dengan agenda utama talkshow dan seminar bertema ´Perkembangan Komoditi Kopi, Teh dan Kakao serta Pengembangan Wisata Agro Indonesia´.
Kepala Biro Humas dan Informasi Kementan, Agung Hendriadi mengatakan KKTC 2017 didukung kementerian untuk mendorong peningkatan komoditas hortikultura dan perkebunan, menyusul sukses swasembada beras, jagung, bawang merah dan cabai sesuai dengan arahan Presiden RI Joko Widodo.
Ketua Pelaksana KKTC 2017 Kuntari Sapta Nirwandar mengatakan konvensi kopi, teh dan kakao diharapkan menjadi ajang untuk mempertemukan petani, pengusaha, asosiasi dan pemerintah.
KKTC 2017 juga diikuti Kementerian Pariwisata, Pemkab OKU Selatan, Kabupaten Lahat, PTPN VIII, berbagai produsen dan UKM di bidang usaha kopi, teh dan coklat.
Jakarta (B2B) - Speaker of Indonesian´s House of Commission IV Edhy Prabowo expects the support of relevant ministries, regional governments, associations and stakeholders to support Indonesia´s achievement as the world´s best producer of coffee, tea, cocoa and agro-tourism destinations.
"The commodities of coffee, tea and cocoa are Indonesia´s flagship products, and Indonesia has such an opportunity as long as it will work hard to make it happen," said Mr Prabowo said here on Friday (May 19) at the 2017 Coffee, Tea and Chocolate Convention called the KKTC 2017.
The KKTC 2017 runs from Thursday (May 18) to Sunday (May 21) at La Piazza Kelapa Gading of North Jakarta with the main agenda of talkshow and seminar entitled ´Development of Coffee, Tea and Cocoa Commodity and Agro Indonesia Tourism Development´.
Indonesian Agriculture Ministry spokesman Agung Hendriadi said that KKTC 2017 is supported by ministry to boost horticulture and plantation commodities following the success of rice self-sufficiency and another strategic commodities such as corn, onion and chili in accordance with instruction of President Joko Widodo.

Chairman of KKTC 2017 Kuntari Sapta Nirwandar said coffee, tea and cocoa convention aims to improve the cooperation of farmers, employers, associations and government.
The KKTC 2017 also followed by Tourism Ministry, South of Ogan Komering Ulu Regency, Lahat Regency, SMEs, producers of coffee, tea and cocoa.