Mentan Minta STPP Bogor Buka Penerimaan Mahasiswa dari SMA
College of Agricultural Extension Becomes a Critical Success of Indonesia`s Development
Reporter : Gusmiati Waris
Editor : Cahyani Harzi
Translator : Dhelia Gani

PUBLISHED: Senin, 05 Juni 2017 , 01:28:18 WIB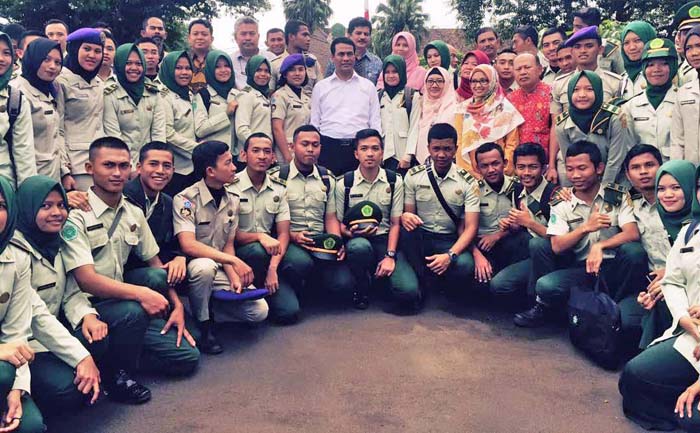 Menteri Pertanian RI Andi Amran Sulaiman (kemeja putih) bersama dosen dan mahasiswa STPP Bogor (Foto: Humas Kementan)
Jakarta (B2B) - Sekolah Tinggi Penyuluhan Pertanian (STPP) Bogor diminta membuka jalur penerimaan dari lulusan sekolah menengah atas (SMA) sehingga memberi peluang bagi pelajar SMA di pedesaan seluruh Indonesia yang sebagian besar merupakan anak petani, dengan latar belakang tersebut diharapkan dihasilkan lulusan yang mencintai profesinya sebagai penyuluh pertanian.

Harapan tersebut dikemukakan oleh Menteri Pertanian RI Andi Amran Sulaiman saat mengunjungi STPP Bogor pada Jumat (2/6) terkait seleksi penerimaan mahasiswa baru STPP Bogor yang menerapkan jalur pendaftaran PNS melalui tugas belajar dan undangan kepada siswa sekolah Sekolah Menengah Kejuruan Pertanian Pembangunan (SMK-PP) dan sisanya untuk jalur umum dari SMA.

"Kita ini negeri yang kaya, yakni negeri agraris. Masa depan pembangunan negeri ada di STPP. Kami ingin menemukan putra putri terbaik dari STPP. Penyuluh pertanian adalah motor penggerak suksesnya pembangunan pertanian Indonesia menjadi lumbung pangan dunia," kata Amran saat memberikan arahan kepada seluruh dosen dan mahasiswa STPP Bogor.

Menurut Mentan, para pelajar SMA dari desa tergolong tangguh dan kuat sehingga mereka sangat tepat menjadi penyuluh pertanian. "Ke depan, prioritaskan perekrutan mahasiswa dari desa atau anak petani."

Dia mengharapkan STPP Bogor dan STPP di seluruh Indonesia menjalin kerjasama dengan BUMN terkait pengelolaan lahan untuk menghasilkan komoditas pangan strategis, dan Kementan akan menyediakan bantuan berupa benih dan alat mesin pertanian (Alsintan).

"Setiap STPP kelola lahan BUMN sepeti Perhutani minimal 1.000 hektare. Jadi dengan cara ini, kita bisa ciptakan mahasiswa yang nantinya menjadi pelaku agribisnis sukses, tidak semata-mata ingin menjadi penyuluh PNS," sebutnya.

Oleh karena itu, Mentan minta pihak STPP agar membuat kebijakan terbaik yang dapat mencetak penyuluh pertanian yang tangguh. Kemudian, di tangan penyuluh Indonesia mampu menjadi lumbung pangan dunia.

"Mahasiswa kalau mau jadi petarung, harus berani melewati gelombang besar dan harus punya mimpi besar. Mahasiswa nantinya harus bisa buat sendiri alat mesin pertanian," tegasnya.

Pada kesempatan ini, Amran memberikan bantuan pembangunan labolatorium senilai Rp 4 miliar di tahun 2018. "Siapkan segera proposalnya, tahun depan kami beri bantuan pembangunan labolatoriun.
Jakarta (B2B) - Bogor College of Agricultural Extension called the STPP Bogor requested by the Indonesian Minister of Agriculture Andi Amran Sulaiman to receive high school graduates, thus providing opportunities for high school students in rural areas across the country that are mostly farmers' children and will graduates as agricultural extension.

The hope was said by Minister Sulaiman while visited in the STPP Bogor on Friday (June 6) related to the selection of new admissions from civil servants for the task of learning, graduates of Vocational High School of Agriculture Development, and high school graduates.

"We are a rich country as an agricultural country, future of Indonesia's agricultural development in the STPP Bogor. We want to get the best agricultural extension from here as the driving force of agricultural development in Indonesia become the world food barn," he said.

According to Mr Sulaiman, high school students from the village are considered tough and strong so they are right to become agricultural extension workers. "Go ahead, prioritize the recruitment of students from the village or farmer's children."

He expects the STPP Bogor and the STPP across the archipelago cooperate with SOEs related to land management for strategic food commodities, and the Ministry of Agriculture will provide seeds and agricultural machinery.

"Every STPP manages state-owned land such as Perhutani at least 1,000 hectares. So in this way, we can create students who are able to become agribusiness entrepreneur, not necessarily as civil servants," he said.

Therefore, Minister Sulaiman asked the STPP to make the best policy to produce qualified agricultural extension, then in their hands Indonesia will be able to become a world food barn.

"Students who want to be a fighter must be brave through big waves and must have big dreams. Later, students should be able to make agricultural machinery," he said.

On that occasion, Minister Sulaiman gave the aid of the construction of a labolatorium worth 4 billion rupiah in 2018. "Prepare the proposal, next year we help build the labolatorium."