Penuhi Janji Nawa Cita Jokowi, Kementan Evaluasi Cetak Sawah Baru 2017
Indonesian Agriculture Ministry Evaluate New Paddy Fields Program
Reporter : Gusmiati Waris
Editor : Cahyani Harzi
Translator : Dhelia Gani

PUBLISHED: Jum'at, 16 Juni 2017 , 13:30:00 WIB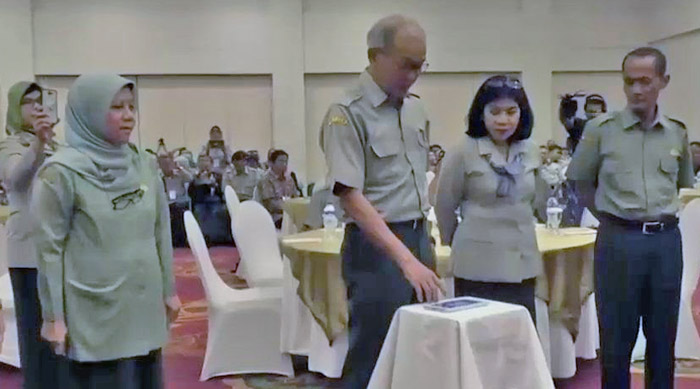 Sekjen Kementan Hari Priyono (ke3 kiri) dan Karo Humas IP Kementan, Agung Hendriadi (kanan) Foto: Humas Kementan
Jakarta (B2B) - Pemerintah RI berupaya melakukan perbaikan dan evaluasi terhadap kendala lapangan dalam program cetak sawah baru, setelah Kementerian Pertanian didukung TNI AD merealisasikan hampir 130.000 hektar sawah baru pada 2016 dari target 132.167 hektar untuk mencapai target Nawa Cita Presiden RI Joko Widodo untuk percepatan peningkatan produksi pangan.

Sekretaris Jenderal Kementan, Hari Priyono mengatakan persoalan di lapangan yang belum sempurna akan segera diperbaiki, dengan biaya konstruksi ideal sebesar Rp35 juta dapat ditekan menjadi Rp19 juta per hektar setelah didukung TNI AD.

"Harus diakui kondisi lahan yang berat di beberapa tempat menimbulkan kesulitan. Namun kita lebih efisien karena dukungan TNI AD, dan cetak sawah merupakan janji Presiden Jokowi sebagai janji mewujudkan Nawa Cita untuk memenuhi kebutuhan pangan nasional," kata Hari Priyono pada Kamis (15/6) dalam keterangan tertulisnya yang disampaikan Kepala Biro Humas dan IP Kementan, Agung Hendriadi.

Hari Priyono menambahkan, cetak sawah menjadi penting untuk mengantisipasi luas lahan pertanian khususnya sawah yang terus berkurang lantaran konversi lahan untuk industri dan pemukiman. Kementan berhasil merealisasikan 20.000 hektar sawah baru dari target 23.000 hektar pada 2015 tanpa ada kerjasama dengan TNI AD.

Janji Kampanye
Menurutnya, memasuki tahun anggaran 2016, Kementan kembali menargetkan cetak sawah seluas 132.167 hektar dan terealisasi 129.096 hektar atau ada percepatan 588%, artinya ada peningkatan besar sebagai dampak dari dukungan TNI AD namun harus diakui adanya kekurangan akibat kendala lapangan, dan sekitar 8% sisa target sedang dikerjakan.

"Beberapa waktu lalu, Wakil Presiden mengatakan bahwa saat ini, 2017, luasan sawah kita masih cukup dan menurutnya produksi masih bisa dilakukan dengan peningkatan produktivitas, tidak harus dengan cetak sawah baru lagi," kata Hari Priyono.

Kendati begitu, Sekjen Kementan menegaskan komitmennya pada janji kampanye Pemilihan Presiden 2014, bahwa Joko Widodo - Jusuf Kalla (Jokowi - JK) untuk mengembangkan lahan sawah baru satu juta hektar di seluruh Indonesia selama 2014 -2019.

"Menyikapi konversi lahan pertanian sekitar 100 juta hektar per tahun, tentu terlalu berisiko dalam situasi perubahan iklim yang cukup ekstrim, jika hanya menggantungkan pada produktivitas. Data statistik dalam 25 tahun terakhir, menunjukkan bahwa sukses peningkatan produksi ditentukan oleh luas tanam," kata Hari Priyono.

Menurutnya, adalah sangat tepat kebijakan Menteri Pertanian RI Andi Amran Sulaiman untuk fokus pada program luas tambah tanam (LTT).
Jakarta (B2B) - The Indonesian government is evaluating the realization of new paddy fields in 2016 almost 130,000 of 132,167 hectares target, as the agriculture ministry´s duties are supported by army to achieve food self-sufficiency as proclaimed by President Joko Widodo in the presidential election campaign.

Secretary General of Agriculture Ministry Hari Priyono said the field constraints will be overcome, with an ideal construction cost of 35 million can be reduced to 19 million rupiah per hectare after being supported by the Army.

"Difficulties in the field must be overcome immediately and support of the Army makes the program more efficient, because this program is part of Joko Widodo´s administrative development target," said Mr Priyono on Thursday (June 15) by written statement submitted by ministry´s spokesman Agung Hendriadi.

Mr Priyono added that new paddy fields are vital anticipate land conversion for industries and settlements, and the ministry realizes 20,000 hectares of new paddy fields of 23,000 hectares target in 2015 without support of the army.

Campaign Promises
The ministry in 2016 budget year, target 132,167 new rice fields with realization of 129,096 hectares or acceleration of 588%, which means there is an increase after supported by the army.

"Previously, the vice president said that the rice fields are currently sufficient, by increasing productivity without having to open new fields," Mr Priyono said.

The ministry reiterated its commitment to the 2014 presidential election campaign promise that Joko Widodo - Jusuf Kalla developing new one million hectares of rice fields accross the country by 2014-2019.

"Related to the land conversion about 100 million hectares per year, certainly very risky in the midst of climate change if depends on productivity. Statistical data in last 25 years, shows that increase in production is determined by planting area," Mr Priyono said.

According to him very appropriate policy of Agriculture Minister Andi Amran Sulaiman focus on increase the area of rice planting program.