Mentan Lantik Gatot Irianto Gantikan Hasil Sembiring yang Mengundurkan Diri
Indonesian Agriculture Minister Inducted First Echelon Officials
Editor : M. Achsan Atjo
Translator : Dhelia Gani

PUBLISHED: Selasa, 31 Januari 2017 , 01:40:00 WIB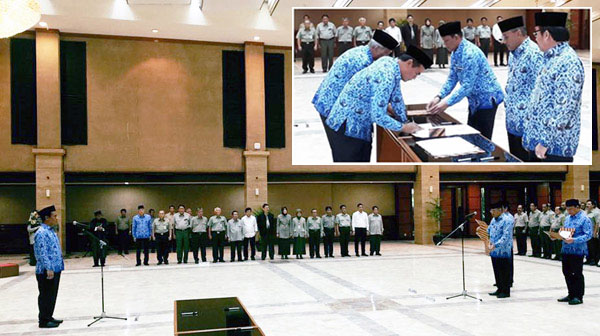 Mentan Andi Amran Sulaiman (kiri) melantik ketiga pejabat eselon satu Kementan, dan meneken SK disaksikan Gardjita Budi, Pending Dadih Permana dan Gatot Irianto (inset) Foto2: istimewa
Jakarta (B2B) - Tiga pejabat eselon satu di Kementerian Pertanian RI dilantik oleh Menteri Andi Amran Sulaiman pada Senin (30/1), dan mereka diingatkan tentang tugas pokoknya untuk meningkatkan kinerja organisasi dalam mendukung percepatan pencapaian swasembada pangan.

Ketiga pejabat senior yang dilantik adalah Pending Dadih Permana menjadi Dirjen Prasarana dan Sarana Pertanian (PSP) menggantikan Sumarjo Gatot Irianto, yang juga dilantik menjadi Dirjen Tanaman Pangan (Tampan) menggantikan Hasil Sembiring, dan pejabat ketiga adalah Gardjita Budi sebagai Staf Ahli Bidang Bioindustri.

Sebagaimana diketahui, Pending Dadih Permana sebelumnya menjabat Kepala Badan Penyuluhan dan Pengembangan Sumber Daya Manusia Pertanian (BPPSDMP) yang dilantik Mentan Amran Sulaiman pada 10 Maret 2015, dan merupakan pejabat terpilih melalui lelang jabatan setelah lolos uji kepatutan dan kelayakan (fit and proper test) yang digelar Kementan sejak awal 2015.

Sementara Hasil Sembiring yang digantikan oleh Sumarjo Gatot Irianto, merupakan pejabat eselon satu pertama yang dilantik Amran Sulaiman setelah menjabat Mentan pada 7 Januari 2015, namun bukan terjaring melalui lelang jabatan seperti halnya Pending Dadih Permana maupun Gardjita Budi yang dilantik Mentan sebagai Kepala Badan Ketahanan Pangan (BKP) pada 3 Juli 2015 menggantikan Ahmad Suryana yang memasuki masa pensiun.

"Tugas utama di kementerian membutuhkan pekerja keras, berkomitmen tinggi, dan mempunyai leadership yang tangguh dari pejabat pimpinan tinggi pratama di setiap unit kerja. Mustahil mencapai sasaran dengan pejabat yang cara bekerjanya biasa-biasa saja dalam menggerakkan sumberdaya untuk mencapai target swasembada pangan yang telah kita canangkan," kata Mentan dalam sambutannya usai melantik ketiga pejabat.
Jakarta (B2B) - Three first echelon officials in Indonesian Agriculture Ministry inducted by Minister Andi Amran Sulaiman here on Monday (1.30.17) and they were reminded of its core functions to improve organizational performance in attainment food self-sufficiency.

Pending Dadih Permana was inducted into Director General of agricultural infrastructure and facilities for replace Sumarjo Gatot Irianto, who also inducted into Directorate General of Food Crops for replace Hasil Sembiring, and Gardjita Budi as Expert Staff of Agriculture Minister for Bioindustry.

As known, Mr Permana was previously Director General of Education and Human Resources Development of Agriculture who served since March 10, 2015, he was a senior official who pass the fit and proper test conducted by the ministry in early 2015.

While Mr Sembiring who was replaced by Mr Irianto, an echelon first inducted by Mr Sulaiman on January 7, 2015, but he was not through the auction positions as well as Mr Permana and Mr Budi who was inducted as Director General Food Security Agency on July 3 2015 for replace Ahmad Suryana who retired.

"The main task of the ministry requires a hardworking, committed, and has leadership in each work unit. Impossible accomplish the goal with officials who can not afford out of the box reach the target of food self-sufficiency that we planned," Minister Sulaiman in his speech.