Denmark Diminta Mentan Tingkatkan Investasi Pertanian di Indonesia
Indonesia and Denmark Signed MoU of Agricultural Sector
Editor : M. Achsan Atjo
Translator : Dhelia Gani

PUBLISHED: Selasa, 12 April 2016 , 14:06:52 WIB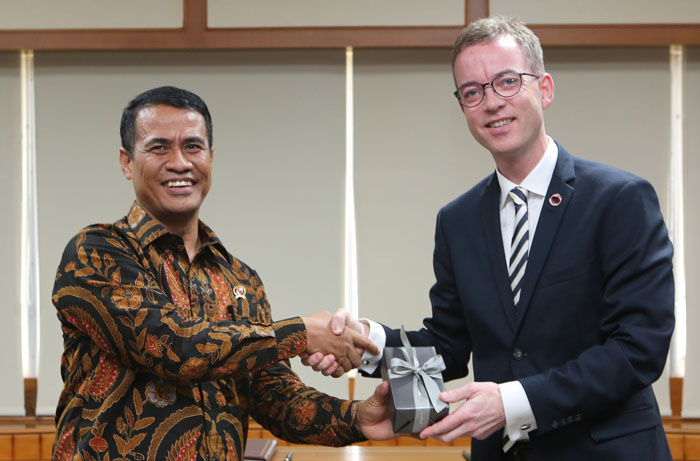 Mentan Andi Amran Sulaiman (kiri) dan Menteri Lingkungan dan Pangan Denmark, Esben Lunde Larsen (Foto: Humas Kementan/Kuwat Mulyono)
Jakarta (B2B) - Pemerintah RI mengharapkan Pemerintah Denmark meningkatkan volume perdagangan dan nilai investasi di Indonesia sekaligus melakukan alih teknologi, khususnya di sektor pertanian sehingga dapat meningkatkan produktivitas pangan nasional.

Penegasan tersebut disampaikan Menteri Pertanian RI Andi Amran Sulaiman usai pertemuan bilateral dan meneken memoranda kesepahaman (MoU) dengan Menteri Lingkungan dan Pangan Denmark, Esben Lunde Larsen yang didampingi Duta Besar Denmark untuk Indonesia, Casper Klynge di Jakarta pada Selasa (12/4).

"Pemerintah berharap Denmark dapat meningkatkan volume perdagangan dan investasi di sektor pertanian, meskipun saat ini investasi Denmark di Indonesia diperkirakan mencapai Rp2 triliun, dan tadi saya sampaikan agar ditingkatkan menjadi dua kali lipat," kata Mentan Amran Sulaiman kepada pers di kantornya di kawasan Ragunan, Jakarta Selatan.

Mentan menambahkan, melalui MoU tersebut diharapkan Denmark mendukung alih teknologi, karena dikenal sebagai negara yang cukup maju dalam pengembangan teknologi pertanian.

Terkait dengan peluang investasi di Indonesia, Pemerintah RI telah menyiapkan lahan untuk pengembangan investasi khususnya jagung, gula dan sapi potong di Sulawesi Tenggara, Nusa Tenggara Barat (NTB) dan Nusa Tenggara Timur (NTT).

"Pemerintah akan mendukung penyiapan lahan sekitar dua juta hektar terdiri atas pengembangan jagung sekitar 500.000 hektar, lahan perkebunan kebu berikut pabrik gula sekitar 500.000 hektar, dan satu juta hektar untuk peternakan sapi potong," kata Mentan.

Menteri Esben Lunde Larsen menambahkan, Denmark merupakan mitra Indonesia sejak lama dan untuk menindaklanjuti hal itu, pihaknya mengundang Mentan ke Denmark.

"Saya mengundang Mr Sulaiman ke Denmark dan kami akan membuat perjanjian khusus untuk produk-produk unggulan Indonesia untuk diekspor ke Denmark, khususnya yang berdampak minim terhadap lingkungan. Koordinasi lebih lanjut dengan Indonesia akan ditindaklanjuti oleh Kedubes Denmark di Jakarta," kata Esben.
Jakarta (B2B) - The Indonesian government hoped Denmark Government increase the volume of trade and investment in Indonesia and conduct technology transfer, especially in the agricultural sector so as to increase food production in Indonesia, according to Agriculture Minister Andi Amran Sulaiman.

It was stated by Minister Sulaiman after a bilateral meeting and signed memoranda of understanding (MoU) with the Denmark Environment and Food Minister, Esben Lunde Larsen who was accompanied by Denmark Ambassador to Indonesia, Casper Klynge here on Tuesday (4/12).

"The Indonesian government expects Denmark increase the volume of trade and investment in agricultural sector, although this time Denmark investment in Indonesia estimated 2 trillion rupiahs, and I have to say that Denmark can increase investment in Indonesia," Mr. Sulaiman told reporters at his office in Ragunan area of South Jakarta.

Mr. Sulaiman added that through the MoU is expected Denmark supports the transfer of technology, because it is known as a developed country in the development of agricultural technology.

Related to the investment opportunities, Indonesian Government has been preparing land for development investment for the production of corn, sugar and cattle in Southeast Sulawesi, West Nusa Tenggara and East Nusa Tenggara.

"The government will support the production site preparation nearly two million hectares, with details of 500,000 hectares for maize, sugar cane plantation and sugar mill about 500,000 hectares, and one million hectares for cattle," Minister Sulaiman said.

Minister Larsen said Denmark is a partner of Indonesia for a long time and to follow up the MoU, he invited the Minister Sulaiman visiting Denmark any time soon.

"I invited Mr. Sulaiman to Denmark and we will make specific arrangements for the export of Indonesian products, especially the minimal impact on the environment. Coordination in Indonesia will be followed up by our embassy in Jakarta," Mr Esben said.