Cilacap Sukses Panen Padi 10 Ton per Hektar
Cilacap Success Rice Harvest 10 Tons per Hectare
Reporter : Gusmiati Waris
Editor : Cahyani Harzi
Translator : Novita Cahyadi

PUBLISHED: Rabu, 13 Maret 2013 , 15:49:00 WIB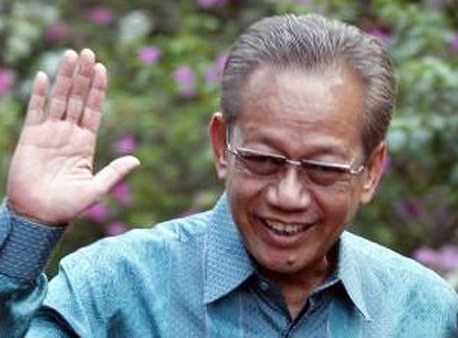 Wakil Menteri Pertanian, Dr Rusman Heriawan (Foto: s-msn.com)
Cilacap (B2B) - Wakil Menteri Pertanian, Dr Rusman Heriawan mengapresiasi kinerja para petani di Kabupaten Cilacap, khususnya di Desa Bojong, Kecamatan Kawunganten terkait dengan keberhasilan program Gerakan Tanam Serentak 1.000 Hektar di kawasan tersebut.

"Hari ini, saya sangat berbahagia, paling tidak bisa ikut memanen padi bersama Gubernur dan Bupati. Harus jujur kita mengatakan bahwa ini salah satu program penanaman padi yang sangat berhasil," katanya.

Sebagaimana diketahui, pada program Tanam Serentak ini, petani di Cilacap mampu memanen padi inpari hingga 10 ton hingga 11 ton per hektar. Hasil ini lebih tinggi dari rata-rata panen padi nasional yang hanya mencapai 5 ton per hektar. Apalagi kalau dilihat Kabupaten Cilacap memiliki lahan paling luas di Jawa Tengah yakni sekitar 63.000 hektar lebih.

"Jadi, kita sayang sekali dengan Cilacap karena turut berkontribusi dalam produksi beras," kata Rusman Heriawan.

Terkait hal itu, pemerintah berupaya untuk menjadikan Cilacap sebagai sebagai kawasan percontohan dalam hal manajemen pertanian.

"Ini (Desa Bojong, red.) bersama Kabupaten Grobogan (Jateng) akan dijadikan percontohan manajemen karena modalnya sudah ada, gerakan tanam serentak, panen serentak. Nanti akan dikemas dalam manajemen yang sama, farming.

"Jadi, nantinya jika perlu bibit bisa bersama-sama, panen bersama-sama sehingga dalam penanganan persoalan seperti hama dapat dilakukan bersama-sama," kata Wamentan.

Menurutnya, hingga saat ini Jawa Tengah memiliki kontribusi luar biasa dalam memenuhi target-target produksi pertanian secara nasional. Bahkan produksi padinya paling tinggi karena hampir mendekati 9%, padahal nasional hanya 5%.

"Ini konsisten dilakukan dalam lima tahun terakhir. Saya atas nama Kementerian Pertanian menyampaikan terima kasih kepada Jawa Tengah," katanya lagi.

Gubernur Jawa Tengah Bibit Waluyo mengatakan bahwa kawasan Cilacap sangat cocok ditanami padi jenis inpari sehingga hasil padinya maksimal dimana dari hasil ubinan, dalam satu hektar mampu menghasilkan 10 – 11 ton padi.

"Kepada para petani di Cilacap mari kita manfaatkan lahan ini dengan sebaik-baiknya menanam padi jenis inpari untuk meningkatkan kesejahteraan keluarga," kata Wamentan.
Cilacap (B2B) - Deputy Minister of Agriculture, Dr. Rusman Heriawan appreciate the performance of the farmers in the district of Cilacap, particularly in the village of Bojong, District Kawunganten related to the program´s success Planting Movement Unison 1000 hectares in the region.

"Today, I am very happy, at least can come to harvest the rice together with the Governor and Regent. Must we honestly say that this one of the rice-planting program was very successful," he said.

As is known, the program Planted Simultaneously, the farmers were able to harvest rice in Cilacap Inpari up to 10 tons to 11 tons per hectare. These results are higher than the average national rice harvest only reached 5 tons per hectare. Moreover, Cilacap has the most extensive land in Central Java, which is about 63,000 acres.

"So, we pity the Cilacap as a contributing factor in the production of rice," said Rusman Heriawan.

Related to that, the government seeks to make Cilacap as a pilot region in terms of farm management.

"This (Bojong village, ed.) With Grobogan District (Central Java) would be a demonstration of management, because their capital there, planting movement in unison, simultaneously harvesting.´ll Be packed in the same management, namely farming.

"So, will eventually have to be seeds together, harvest together so that in the handling of issues such as pests can do together," said Wamentan.

According to him, until today in Central Java has tremendous contributions in meeting the targets of the national agricultural production. In fact, the highest rice production for nearly 9%, whereas only 5% nationally.

"This is consistently done in the past five years. I on behalf of the Ministry of Agriculture like to thank Central Java," he said.

Central Java Governor Bibit Waluyo said that the area is suitable Cilacap Inpari grow rice so that the rice types in which most of the results of tile, in one hectare can produce 10-11 tonnes of paddy.

"To the farmers in Cilacap let us use this land to grow rice best kind Inpari to improve the welfare of the family," said Wamentan.