Dukung Petani, Kementan Salurkan 300 Ton Bibit Bawang Putih
Support Farmers, Ministry of Agriculture Distributes 300 Tons of Seed Garlic
Reporter : Gusmiati Waris
Editor : Cahyani Harzi
Translator : Novita Cahyadi

PUBLISHED: Kamis, 21 Februari 2013 , 16:23:40 WIB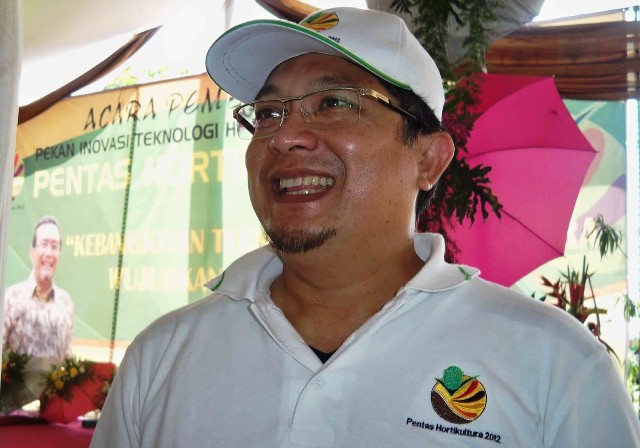 Direktur Jenderal Holtikultura, Kementerian Pertanian, Ibrahim Hasanudin (Foto: Humas Kementan)
Tegal (B2B) - Pemerintah mencanangkan pengembangan sentra perkebunan bawang putih di Tegal, Jawa Tengah, Bandung (Jawa Barat), Lombok dan Bima (NTB). Langkah tersebut akan didukung penyaluran secara gratis bibit bawang putih sebanyak 300 ribu ton untuk ditanam di areal seluas 20 ribu hektar.

Direktur Jenderal Holtikultura, Kementerian Pertanian, Ibrahim Hasanudin mengatakan, pengembangan sentra bawang putih di wilayah tertentu ini, karena tanaman bawang putih menghendaki lahan yang gembur (tanah vulkanis), udara yang dingin tetapi kering serta , panas matahari penuh namun tanah tetap basah.

"Sebenarnya, bawang putih bisa ditanam dua bahkan tiga kali dalam setahun. Meskipun dalam praktek, para petani selalu merotasinya dengan tanaman sayuran lain atau tanaman pangan," kata Ibrahim Hasanudin di Tegal, Jawa Tengah, Kamis (21/2).

Untuk menggairahkan petani, katanya lagi, maka pemerintah melalui Ditjen Holtikultura akan menyalurkan 300 ribu ton bibit bawang putih di seluruh Indonesia.

Dia menambahkan, 300 ribu ton bibit bawang tersebut akan pergunakan untuk luas area 20.000 hektar yang tersebar diseluruh wilayah Indonesia. Namun demikian pembagian bibit tersebut akan dilakukan secara bertahap. "Untuk tahap awal 130 hektar, selanjutnya baru 500 hektar 1.000 hektar hingga mencapai 20.000 hektar," ujarnya.
Tegal (B2B) - The government launched a development center for garlic plantation in Tegal, Central Java, Bandung (West Java), Lombok and Bima (NTB). These measures will be supported for free distribution of seed garlic up to 300 thousand tons to be planted in an area of 20 thousand hectares.

Director General of Horticulture, Ministry of Agriculture, Ibrahim Hasanudin said the development of centers of garlic in this particular area, because the garlic plants require fertile land (volcanic soil), air is cold but dry as well, full sun, but the soil remains soggy.

"Actually, garlic can be planted two or even three times a year. Though in practice, the farmers always rotate with other vegetables or crops," said Ibrahim Hasanudin in Tegal, Central Java, on Thursday (21/2).

"To encourage farmers, he said, the government through the Directorate General of Horticulture will distribute 300 thousand tons of seed garlic in Indonesia.

He added that 300 thousand tons of seed garlic will be use for the area 20,000 hectares across Indonesia. However, the distribution of seeds will be carried out in stages. "For the first phase 130 acres, 500 acres of new further 1,000 hectares to 20,000 hectares," he said.