Dilematis Pengembangan Lahan Gambut dan Kebutuhan Pangan
Dilemma Peatland Development and Food Security Needs
Reporter : Gusmiati Waris
Editor : Cahyani Harzi
Translator : Novita Cahyadi

PUBLISHED: Rabu, 06 Februari 2013 , 17:25:00 WIB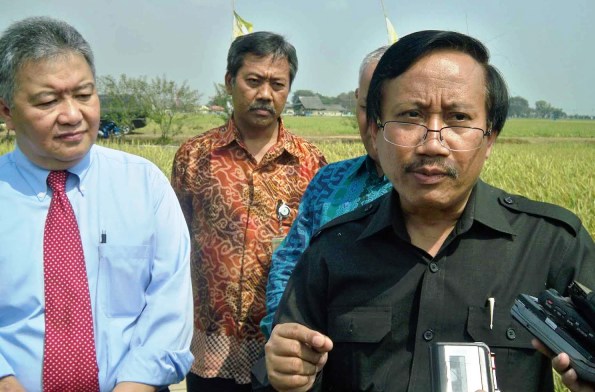 Kepala Badan Penelitian dan Pengembangan (Balitbang) Kementerian Pertanian, Dr Haryono (kanan berkacamata) Foto: deptan.go.id
Jakarta (B2B) - Hampir sepertiga dari lahan gambut di Indonesia sudah mengalami degradasi atau terlantar. Apa yang harus kita perbuat? Mengembalikannya menjadi hutan adalah jawaban yang paling ideal. Namun secara rasional, harus disadari bahwa kebutuhan pangan dan pertumbuhan ekonomi untuk menopang kesejahteraan lebih dari 240 juta penduduk, dengan laju pertumbuhan sekitar 1,3%, yang harus didukung oleh tambahan lahan baru.

"Untuk mendukung ketahanan pangan dan pertumbuhan ekonomi hingga 2050 dibutuhkan sekitar 13,5 juta hektar lahan pertanian baru," kata Kepala Badan Penelitian dan Pengembangan (Badan Litbang) Kementerian Pertanian, Haryono pada Kick-off Indonesian Climate Change Trust Fund (ICCTF) Fase II Sektor Pertanian di Jakarta, Rabu (6/2).

Haryono menambahkan, lahan gambut pada dasarnya adalah lahan yang marginal atau sub-optimal, dan kita menyadari bahwa penggunaan lahan gambut berdampak negatif terhadap lingkungan, berupa emisi gas rumah kaca dan kehilangan keanekaragaman hayati, dan penurunan fungsi hidrologi.

"Namun pilihan untuk mengembangkan pertanian pada lahan mineral semakin terbatas," ungkap Haryono.

Dia pun memberi contoh pada sejumlah kabupaten di Provinsi Riau, Jambi, Kalimantan Tengah, Papua dan Papua Barat, lahannya didominasi oleh lahan gambut sehingga penggunaan lahan gambut menjadi pilihan utama.

"Di sisi lain berapa lama dan berapa biaya yang kita butuhkan untuk mengembalikannya menjadi hutan?" tanya Haryono.

Karena itu, katanya lagi, Badan Litbang Pertanian berpandangan bahwa lahan gambut sebagai pilihan terakhir untuk dimanfaatkan dan dikembangkan menjadi lahan pertanian dan Hutan Tanaman Industri (HTI) harus dikelola secara bijaksana dan berkelanjutan.

"Kunci utamanya, pemanfaatan dan pengembangan lahan gambut adalah inovasi teknologi, manajemen dan kelembagaan, yang harus dirakit dan diramu melalui berbagai penelitian secara komprehensif," tambahnya lagi.
Jakarta (B2B) - Almost a third of Indonesia´s peatlands has been degraded or neglected. What should we do? Put it into the forest is the ideal answer. But rationally, it should be realized that the food needs economic growth to sustain the well-being of more than 240 million people, with a growth rate of 1.3%, which should be supported by the addition of new land.

"To support food resilience and economic growth to 2050 it takes about 13.5 million hectares of new agricultural land," said the Head of Research and Development (R & D Agency) Ministry of Agriculture, Haryono at the Kick-off Indonesian Climate Change Trust Fund (ICCTF) Phase II Agriculture in Jakarta, Wednesday (6/2).

Haryono added peatlands is essentially marginal land or sub-optimal, and we realize that the use of peatlands negative environmental impacts, such as greenhouse gas emissions and loss of biodiversity, and hydrological function decline.

"But the option to develop agriculture in the mineral soil is limited," said Haryono.

He also gave the example of a number of districts in Riau, Jambi, Central Kalimantan, Papua and West Papua, the land dominated peatlands, making use of peatlands become the primary choice.

"On the other hand, how long and how much money we need to put it into the forest?" asked Haryono.

Because of that, he said, the National Agricultural Research and Development argued that peatlands as a last resort to be used and developed into farmland and Industrial Forest Plantation (HTI) must be managed wisely and sustainably.

"The key point, utilization and development of peatlands is a technological innovation, management and institutions, which must be assembled and mixed through a comprehensive study," he added.