Workshop Aplikasi SIMONEV dan Sosialisasi e-Proposal 2013
SIMONEV Application Workshop and Dissemination e-Proposals 2013
Reporter : Gusmiati Waris
Editor : Cahyani Harzi
Translator : Novita Cahyadi

PUBLISHED: Selasa, 05 Maret 2013 , 18:02:00 WIB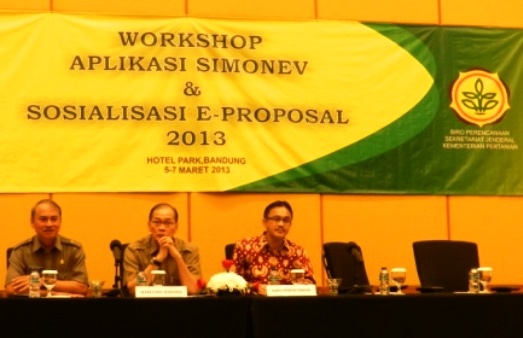 Foto: Humas Kementan
Jakarta (B2B) - Guna meningkatkan kinerja manajemen pembangunan pertanian yang efektif dan efisien, Biro Perencanaan Kementerian Pertanian mengadakan Workshop Aplikasi SIMONEV dan Sosialisasi e-Proposal Wilayah Barat.

"Kinerja pelaksanaan program dan kegiatan pembangunan pertanian seyogyanya bukan hanya dilihat dari aspek capaian serapan anggaran, namun yang lebih penting adalah aspek capaian outcome dan dampak, yang hasil manfaatnya dapat dilihat pada tahun berjalan," kata Sekretaris Jenderal Kementerian Pertanian, Hari Priono, saat membuka Workshop Aplikasi SIMONEV dan Sosialisasi e-Proposal Wilayah Barat di Bandung, Jawa Barat pada Selasa (5/3).

Menurut Hari Priono, aplikasi SIMONEV salah satu instrumen penting yang dapat menjawab berbagai permasalahan di lapangan sebagai Feedback Early Warning.

Kepala Biro Perencanaan Kementerian Pertanian, Winny Dian Wibawa menambahkan laporan pemantauan dan evaluasi haruslah bermanfaat dalam memberikan feedback atas hasil capaian pelaksanaan program dan kegiatan.

"Peningkatan prasarana dan sarana yaitu software dan hardware adalah sesuatu yang penting. Namun yang lebih penting adalah peningkatan kapasitas sumber daya manusia, khususnya aparatur pertanian," kata Winny.

Terkait e-Proposal, menurutnya, dalam penentuan kebijakan ke depan, kegiatan yang diusulkan haruslah berdasarkan atas kebutuhan. "Bukan berdasarkan keinginan."

Kegiatan workshop yang berlangsung di Bandung pada 5-7 Maret 2013, Hari Priono mengharapkan dapat menindaklanjutinya secara nyata dalam pelaksanaan pekerjaan di kantor. Baik dalam merancang proposal kegiatan maupun dalam memantau dan mengevaluasi kegiatan.

"Mampu menyebarluaskan pengetahuan yang diperoleh ke SKPD kabupaten/kota masing-masing dengan metode training of trainer," tambah Hari Priono.
Jakarta (B2B) - To improve the performance of the agricultural development of effective management and efficient, Planning Bureau of the Ministry of Agriculture held a Workshop on Applications and Socialization SIMONEV e-Proposal Western Conference.

"The performance of the implementation of agricultural development programs and activities should not only be seen from the performance aspect of budget absorption, but more important is the aspect of performance outcomes and impacts, the benefits can be seen in the results of the current year," said Secretary General of the Ministry of Agriculture, Hari Priono, when opening SIMONEV Application Workshop and Dissemination e-Proposals West Region in Bandung, West Java, on Tuesday (5/3).

According to Hari Priono, application SIMONEV one important instrument that can address a variety of problems in the field as Feedback Early Warning.

Head of Planning Ministry of Agriculture, Winny Dian Wibawah adding, monitoring and evaluation reports should be useful in providing feedback on performance results of the implementation of programs and activities.

"Improved infrastructure software and hardware that is something important. But more important is the capacity of human resources, especially agricultural officials," said Winny.

Related e-Proposal, according Winny, in the determination of future policy, the proposed activity shall be based on the needs. "It´s not according to the wishes."

The workshop which took place in London on 5-7 March 2013, Day Priono expects to follow up significantly in the execution of work in the office. Both in design proposals and in monitoring and evaluating activities.

"Able to disseminate the knowledge acquired to SKPD districts / cities each with a method of training of trainers," added Priono Priono.